By Yasha Levine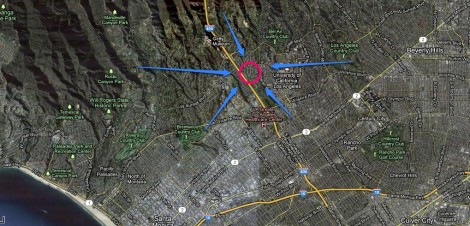 I travelled to Breitbart's hood to carry out a private investigation of what happened…and found a grisly, blood-splattered crime scene just a block away from his home.
***
It didn't take long after Andrew Breitbart's death was reported for the Baggertarian Believers to start ominously tweeting out some of the craziest (and funniest) conspiracy theories this side of the John Birch Society. Part of the blame goes to the official "Breitbart died of natural causes" story they put out—no one believes he died of "natural causes," neither his fans nor his detractors. But if you're a fan of Breitbart, you can't face the awful reality of what everyone knows did kill him—degenerate personal habits, and bile.
So naturally, Breitbart's abandoned hate-junkies turned to wild conspiracy theories and plots that did everything to avoid his obvious drug addictions and swollen arteries, and instead externalized the cause to the usual list of villains: George Soros, Media Matters, Jihadis, liberals, #OWS, the Illuminati, One World Government, and so on. And of course, the "socialist" "Islamic" "Kenyan" is the Breitbart-Bircher crowd's number one favorite as the guy running the conspiracy…because you know, Andrew Breitbart knew too much, man! He flew too high!
"Did President Obama or the criminal interests that put him in office have Andrew Breitbart killed?" asked Truth-Bircher Alex Jones in a special conspiracy report filed from his bedroom studio, focusing on the popular-among-Breitbaggers theory that President's Obama's henchmen whacked Breitbart to prevent the release of damaging mpeg evidence and protect Obama's radical Muslim-Marxist secret identity. WorldNetDaily, Michael Savage, and countless other winger outlets reported the same conspiracy theories. Even Fox News got in on the action, reporting that Obama's "assassins" might not have destroyed every single copy of Breitbart's secret tapes…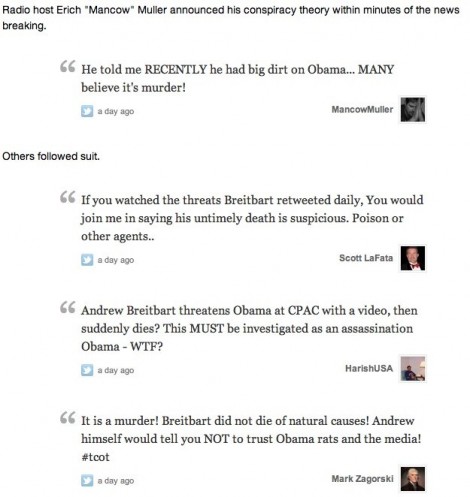 I live just a few townships over from the very sidewalk where Andrew Breitbart died. And I was starting to think, "If these Birchers are serious about their conspiracy theories, that Brentwood sidewalk is going to be the Daley Plaza of the winger-world."
I thought I'd get in my car and check it out myself, look at the "scene of the crime" and try to see the Brentwood sidewalk where the "assassins" hired by Obama might have hatched their deadly plot. I never thought about this much before he died (oops, I mean "was assassinated in a vast conspiracy"), but Andrew Breitbart and I had been practically neighbors. He lived in a chi-chi estate in Westwood near the UCLA campus, just fifteen minutes from my rank apartment in Venice Beach.
My plan was simple. 1) Go to scene of conspiracy; 2) Get into the mindset of a Birch-bagger, think like a Birch-bagger, feel like a Birch-bagger, dress like a Birch-bagger, become a Birch-bagger; in other words, "Be The Birch-Bagger Conspiracy Theorist"; 3) Retrace Breitbart's last neighborhood stroll, and observe the scene of the crime for clues about where Obama's assassins might have hidden; 4) Record everything I see and think, and report "the truth" to the world.
The results of my experience will shock and startle you. Or make you giggle. Depending on what your bag is.
***
CONSPIRACY SETTING: Breitbart's home sits on the northern edge of LA's massive Veterans Cemetery and within spitting distance of Interstate 405—the busiest, most congested freeway in the country. I arrived there at 2200 hours. I noted that the  lights were on inside the house, and I could see someone in the kitchen rummaging through the fridge. What was in that refrigerator? The secret evidence that will expose the plot? Breitbart's frozen heart? A pint of Chunky Monkey?
The freeway noise was deafening–the perfect cover for a hit job, I thought to myself.  You bastards!
I observed two razor scooters leaning against a wall near the entrance and a note hung on the door. What follows is a dossier of secret photographic evidence of the crime scene that I'm sharing with the world for the first time.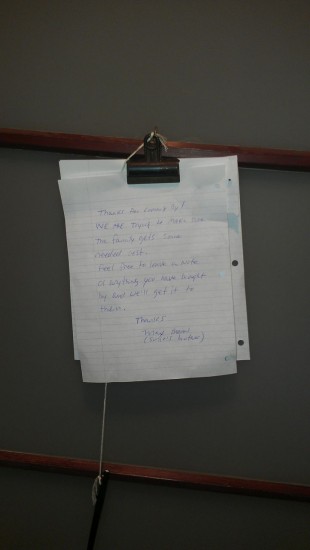 Andrew Breitbart's brother-in-law mans the gate and keeps the family safe from throngs of mourners stopping by to pay their respects to a great American patriot…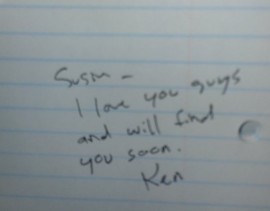 …there was only one note on the door. I read: "Susie — I love you guys and will find you soon. Ken"
Breitbart walked down this big government sidewalk, never to return…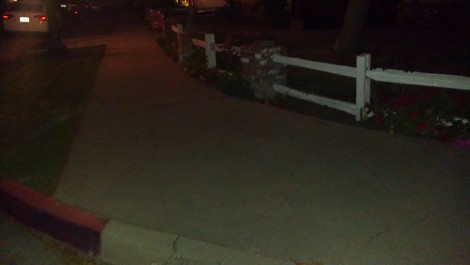 Further down the street:  What looks like a normal sidewalk, holds all sorts of hidden dangers…
…Close up shows 2 strategically located cracks in the curb (circled in pink), plenty of defensive positions (pink arrows) and a layer of invisible slippery twigs (green circles).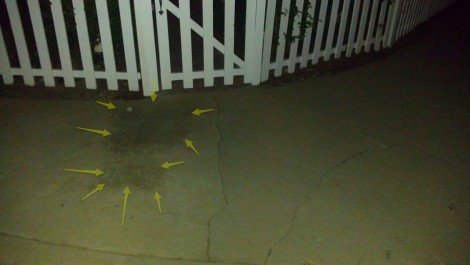 Why hasn't the FBI launched an investigation into what appears to be a deadly IED, camouflaged as an oil slick stain? Is this how America treats its patriots?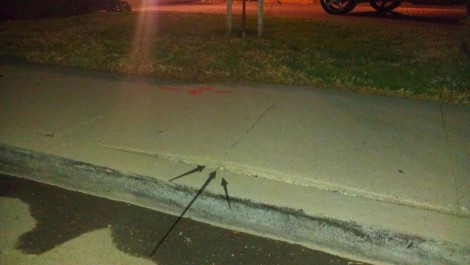 The Manchurian Sidewalk: Did unionized city employees turn a patriotic pedestrian walkway into a coldhearted assassin programmed to kill Andrew Breitbart and make it look like an accident?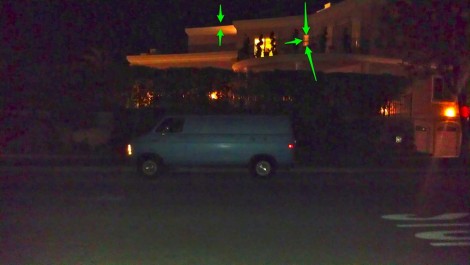 What was a maintenance truck doing here parked at 11 p.m.? And why does it look exactly like the one used in the 1993 World Trade Center bombing? Was Breitbart targeted by al-Qaida because of his courageous Islamofacism?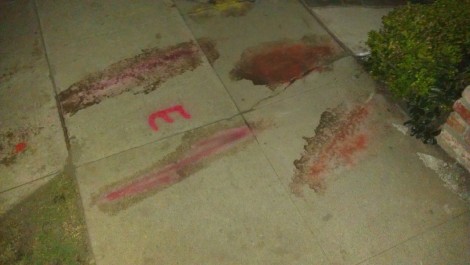 A block away I stumbled on a grizzly scene. Dark red spots that looked like blood.  Did he hit head and bleed all over the place.  Or was he taken out by a bullet that came from the McMansion across the street?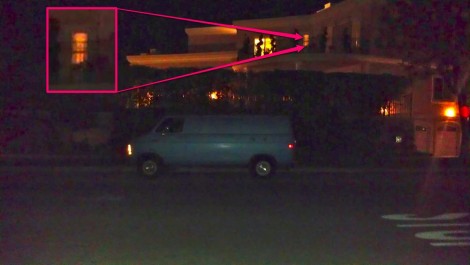 "The Bathroom Man" in the window has a clear line of sight to the location of the blood smears…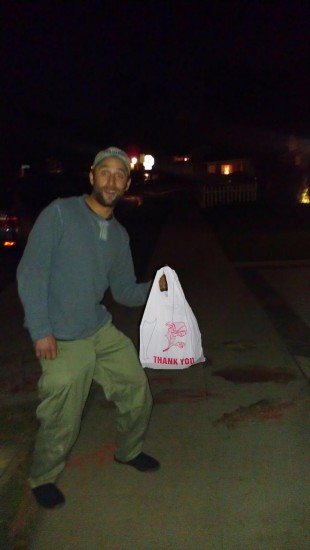 Follow the Bag: Mysterious 'Plastic Bag Man' spotted lurking around the Baggy Knoll…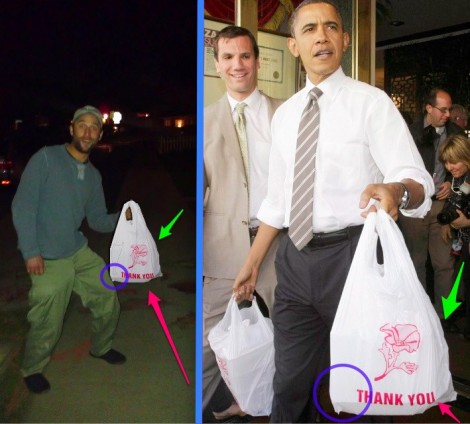 …holding the same exact plastic bag Obama carried out of a Chinese restaurant in San Francisco during a campaign fundraiser on Feb. 16, 2012! Which means….Oh shit! Mystery Bag Man links Breitbart's assassination directly to President Barack Obama himself! Here come the black helicopters. Must inform the world….ugh!…hard … to…breathe…it hurts…can't….reach the…puh…puhblish  button…
***
Yasha Levine is a  founding editor of The eXiled. You can reach him at levine [at] exiledonline.com.
Want to know more cool shit? Read Yasha Levine's investigation into the life of Harry Koch, the man who spawned Charles and David Koch, the two most powerful oligarchs of our time: The Birth of the Koch Clan: It All Started In a Little Texas Town Called Quanah
Read more: andrew breitbart, assassination, bag man, bagger, baggertarians, baggy knoll, breitbart, conspiracy theory, koch, los angeles, rightwing propaganda, westwood, Yasha Levine, Gloats, Koch Whores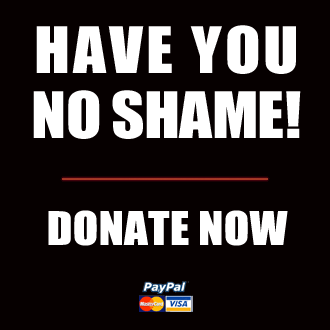 Got something to say to us? Then send us a letter.
Want us to stick around? Donate to The eXiled.
Twitter twerps can follow us at twitter.com/exiledonline