By Eileen Jones
It's fashionable to dismiss The Simpsons, to claim never to watch it anymore because its best days are long gone. It's been fashionable to do this for ages. I remember when the show was about five years old and staggeringly great, I was informed by a pompous grad student, nicknamed "Astroboy" for his huge horn-rimmed glasses and abstracted air, that he didn't watch The Simpsons anymore because its best days were long gone. "It's lost its purity," he said. "Homer is a little less Homer now, Lisa is a little less Lisa."
And yet you are never less Astroboy, I thought, no matter how hard we pray.
But I didn't say that aloud. I merely said, "Them's fightin' words," and he seemed baffled and went away.
On The Simpsons 20th Anniversary Special: In 3-D! On Ice!, they had come up with a ready response to Astroboy and all his kind who clog internet sites with their fascinating observation that they don't watch the show anymore because its best days are long gone: "I think the internet postings were a lot funnier ten years ago. I've kinda stopped reading the new posts."
So fuck all y'all!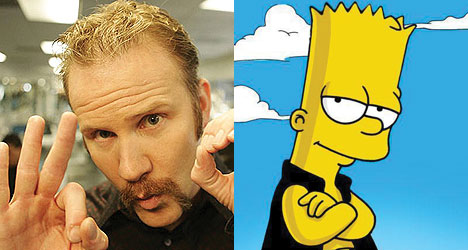 That said, the anniversary special was lame. Bogus doc-director Morgan Spurlock was the host, already a big mistake, and other than the occasional amusing comment by a former Simpsons writer or voice-actor, or a good clip from the show, there wasn't much going on. Lots of extreme Simpsons fans were interviewed, showing off their Simpsons tattoos and houses full of Simpsons memorabilia. There was a good bit about Groundskeeper Willie's Scottish fans, who are legion, and the feud between Aberdeenians and Glaswegians for the right to claim Willie as their hometown hero.
But mostly it was a pretty lazy retread of everything we've already heard about The Simpsons. How underground comic guy Matt Groening thought them up, and James Brooks got on board to plug animated Simpsons bits into holes of The Tracy Ullman Show, and the Simpsons TV series was the first cartoon in primetime since The Flintstones and its huge success propped up the wobbly new Fox Network, etc. Just try telling us something new about The Simpsons!
Okay, said John Ortved, and he came up with a new book, The Simpsons: An Uncensored, Unauthorized History, based on a Vanity Fair article he wrote a while back claiming to dish the real behind-the-scenes dirt on the show.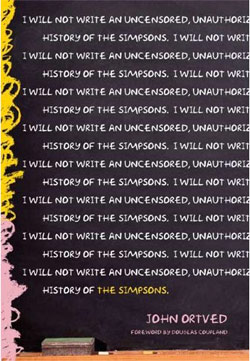 He's essentially got four pieces of dirt:
• Matt Groening's a credit hog who's always been far more involved in Simpsons merchandizing than regular creative input into the show;
• James Brooks is a moody bastard whose mensch-like public manner fools people;
• Sam Simon was the real creative genius who put the legendary first Simpsons writing team together before he was railroaded out by Groening and Brooks;
• and Brooks has a pathologically devoted yes-man, Richard Sakai, who is supposedly the basis for the character of Waylon Smithers, Montgomery Burns' adoring assistant.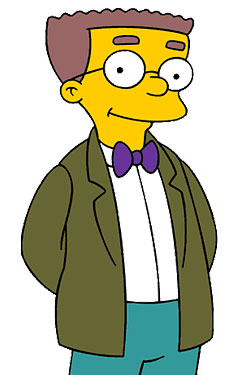 Riveted yet? Well, okay, the Sakai-as-Smithers thing is pretty good, but the rest is only a shocker for people who believe in Santa Claus and Hollywood PR. Does it really matter to anybody if James Brooks is a phony betraying sumbitch? The guy made Terms of Endearment, for God's sake. Obviously he's capable of any depravity.
The book's an okay read for truly dedicated Simpsons fans who are interested in every little detail (i.e., me), but that's mainly because of one wise choice made by this Ortved: he simply strung together ten-thousand interview quotes from assorted people involved in the genesis of The Simpsons. He couldn't get the cooperation of some of the main players—hence the "unauthorized" label—so he used old interview quotes from Groening, Brooks, et.al.
This keeps Ortved's creepy little voice to a minimum, a definite plus. There's just his idiotic preface to deal with, and his haphazard paragraphs of commentary between interview quotes. These are printed in boldface for easy avoidance.
Here's a quote from Ortved's preface, just to give you the measure of the man:
Humor's import has been debated for centuries. Countless critics, from Aristotle to George Saunders, have qualified, augmented, and tried to define its role…

And yet, for all these abounding opinions, comedy remains a tricky animal to trap. "The problem of writing about comedy," Conan O'Brien told me, "it's like trying to hold a gas, the tighter you squeeze, the more it dissipates." I agree with Conan, and E.B. White, who said that humor "can be dissected as a frog can, but the thing dies in the process…and the innards are discouraging to any but the pure scientific mind."

I don't think what follows offers a solution to the quandary, but my chosen format, the oral history, is my way around it. (xii)
This guy is so much like my least favorite students, I can't even tell you. Reading his stuff is like grading the worst of sophomore papers, the ones with the "since the dawn of time it has always been true that" introductions. Who asked this joker to tell us about "humor's import" when his topic is "dirt I dug up about the people who make The Simpsons"? Smug cluelessness ("I agree with Conan, and E.B. White…") and weird pomposity ("my chosen format, the oral history…") combine with learned-sounding words used stupidly (qualified, augmented, abounding, quandary) to make one long for Ortved's early, violent death. The idea of such an irredeemable ass getting paid to write scurrilous stuff about the Simpsons creators! Where's a vengeful god when you need him?
Anyhoo, it doesn't matter. The show goes on. There was an excellent line in the latest episode that ran right before the anniversary special. In it, Krusty the Clown says, "I work like I drink—alone. Sometimes with a monkey watching."
That, plus Gary Larson guest-starred as the "in-house cartoonist" for the new state-of-the-art nuclear power plant in Capitol City. (Larson dashes off a drawing for Homer, Carl, and Lenny, who agree that "no lion would want to see THAT on his X-ray.")
So even though the end of the episode was a botched-up mess, and the romance between Krusty and a princessy character voiced by Ann Hathaway was moronic, we should be grateful for the lingering greatness of The Simpsons in our midst. The thing about our culture is, we are never grateful. True worth demonstrated a million times over is never good enough for us. We are waiting for the flub in the million-and-first installment that will damn the whole project in our dull piggy eyes.
And when I say "we," I mean "you." I'm capable of loyalty. I'm like a 19th century person that way. Or a collie. Or possibly a 19th century collie. And I say The Simpsons was born great and will die great and was great throughout. We'll mourn it when it's gone.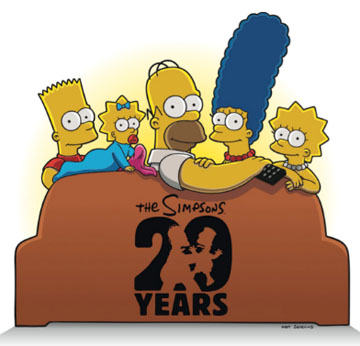 Read more: Gary Larson, james Brooks, John Ortved, Krusty the Clown, Matt Groening, The Simpsons 20th Anniversary Special, The Simpsons: An Uncensored, Unauthroized History, Waylon Smithers, Eileen Jones, Entertainment, Fatwah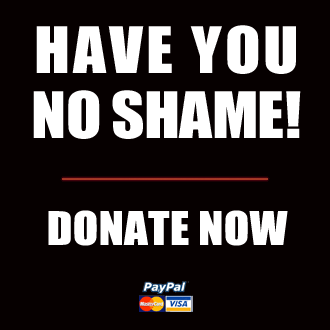 Got something to say to us? Then send us a letter.
Want us to stick around? Donate to The eXiled.
Twitter twerps can follow us at twitter.com/exiledonline