By Pancho Montana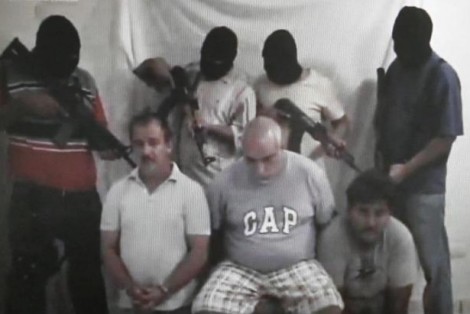 "Raise your hand if you like weed," the gang leader asked the raver crowd. But nobody raised a hand or so much as moved. They were too scared. So he repeated his question, this time while firing a quick burst from his R-15 into the air. "I said who likes fucking weed?!!" Naturally, a lot of hands went up.
MONTERREY, MEXICO— La Letra (what we call the Zetas these days because we're too terrified to call them by name) is at it again. It's getting worse than ever, thanks the lower ranks of the cartel business–made up of young, impressionable school dropouts and assorted jobless little motherfuckers. Now, these scumbags are letting their presence be known like never before. In Monterrey, the Zetas have started using them to police the drug use of the general population to make sure that people are consuming the right drugs and buying them from the "right sources." As in: them.
These junior squads have started doing rounds at parties like some sort of narco-security. If they see someone smoking weed, they approach and inquire about the source of the weed, breaking off a little from the joint and inspecting the mary jane (they know exactly what their product looks like and can recognize their product from the others). If it's not from one of their tienditas (remember those neighborhood drug stores I wrote about about a year back?), they just take him backstage to introduce the kid's naked ass to their little friend "la tabla," which'll leave them with welts for the next few weeks and mental scars for the rest of their lives.
The Zetas kicked off this trend when they started recruiting among young pandilleros (aka gang-bangers) from poor neighborhoods at the start of the Cartel War, somewhere from 2005 to 2006. Now the fashion has been catching on with other cartels, too. That's the way it is these days. Nobody likes competition from independent operators anymore, not even the drug cartels. The anti-capitalist bastards!
This has been screwing everything up, and I don't mean just for local businesses or for the freelance dealers who have been left without income or heads. It's been just as bad for the little people, especially kids. You can't even smoke a joint at a rave without being bothered anymore. To get hassled like that when you're all soft, tripping on acid or ecstasy or mescaline—it's just brutal.
Let me tell you about one that just happened in mid-February:
Raves have always been big here in Monterrey. They are bigger and better in Guadalajara, I hear, plus the girls from those parts are nicer-looking and have a rep for getting really fucked up at the raves. So you can talk one up, take her behind the porta-potties and fuck her. The next day, most likely she'll be too out of her mind to remember that she had boned a stranger and probably so will you. So I always arrive armed with rubbers. PM is all for protection, be it a bullet-proof vest or a rubber.
So anyway, there was this big rave in La Huasteca, a beautiful place surrounded by the Sierras. At the last minute I decided that it may not be a good idea since all week I had been hearing that the Zetas were going to be there.
I pussed out and went to another party, a regular one with fewer hippie-looking and drugged out girls. Coincidentally, this party was also busted by the Zetas. They arrived in a black SUV, told the bouncers in the front to fuck off and get the party's organizer, who gave them all the money from the til on the spot, just so they'd leave and stop scaring people away. It was quick, clean and nobody got pistol-whipped.
It was very professional compared to what they did at the La Huasteca rave, which I can only describe as robbery on a massive scale. Around 4AM, when the main DJ was starting to play, his crappy psycho music was suddenly interrupted by machine gun rapid-fire– and it all screeched to a halt like air blowing out of a balloon.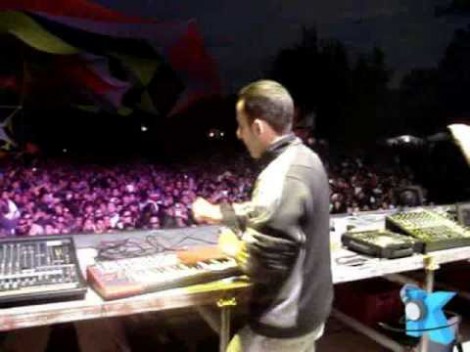 The ravers found themselves surrounded by about 50 thuggish kids armed with machine guns, sent courtesy of the Zetas. They were 19 to 25 years old at most, and acted all tough strutting around with their R-15s, rounding up the crowd like sheep dogs, sporadically firing bursts into the air from their black rifles just to keep people on their toes.
When the thugs had all the ravers assembled into a flock, the little bastards proceeded to rob everyone. Going person to person, they took cell phones, cameras, jewelry, cash, and anything else shiny that got their attention. They were like little ravens with automatic weapons. They even stole the DJ's passport and credit cards. Fuck, they even took his headphones.
But that was all just collateral. The main purpose of their visit were the drugs. With flashlights in hand, they scouted the floor for baggies of weed, pills, LSD, coke, anything… They must have felt like they were on an easter egg hunt.
The leader then addressed the people: "Raise your hand if you like weed," he asked the crowd. But nobody raised a hand or so much as moved. They were too scared. So he repeated his question, this time while firing a quick burst from his R-15 into the air. "I said who likes fucking weed?!!" Naturally, a lot of hands went up.
"Good, now, who likes pills [ecstasy]?" he continued. A few hands went up. "Great, great," he said, satisfied. "But if you like them so much why aren't you buying them at the right place?" he asked the crowd, like some kind of TV salesman.
The meaning was clear to all involved: you better buy your drugs from the Zetas' tienditas.
He finished with a brief, somber, almost grandfatherly speech: "We apologize to everyone. We know this is a party but we are only doing our jobs, so that you won't buy your loquera [drugs] from other sources. The plaza belongs to the compañia and we are going to come to these parties every time that we want to. We are taking your cellphones and cameras to erase any evidence."
Before taking off, the thugs started calling out cars like they were valets. Like this:
"Who owns the blue Mazda truck?" a Zeta kid who looked like he was sponsored by Ed Hardy would shout. After some frightened girl somewhere in the back would raise her trembling hand, he'd yell: "Give me your keys."
Nobody gave me an exact number of just how many cars Zetas took that night from the rave, but it was somewhere between 10 and 20 cars. They weren't doing it just to be dicks. No, the stolen cars had a very specific purpose. They'd be used in levantones (kidnappings), executions, moving drugs and/or insurance company fraud.
After that, the comandante said his goodbyes to his captives and warned: "Now putos, everyone is gonna get on the floor face down for 20 to 30 minutes. And if anyone stands up or walks outside the big tent area, I got men outside who will kill you just like that. So it's up to you." He added that they shouldn't even think about going to the police because the cops worked for them.
I'm still a little shocked by this story because nothing like it had ever happened before.
Why are they doing this? Well, I figure it has to do with Mexico's war on drugs. The government has been pushing the narcos so hard that now we are entering uncharted territory.
A few years ago, before the bodycount started piling up, the Zetas stayed out of sight, and their activities were largely accepted by the masses. They never messed with us civilian types—it was a matter of honor for them.
But now that's all changing. Shaking down kids and slapping chicks around at parties is not only screwed up and vicious, it's stupid from a business perspective and bound to turn the general population against the Zetas and their narco buddies very quickly.
But their reign of terror and error might end very soon. For the past few weeks, I've been hearing about a huge Marines build up in Monterrey. They've been setting up camp and coming in ready for to do massive air raids with an interesting combination of Mi-17 and Blackhawk helicopters—the former Russian, the latter American. Can't we all just get along?
Pancho Montana is an eXiled Special Mexican War on Drugs Correspondent.
As a native of Monterrey, Nuevo Leon, located in northern Mexico, Mr. Montana lives in Gulf Cartel territory. That means the streets belong to the Zetas, a paramilitary organization trained by the Yankees and hired by the Gulf Cartel to keep things civilized and business booming.
Read more: drug war, drugs, mexico, pancho montana, pandilleros, raves, tienditas, war on drugs, zetas, Pancho Montana, The Mexican Drug War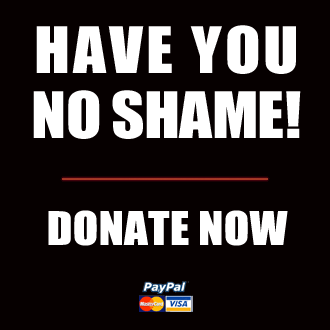 Got something to say to us? Then send us a letter.
Want us to stick around? Donate to The eXiled.
Twitter twerps can follow us at twitter.com/exiledonline