By Eileen Jones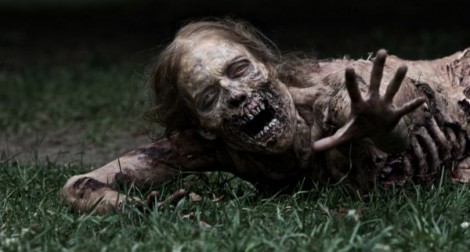 There's this hit series on AMC called The Walking Dead . Just so you know—in case you hear different—it's a rotten show. Like zombie flesh, it reeks and festers, but not in a good way.
A lot of critics say it's great because "it's not really about zombies, it's about relationships." If that doesn't set off alarm bells, you're not the readership I take you for. Because we know what that means: characters implausibly standing around expressing their Screenwriting 101 feelings about non-essentials while the undead are tearing down the door.
That literally happens in Episode 2. See, I hated the pilot so much I thought it couldn't possibly be as bad as I made it out to be, so I had to go back and watch some more. But I was right the first time.
In Episode 2, a little knot of main characters are trapped in a shopping mall with the zombie hordes just about to bust in on them. (The mall is an irritating George Romero tribute, irritating because it keeps reminding you of how inspired his zombie trilogy was and how lame this show is.) They get the last-ditch bright idea to disguise their live-person scent with dead blood and guts, on the theory that the zombies won't be able to detect them and they can escape. So they find a corpse and an axe, but before they get on with it, our hero stops, pauses lugubriously, and kneels down to do a little impromptu pre-dismemberment tribute to the dead stranger.
Now, I don't claim to have a superior understanding of human nature. Half the time I don't know what people are on about. But I'm damned if I can imagine this scenario unfolding anywhere there are real, contemporary human beings who want to live. The zombies are breaking down the last barriers, every second counts, gory vile annihilation is staring everybody in the face, and these schmoes are all standing around passively watching the king of the wankers get out the corpse's wallet and ID and start sermonizing:
His name was George [Whatever-the-hell-it-was]. He had twenty-eight dollars in his pocket, and a picture of a pretty girl…
Further significant pauses, even! And nobody grabs the ax and kills King Wank so they can use his guts as a disguise, which he's begging for! Or, if they're too nice for that, why don't they just shove him out of the way? Meanwhile he drools on about how one day, when he's reunited with his wife and kids, he has a hunch, he plumb reckons, that he'll tell them about ol' George What's-his-name…
Zombies massing all around! Skull-bashed bodies piled everywhere! A handful of survivors whose odds of staying alive and unzombified are almost nil! Are you getting this scenario? Because the people doing this show are not. They can't seem to remember for ten minutes together that zombie take-overs are serious. If you don't take them seriously, you should be doing Shaun of the Dead , a spoof. The Walking Dead is in unfunny-spoof territory half the time.
The pilot set-up went this way: Kentucky cop Rick Grimes (Andrew Lincoln) and his cop partner start off having one of those dismal getting-to-know-you-as-characters interludes where they talk about stuff in their lives that will all take on big resonance later, in what is supposed to be a convincing people-really-talk-like-this manner, only nobody really does. Partner makes fun of how his girlfriend can't remember to turn off lights behind her or some such nonsense, and this turns into a somber talk about how Grimes' wife doesn't understand him. Women! Can't live with 'em, can't kill 'em. Not till they get bitten by zombies, anyway.
These two annoying lawmen get caught in a shoot-out. Our wounded hero winds up in a coma in a hospital, and by the time he wakes up the zombies have taken over. And he wanders around alone awhile, gaping at the apocalypse.
Yeah, you're right, we already saw that hospital-wake-up-to-zombieland thing in 28 Days Later . I don't know who did it first, the 28 Days Later filmmakers or Robert Kirkman, the author of the comic book series The Walking Dead is based on. But it doesn't matter, because in the on-screen world, WE ALREADY SAW THAT, pretty damn recently too, and 28 Days Later did it better.
Anyhoo, Frank Darabont executive produces the series and directed the pilot, and he's the guy who did The Shawshank Redemption and The Green Mile . If you suffered through those, you now know what the series creators were going for, Darabont-wise: a zombie show so slow and ponderous and pumped full of rancid triumph-of-the-human-spirit cliches it'll make the critics sing for joy. And all the idiots who pride themselves on only watching "quality television" will forgive the zombie vulgarity and brag about how much they love this thoughtful relationship drama. It's perfect for the HBO/AMC TV snobs; nothing but the finest character studies for them, all making whimsical use of lurid, lightly-taboo subjects. Gangsters and drug dealers and undertakers and survivors of zombie massacres; isn't it amazing how complex and human they all really are?
Nice production values, though. That's part of the Darabont aesthetic, a sky-high budget, everything plush and roomy and well-shot. The best part of the show is the state-of-the-art special effects and CGI. The gore is copious, and some of the zombies look terrific, mouths all torn out and rotting, eyes gelid.
If you were allowed to concentrate on them and fighting them and running from them, it would help, because zombies horrify us profoundly and rightly so. But you can't, because Darabont and company keep holding everything up in order to make it more "meaningful." Oh, the ridiculous amount of effort it takes to get our Kentucky cop on horseback, for example, so he can remind us of the classic Western hero when he rides into town to confront the forces of darkness. Since he can't evoke our grand history of violent American law-enforcement in a Suburu, every car in a trashed world full of abandoned motor vehicles is suddenly unavailable. Deputy Dope trips over a handy horse and takes his Clint Eastwood ride into town in a long-shot throbbing with significance.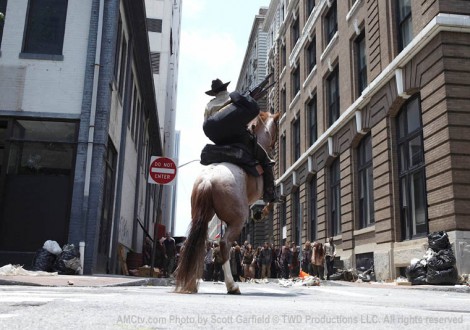 Later, in case you still didn't get it, someone snarks, "Nice moves, Clint Eastwood."
Grimes is generally so dumb he should be placed under restraint, but then periodically he comes up with a genius plan to save the whole cast, and it's up to you to reconcile those two tendencies. He gets that poor horse killed by riding it through the city at an easy loping pace, even after he knows it's aswarm with zombies. Somehow he seems to assume that if Main Street has zombies on it, all he has to do is turn off onto Elm Street and everything will be fine. He's a weasel-faced, watery-eyed little paleface, and it just amazes me what people will accept as a protagonist these days.
He isn't a fluke either; every time characters seem like they're supposed to be admirable or endearing in this show, judging by the narrative context and the music cues and all that, they're actually so despicable you get confused. Take the blonde female who's going to wind up as Deputy Dope's main squeeze (once he realizes his mean brunette wife is shagging his ex-partner back at the rural survivor encampment—but that's another storyline). This blonde gets her big character-establishing moment while still in that damn mall, in the lull before George gets dismembered. She and the Deputy are wandering around chatting in the Women's Accessories section, while the zombies hammer on the shatterproof glass, and she spots a mermaid pendant. Big irksome close-up of the mermaid pendant, making sure we remember it for the dramatic payoff sure to come in a later episode. She gushes about how much her missing sister, a goony New Age type, would like it. He urges her to take it for her sister. She frets about whether this might be considered "looting."
It's clearly supposed to be touching, that she would still be clinging to a pre-zombie value system, worrying about the ethics of "looting" in the middle of the apocalypse. (Gol durn it, what a sweet purty gal! thinks the Deppity.)
But it's not touching. It merely seems as if the characters have forgotten the plot of the show. Again. If they're so addled they can't remember their own ghastly predicament, it's hard to stay invested.
And don't even get me started about the sequence with the cartoon racist redneck and the black man who holds the key to his survival. No joke, there's an actual key to his survival, and the black man's got it in his pocket. I can't think of a better example than that to illustrate just how swamped with meaning this show is.
Read more: 28 Days Later, AMC, Apocalypse, Frank Darabont, George Romero, tv, Walking Dead, zombies, Eileen Jones, Entertainment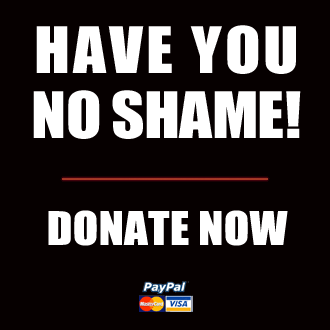 Got something to say to us? Then send us a letter.
Want us to stick around? Donate to The eXiled.
Twitter twerps can follow us at twitter.com/exiledonline