By Eileen Jones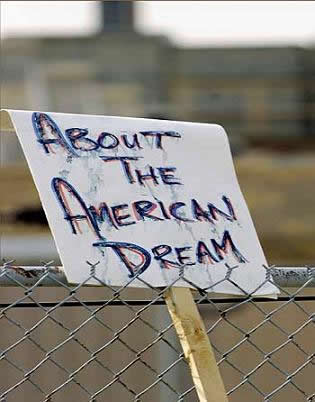 You know things are dire when I go to a protest rally. It's one of the signs of the apocalypse, the one right before the seas turn to blood. I hate rallies. You stand out there feeling like a complete ass, while people around you chant "Hey-hey, ho-ho, corporate welfare has got to go."
Whatever the thing is that's being protested, see, you say it's Got to Go.
This event was the insipidly-named "Rally to Save the American Dream" that went on yesterday in various cities across the USA. The intention was to give the thumbs-up to the Wisconsin protesters, encourage them to keep up the battle for collective bargaining rights. Also, presumably, to dig the trenches for the last-ditch fight to save the American working class, in spite of tea-party defectors who have already put out the sign saying "Welcome Corporate Overlords!"
But there's got to be a better way than this. At the San Francisco rally, there was a cheap microphone that didn't work, people yelling "we can't hear you" at the back, old lefty warhorses trotted out to say the same things they've been saying for forty years in the same reedy tones, and mildly diverting signs done with marker on poster-board:
"Scott Walker is a Koch-Whore"
"Think Outside the Fox"
"Hitler Banned Unions"
"We Are All Cheeseheads Now"
"Gov. Walker Isn't a Badger, He's a Weasel"
"Tax the Rich (They'll Be Okay)"
The worst of rallies is, nobody knows what to do once they show up. So they fall back on the toothlessly traditional. For example, the call-and-response routine that was old when Pete Seeger was young:
"What do we want?"
"Justice!"
"When do we want it?"
"Now!"
Seriously, that was one of the things chanted yesterday. Also wanted: jobs, fair taxes, and, if I remember right, collective bargaining rights, which played hell with the chant rhythm. Nobody had rhythm at the San Francisco rally.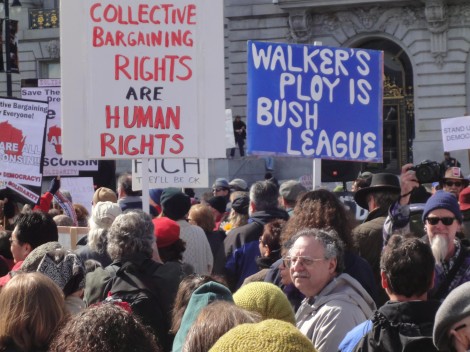 Embarrassing as hell, all of this, but y'know, squeamish avoidance is a luxury we can't afford anymore.
The reason we who work haven't all hit the streets at every increasingly sickening outrage in this country in the past ten-twenty-thirty years is a pretty simple one: it's because we aren't used to hitting the streets. We weren't raised right. We're out of practice. We don't know the etiquette, or else we've seen the etiquette and we despise it. So we hang back, snarling and fuming, and the same small gaggle of protesters and rally-ers who go to everything show up again, chant "Hey-hey, ho-ho," and make no impression. Live bodies is what you need at protests, millions of 'em, live bodies that show up and impress through sheer mass and brawn, and who look serious as a heart attack when the news cameras zoom in on faces.
But how to get them, when so many people are justifiably averse to looking like rally-twits, and won't come out in the first place? In San Francisco, where people like to rally, they didn't even fill the plaza in front of City Hall. It was maybe a third full, and it broke up quickly, with a lot of people drifting off to other rallies. There was one at Bank of America about something or other, and another just a block away, in support of Libyan protestors.
See? Not serious. People out making a day of rallying for a grab-bag of causes, wandering from one to the other like desultory attendants at a street fair—that cuts no ice with anybody.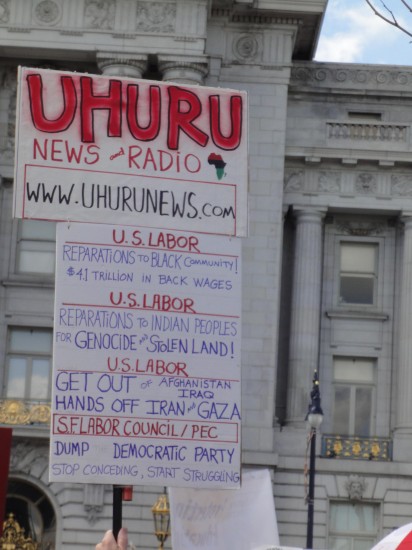 Personally, when it comes to protesting, I'm for glowering, fist-shaking single-mindedness, all-night amassing in darkness, ideally by torchlight, ferocious speeches, enormous colored banners carried by scores of people, signs with fists on them, and marching on things (cities, government buildings, corporate headquarters), preferably in clomping boots. Savage songs would be good too, only nobody sings anymore. In short, I'm for the no-Hey-Ho protest.
I realize some might consider the torches excessively old-school. Fine. Flashlights might be okay, if they're that real eye-searing kind that are also big and heavy and look like weaponry. Just in case.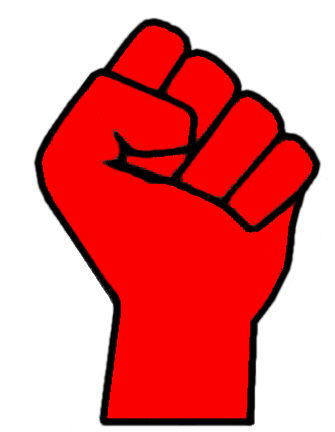 If we could get a new, formidable kind of protester in America, the kind that refuses to do mild-mannered chants and mealy little poster-board signs, we'd soon come up with better protest-rhetoric altogether. This bland, measured, excuse-us-please-we're-rallying rhetoric is sadly inadequate. For example, here's the statement put out by MoveOn.org's Justin Ruben:
Today's massive rallies show that the middle class is not going to sit idly by while Republicans demand tax breaks for corporations and their rich friends and then turn around and say there is no money for police, firemen, first responders, teachers and workers. Today's actions are just the beginning, and we will not rest until Republicans stop their attacks on the middle class.
If you read all the way to the yawn-inducing end, congratulations—MoveOn.org is the org for you.
In our new Crazyworld, this org is considered scary and threatening by right-wingers, who mention it in tones of horror. And I guess we have to give MoveOn credit, they cobbled something together on the left, and kept it together, when nobody else would. But just imagine what a really tough org could do!
It's just lucky for us that a lot of right-wing rhetoric is still oddly cautious and trembly too (though we make the same mistake they do—we think they're far fiercer than they are). Here's the call for a counter-rally in Lincoln, Nebraska, to face off against the MoveOn.org "Rally to Save the American Dream." It's posted on a right-site called Grassroots:
OUR PLAN: We will gather on the Centennial Mall because we are NOT 
attempting to get involved directly in the labor union rally. I 
explicitly urge you NOT to do so as it will only lead to trouble. Our
 purpose is to gather together in whatever number chooses to show
 support for reforming collective bargaining.
Heavens to Betsy, it might lead to trouble.
So you see, they're not even worthy adversaries yet. There's still hope. We can get serious before they do. But first we have to get some practice rallying. Job One is to mass in public, get used to being massed with a purpose. Job Two can be figuring out what to do while massing, including how to get the microphone away from the hey-ho-ing rally-twits. We've got to grow into this thing, and grow fast. All you guys out there who like to talk tough? Log off, and take it to the streets. You're needed out there.
Read more: collective bargaining, MoveOn.org, Rally to Save the American Dream, San Francisco rally, unions, Wisconsin protesters, Eileen Jones, Fatwah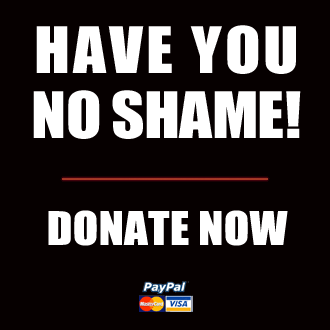 Got something to say to us? Then send us a letter.
Want us to stick around? Donate to The eXiled.
Twitter twerps can follow us at twitter.com/exiledonline