By Mark Ames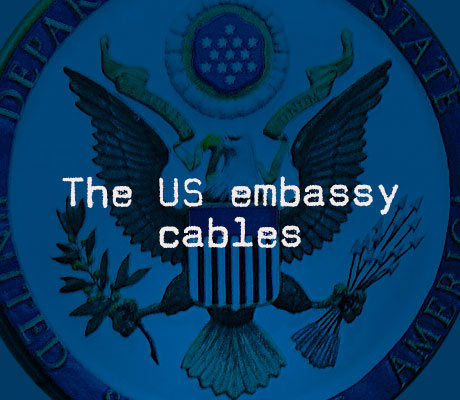 An American correspondent stationed in Moscow just forwarded me a WikiLeaked diplomatic cable about me, The eXile, and the Kremlin media-stomping in mid-2008 that killed my newspaper and sent me fleeing home. The June 16, 2008 US Embassy cable–marked "CONFIDENTIAL"–correctly put the crackdown on The eXile in the context of a wider (and scarier) crackdown on other Russian media outlets that coincided with the handover of power from Vladimir Putin to the newly-"elected" President Dmitry Medvedev. The cable was given the highly-ironic header "MEDVEDEV ON FREEDOM OF THE PRESS AND THE RULE OF LAW."
In the three years since I left Russia, I've made it a point not to wallow in any nostalgia; getting this in my Inbox forced open some of that experience. Maybe I've been a little too militant about my anti-nostalgia policy–but the problem is, I still have a hard time reconciling the two universes, Russia and America. It doesn't seem possible to have lived two different lives in two different paradigms. To go from that incidents-packed epic… to the craven, Beigeist little script that they offer you here. Those years in Russia barely seem real to me now. I can't reconcile the two universes–the Russia of Yeltsin and Putin, epic and violent and unpredictable; and 21st century America, a loud-mouthed drama-queen whose idea of "rebellion" and "danger" is joining a billionaire-worshipping cult called "libertarianism" and mouthing whatever latest slogans the cult's marketing department floats to refresh their "radical" brand. When it comes to petty vindictive komissars policing each other for bad words, Russia doesn't even compare to America. Just being alive and here in early 21st Century America is a degrading experience. Klendathu may have been an ugly planet, a bug planet… but it's an amusement park compared to this: "It's a bland planet…a hall monitor planet!"
It's not possible to reconcile the two narratives. That's why I can only seem to remember those Moscow years in the third person, if at all.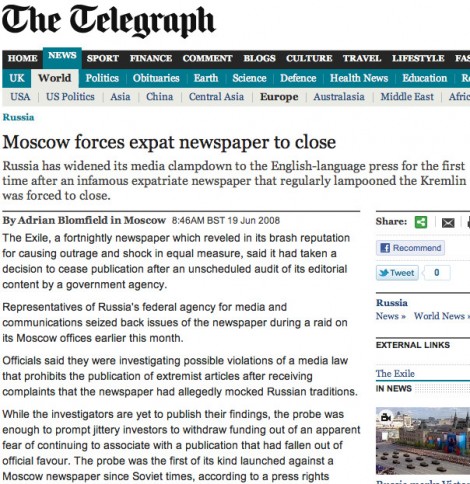 Getting this email brought me back to that last moment, reminding me why I had to get the Hell out fast. I'd ruined Medvedev's big Rebranding Party as the "liberal" champion of the free press and Western values. That same week, the Russian opposition media pissed on Medvedev's party by headlining The eXile's demise, and I did everything I could to inflame it. And that reminds me–I blogged about those last two weeks for the late great Radar magazine, from the day the Kremlin agents came to my newspaper's office, to the day I fled like Snagglepus. Radar, the only brave print outlet, fell a few months after I returned to America, and was bought out by a celebrity gossip site. Naturally. (I've gone back and grabbed the old cached blog posts, and put them up on our site for your reading pleasure–click here to read the Last Days of The eXile.)
After I finally read this WikiLeaks cable,  the world I left behind started to come back. And remembering what we did and what we faced then, and remembering the corrupt little rats I've faced since coming back here–it really started to piss me off. All I can think to myself is, I have been banished to the Land Of Chickenshits. Chickenshits and Drama Queens–take your pick.
You see, that's why it's so hard to think about Russia–what happened there makes absolutely no sense anymore, not in the First Person. Because over there, to paraphrase Rutger Hauer, I saw things you people couldn't possibly imagine–.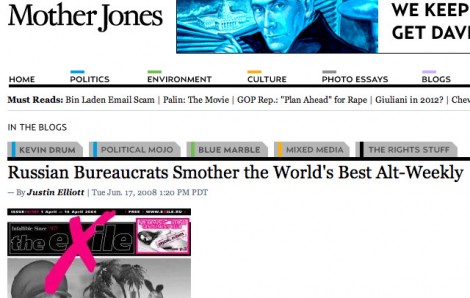 Here, the stakes are so much higher, all the power and wealth and imperial might–should be higher, anyway–and yet there's no tragedy and no farce for the ages, just a bunch of mean dumb hicks who got control of someone else's Death Star, and they're still rolling it three decades later in the longest, dreariest crash scene in history.
In the Land of Chickenshits, fighting real power–you know, like America's oligarchy– or exposing their sleazy PR schemes, that's not the sort of thing that appeals to the Chickenshit-at-heart. What makes it all the more demoralizing here is that there's no sympathetic character, as fiction editors would say. The oligarchs just snap their jaws and roll their eyes back like crocodiles; and their prey, the 99% of Americans who aren't millionaires, do everything in their bigoted little powers to make you despise them. They despise each other, after all. They don't want to win; all they want is a chance to lick their beloved billionaires' heels, just once.
Nope, here in hall monitor paradise, what passes for "brave" and "fighting the system" is titty-twisting the word-police. Or word-policing the titty-twisters. The idiots can't stop playing this game, no matter what happens around them–two lost wars (going on three), the collapse of the economy–never mind, too busy titty-twisting and braying about how "I'm not politically correct" or tattling on the titty-twisters. Two sides of a tin coin.
It sounds like black comedy from afar, considering this is how one of history's greatest empires died– but it gets old, and then the getting-old gets old, and then there's nothing left but the repetition of early-21st century American decadence.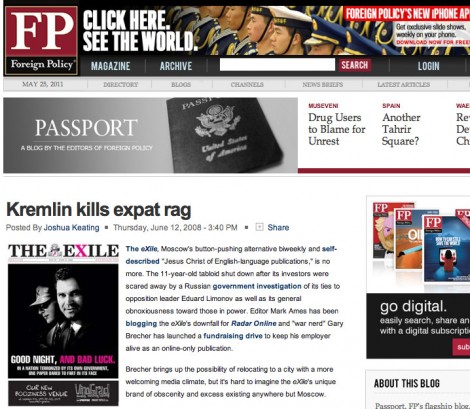 Folks, in 20 years' time, maybe sooner, when a more intelligent generation than ours–or a more intelligent conquerer like the Chinese–look back at this period of American decline, and sort through all the righteous whingeing and cultural stagnation, they're gonna say, "Dang, you early-21st century Americans were STUPID."
Thanks to some Kremlin bureaucrats, I can say with a straight face: "I'm with STUPID." Every second of my life. The simpering little populist in me wants to make a self-deprecating joke here, something insincere about how I'm just as stupid as the rest of you. But I'm not. I'm just stuck here with you.
Date: 6/16/2008 8:06:00 AM
Classification: CONFIDENTIAL
Source: Embassy Moscow
Subject: MEDVEDEV ON FREEDOM OF THE PRESS AND THE RULE OF LAW

Body: C O N F I D E N T I A L MOSCOW 001699

SIPDIS

E.O. 12958: DECL: 06/16/2018
TAGS: ECPS, PHUM, PGOV, RS
SUBJECT: MEDVEDEV ON FREEDOM OF THE PRESS AND THE RULE OF
LAW

Classified By: Political M/C Alice G. Wells for reason 1.4(d).

1. (C) Summary: President Medvedev has publicly spoken out
twice in recent weeks about supporting press freedom in
Russia and the rule of law. While maintaining that the
government would be responsible for upholding the rule of law
with respect to the mass media, he also stressed that
publishers and editors must be respect moral and cultural
norms. Beyond the rhetoric, Russian national television
remains under strong government influence, a situation that
experts predict will continue. Meanwhile in Moscow, official
actions against smaller media outlets show that the rule of
law will continue to be used against them that offend Russian
political or cultural sensibilities. End Summary.

Medvedev on Freedom of the Press and the Rule of Law
——————————————— ——-

2. (U) In two major addresses this month, Medvedev combined
the themes of press freedom, rule of law, and social
responsibility. In a June 5 address to German political
leaders in Berlin, Medvedev said that "media freedom needs to
be protected, and this protection needs to be enshrined in
the law. " He tempered these remarks by noting that there was
also a responsibility for publishers to "preserve moral and
cultural values " in the mass media, including on the
internet. In a June 11 address to the World Russian Press
Congress in Moscow, he told the assembled journalists that
"our immutable guidelines, now and in the future, are the
construction of a just and responsible society, respect for
human rights, freedom of the press and freedom of speech and,
of course, ensuring the supremacy of the law. "

Two Media Outlets Under Official Pressure
—————————————–

3. (SBU) In Moscow, the application of the rule of law edged
two small media outlets towards closure. On June 5, four
officials from the Federal Service for Mass Media conducted
an unscheduled audit of The eXile, a raunchy English-language
satirical newspaper. AMCIT Mark Ames, the editor-in-chief,
wrote in a blog that the officials asked questions about the
paper 's content (including about columns by Edward Limonov,
leader of the banned National Bolshevik Party) and found
several administrative violations for which they fined him
the equivalent of USD 25. According to Ames, news of the
audit had sent his investors and advertisers "running for the
hills, " and that the paper 's debts would now force the paper
to close. The inspectors have not yet made any decisions
based upon the content of the paper, but could issue an
administrative warning and issue a fine if they determined
that the paper had violated the law against promoting
extremism, drug use, or pornography.

4. (SBU) In a separate case, a Moscow district court on June
6 banned the "Ingushetia.ru " website after ruling that it
qualified as a mass media outlet and that it had disseminated
extremist material. The website, which is registered in the
United States, continues to function, and it is not clear if
the court decision will have any practical effect. According
to press reports, the apartment of Kaloi Akhilgov, one of the
lawyers representing Ingushetia.ru, was searched for two
hours by police on May 29, an action he claimed was motivated
by his defense of the controversial site.

Television Remains Under Political Pressure
——————————————-

5. (C) Against the backdrop of Medvedev 's rhetorial support
for press freedom, conservative television host and
commentator Aleksey Pushkov, distinguished by his sharp
critique of the U.S., expressed disappointment to us over the
"too tight control " that continued to be exercised over the
national television channels by the political leadership.
Medvedev 's ascendance had not produced an easing in the media
atmosphere, he noted, with certain topics clearly off-limits,
including any discussion of the relative political balance in
the Medvedev-Putin power "tandem " or speculation over either
leader 's personal life. None of these restrictions were
promulgated in writing, Pushkov commented, and there were
changing standards that made avoiding "red-lines " more
difficult and increased the tendency toward self-censorship.
Pointing to earlier pieces that he had aired on the
then-newly elected President Putin and his success in
consolidating power, which by 2003 had become too provocative
to touch, Pushkov said any analogous effort to dissect the
early days of the Medvedev presidency was unthinkable.

6. (C) While adamant that the Kremlin (and now White House)
were too conservative in its approach, Pushkov juxtaposed his
interest in seeing more critical coverage to the apolitical

tastes of Russian television viewers. Noting that the most
provocative political show of privately owned Ren-TV captured
less than one percent of television viewers, Pushkov
concluded that Russians increasingly sought what their
Western counterparts demanded: good entertainment. With
respect to his own program, Pushkov maintained that issues of
social justice elicited by the far the greatest
audience-share, followed by gossipy celebrity features, and
attacks on NATO expansion.

7. (C) Prominent First Channel host, conservative magazine
editor, and Public Chamber member Maksim Shevchenko
separately echoed Pushkov,s assessment that Medvedev,s
first month in office had not produced any easing of
television restrictions. Shevchenko conceded that he was
unable to air his strongly held views over the injustice
meted out to Russian Muslims, particularly in the North
Caucasus and especially in the trial over the Nalchik
uprising. While Shevchenko said he was convinced that all
but a handful of the 85 accused in terrorist activities in
Nalchik were innocent, with confessions coerced under
torture, it was unrealistic to expect his government-owned
television channel to allow him to air this topic. It was
"too difficult to navigate, " Shevchenko said, particularly in
a period of uncertainty over the true power balance. A
provocative political program, he noted, immediately would be
seen through the prism of which clan benefited the most.
While discounting Medvedev,s democratic credentials,
Shevchenko said he expected Medvedev to do more to address
what were "second-tier " issues for Putin, such as the
strengthening and "modernization " of Russian political
institutions. Whatever Medvedev,s future aspirations,
Shevchenko dismissed a near-term change in television policy.

Comment
——-

8. (C) While Medvedev 's public pronouncements are
encouraging, there has been no short term effect on media
freedom. While the official actions concerning Ingushetia.ru
and The eXile originated at the local level, they do
demonstrate the practical effect of official pressure on the
media.
RUSSELL
"
Would you like to know more? Read "Final Days of The eXile: Mark Ames Blogs the Kremlin Crackdown"
Would you like to know more? Buy The eXile: Sex, Drugs and Libel in the New Russia co-authored by Mark Ames and Matt Taibbi (Grove).
Click the cover & buy the book!
Read more: freedom of the press, medvedev, moscow, Russia, the exile, wikileaks, Mark Ames, eXiled Alert!, Russia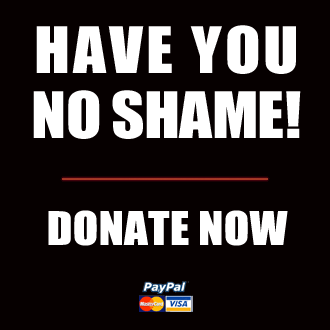 Got something to say to us? Then send us a letter.
Want us to stick around? Donate to The eXiled.
Twitter twerps can follow us at twitter.com/exiledonline