By Gary Brecher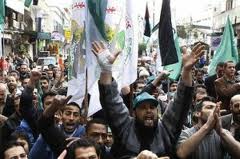 First I have to get today's big anniversary out of the way.
Today's Fort Sumter Day. 150 years ago today, Charleston, SC, celebrated the birth of their precious Confederacy by bombarding Fort Sumter into brick chips. Colonel Anderson's men inside the fort were in no position to do much, since the chickenshits in DC hadn't had the guts to resupply or reinforce them. So they fired back at the shore until the fort was in ruins and they were out of everything, then marched out with flags flying and the band playing "Yankee Doodle." Four years later they were back, and Sherman ordered the same shore batteries that had turned Fort Sumter's brick walls into red gravel to fire 100-gun salutes as the Union flag was raised again.
And ten years after the end of the war, in 1876, Wade Hampton, the richest slaveowner in SC and a bigmouthed son-of-a-bitch even by Southern cavalry standards, was elected US senator from SC after his hired thugs, the "red shirts," beat up any white who favored the civil-rights candidate and hanged a few black people who had threatened to vote.
Look at it that way, the whole thing that started at Sumter 150 years ago seems like a lot of trouble, not to mention 750,000 dead, for what we got. Too bad they didn't garotte Hampton nice and slow, throw his corpse to the sharks, and hand SC over to the freedmen.
No time to waste on happy dreams though, because it's been a great week for current wars. Something classic happened in Syria last week, something that you need to keep in mind to understand guerrilla war. There was a big funeral, and the Syrian army fired on it. This is what irregulars love: when they have a few men killed and they can stage a huge, noisy funeral and provoke the authorities into firing on it. Of course, some authorities take more provoking than others. From what I've read, the Assad family that runs Syria doesn't take a lot of provoking.

Rifat and Hafez al-Assad: The Other Brotherhood
In 1982, the Assads, who belong to a weird Muslim sect, the Alawites, were fighting a Muslim Brotherhood insurgency that considered them very un-Sunni and way too secular. The town of Hama, near Damascus, was the Brotherhood's stronghold, and after the Brothers ambushed an army patrol there, Bashir al-Assad assigned his brother Rifat to deal with Hama once and for all.
He did.

The army surrounded the town, shelled it for weeks, then went in looting and shooting anyone who didn't look convincingly dead. Something like 30,000 people died. Funny thing is, antiterrorist gurus like Robert Baer are big fans of Syria for showing us how to fight terrorism.
What's weird is that you can kill 30,000 people and the problem doesn't go away. Syria's still got problems with the Brotherhood, along with the problems every Arab regime has to deal with: huge numbers of unemployed young men, food prices rising fast, revolutions in next-door countries giving the kids dangerous ideas.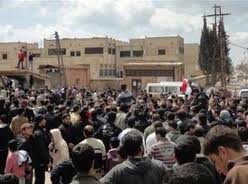 Deraa: Coffins get people excited
All this boiled over in the town of Deraa, near the Jordanian border. The kids rioted, smashing up the local Baath Party HQ, and the army fired back, killing a dozen, or two dozen, depending on which account you're reading.
That set the stage for the big funerals. At this stage of guerrilla fighting the funeral is very, very important. For one thing, it's one of the few times the rebels are allowed to make a demonstration of their strength in public. After all, they can't forbid you from burying your dead. If they did, that would drive all sorts of conservative locals into the rebel movement, because nothing gets people madder than mistreating the dead. That's a constant, just about everywhere, across just about every time period. I don't quite know why, unless it's the old "adding insult to injury" thing—killing being the "injury" and denying the dead a proper burial the "insult." You'll find most people get madder at insults than injuries. I don't get it myself; like I've said before, you can do anything you want to my corpse once I'm dead. I'd much rather have my fingernails pulled out when I'm dead than when I'm not. Just wait til I'm room temp, that's all I ask. But most people don't seem to feel that way, and naturally every religion around is full of little rules about corpse-management that have to be obeyed or the great salamander will swallow us all or whatever.
So a guerrilla funeral is a show of strength, one the authorities can't usually forbid outright (and if they do they generally regret it). And it's also a traditional moment for having pretty intense emotions, another useful thing for the guerrilla strategist. You can't arrest a mother for crying over her son's dead body—but at a guerrilla funeral that crying mom is a political statement, almost a military act. At the most obvious level, the funeral says, "These guys were heroes" when the official position is that they're terrorists, criminals, lunatics…those being the three most popular ways of describing people who attack the authorities. Just showing the fact that these guys have moms, and dads, and (usually) about a million brothers and sisters and cousins, not to mention a line of mourners stretching for miles, is a show of strength that the authorities can't do anything about. And for all those cuzzies, this funeral is a solemn day, where they pledge their lives to revenge.
And that feeds into the whole martyr deal that's very, very big in guerrilla war. Like I've said before, effective guerrilla movements start out, a lot of times, with an attack that isn't even meant to succeed in conventional military terms. It's designed to create martyrs. Those martyrs get funerals, and those funerals show the strength of the opposition, make the dead out to be heroes, and totally change the picture in most people's heads, which is of a normal orderly place with the authorities in control. Suddenly you have to face the fact that they're not in total control, that there are a lot of people who lean the other way, and that those people are serious enough to bury their dead right in front of the soldiers (because guerrilla funerals are usually attended by a whole lotta troops, "to keep order," although their trigger fingers are itching to keep order by mowing down all those crying relatives.)
The authorities can't win against a well-organized funeral. If they do nothing, they look weak—all those soldiers at the graveyard and yet the dead guerrillas' mom was cursing them to their faces and they didn't do a thing. Or if they do react, they alienate all the conservative religious types: "The army doesn't even respect the dead!" If the soldiers don't shoot unprovoked, you provoke them; it's the commonest thing in the world for a guerrilla funeral to turn into a rock-throwing riot, then somebody fires a few shots and it's all on.
The funeral thing is an example of the unstoppable simple perfection of guerrilla theory. All it takes is a few young guys willing to die, and truth is, they're not that hard to find.
One interesting thing about these funerals is that when the guerrilla war has dragged on for a long time, people start to understand the strategic significance of funerals and get pissed off, almost jealous. The classic hilarious example of that is the ultimate party-crasher, Michael Stone of the Ulster Defence Association, one of those Loyalist hit squads from Belfast.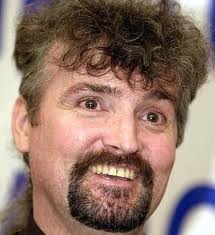 Michael Stone: About the mullet…Hey, it was the 80s.
In 1988 three IRA people, two men and a woman, were killed by the SAS in Gibraltar while they were trying to attack a British Army parade. Naturally the three bodies were sent home for burial, and naturally the burial called for the whole schmeer in guerrilla drama, which the IRA had down to a science by that time.
Well, a funeral is public, everybody knows when and where it's going to be; that's part of the whole appeal and power of the thing. Best of all, from an assassin's point of view, Gerry Adams and Martin McGuinness, the brains behind Sinn Fein, are going to be on hand.
So there's this bitter Loyalist hit man, Michael Stone, hearing about it all the time on TV and drinking himself into a good big sulk, and he comes up with a plan: he's going to attack the funeral. So he goes to the local UDA weapons cache and takes home the whole inventory: a semi-automatic 9mm, a .357 Magnum, and enough hand grenades to fill all his pockets. That may not seem like much if you live in Texas, just what you'd take to get groceries, but the UK has all these gun laws and by local standards, Stone was considered to be what they call "heavily armed."
Right when they were lowering the IRA bodies, he shows up like the bad witch in the fairy tale, lobbing grenades and firing into the crowd. But this was not your ordinary crowd. They jumped him in a hot second. One IRA man tried to wrestle the pistols out of his hand and got shot dead. (Stone killed three people overall, not much of a total with a target-rich environment like that.)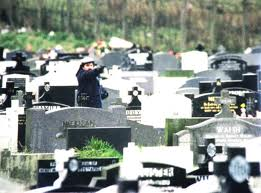 Stone expressing his opposition to terrorism at Milltown Cemetery
As soon as the crowd saw that Stone was not a properly invited guest, they swarmed him, even though he was lobbing hand grenades to persuade them to keep a respectful distance. They actually ran him down among the gravestones and started methodically kicking him to death, although the troops who were (naturally) out in force for the funerals pulled them off before they could finish the job.
What funny about the whole thing is that jealousy thing. Around then, the late 1980s, the "Loyalists" (I don't get what they're loyal too though, because from what I've read the Brits can't stand them) were getting a bad case of IRA envy. They started dressing like them, organizing themselves the same way, and now in one of the wackiest turns of the whole weird story, they've started painting wall murals of their martyrs just like the Catholics used to do. Actually, what's even wackier is that there are tours now, I read, in Ulster, where the bus takes you around from one blood-soaked mural to another, soaking up the local atmosphere.
And guess who's on one of those murals, four times bigger than life, just flingin' grenades for all he's worth? That's right, Michael "Invitation? I Got Yer Invitation Right Here" Stone.
Read more:, Gary Brecher, The War Nerd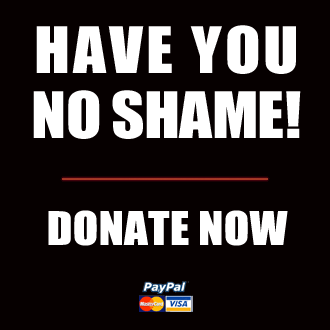 Got something to say to us? Then send us a letter.
Want us to stick around? Donate to The eXiled.
Twitter twerps can follow us at twitter.com/exiledonline