By John Dolan
The Norse Rednecks
The most obvious candidates for a flyover-state pantheon are those lovable, drunken, violent Vikings. If pickups had been around, all the Norse gods would have been driving them. All of these guys (and most of their women) have done time, probably in one of those mostly-Aryan prison systems of the Northwest. You can see Thor any time; just go to visiting hours at an Idaho prison. He's put on a few pounds, sure, but he can still wield a bonecrusher like lightning. And he's not a bad guy, sober and in a good mood. Take Loki: best friend you ever had when you were in junior high. Then he got old enough to try as an adult and the fun sort of went out of him. They're all like that, endearing but dangerously unpredictable, helping you put in a new transmission one day and shooting your dog the next.
Disadvantages: A little too Aryan for anyplace downhill from the Idaho Panhandle. Good gods for juvenile delinquents or the officer corps of an armored division looking for a patron deity, but their message to supplicants is a gruff, "You know better'n to fuck with me when I've been drinking." And the girls in the family are weirdly dull and plain for Swedes, Clydesdale mares compared to the Nile goddesses or Athena.
The Aztec Carniceros
We need to stop America's Hispanic population from sliding toward Evangelicalism, and ancestral religions have a proven record for halting this sort of cultural decline. That's the best and most urgent reason to resurrect the Mesoamerican pantheon, though there are plenty of others, notably the magnificently bloody art in which they are celebrated, the fact that a rain god, natural for the American west, is included in the group, and those wonderful names that pop off the pages like superheated kernels of blood-marinated blue corn. "Huitzilopochli"—top that for the name of a war god. Even in translation it's a cool name, "Left Hummingbird."
Besides, these are American-made gods, which can't be said for any of the other leading candidates. South of the border, sure, but that's where most Americans quite sensibly chose to live before central heating. These gods look good in Sun-Belt landscapes, just like a Chevy with ten heads and fifty bloody necks.  Best of all, nobody has a clue what they were all about, beyond blood and more blood. That's good. You want your pantheon a little mysterious, and the Aztec gods are guaranteed never to go all hippie-transparent on you.

Disadvantages: Unfortunately, that's the only thing they're guaranteed not to do. Approach one of these demons with a request for more rain on your cornfield and he'll take your left eye and right testicle as a down payment on the spot—and no promise of rain is implied. They're really only interested in dissection, whatever their official jobs, and always want to do nasty things to certain parts of your body where nerve endings and small blood vessels are concentrated, notably the tongue, genitals and fingertips.
The world is full of other candidates we've left out of this preliminary list, like the Celtic Boggymen, gods so inchoate and contradictory that nobody can even bet their names—and when they do, the names aren't promising. Their god of light is named "Lugh," as in "loogie," for instance, and he overlaps with a bunch of other foggy half-beings who form not so much a pantheon as the checklist for a Haldol prescription. There are the mud-gods of Mesopotamia, the botano-deities of Amazonia, and perhaps most promising of all, the genteel, lithe and malign deities of Haiti. And it may well be that Mormonism, an American-made cult that put Christ in a rust-belt hobbit hole and has been writhing its way out of the monotheist straitjacket since its inception, deserves a shot at the title too, it it can only find the guts to drop Yahweh and proclaim its true creed: "Every dad a deity!"
Only one thing is certain: any pantheon we choose will be an improvement on the present middle-eastern monopolists. Before we can break OPEC, we need to break That Guy.
Read more: america, religion, John Dolan, Fatwah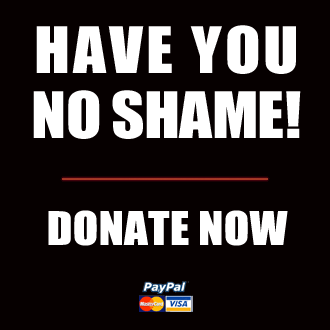 Got something to say to us? Then send us a letter.
Want us to stick around? Donate to The eXiled.
Twitter twerps can follow us at twitter.com/exiledonline