By Mark Ames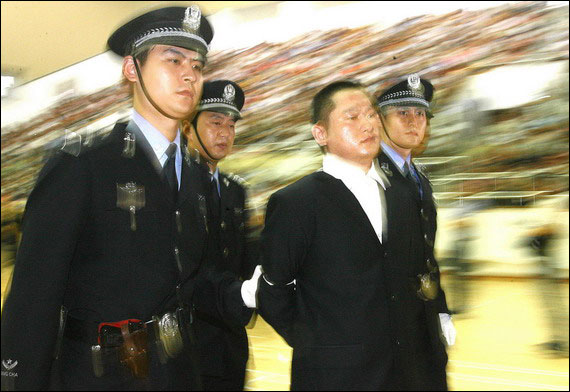 There's a reason why the Chinese are ascendant while America is in decline. Because the Chinese walk upright and aren't afraid to apply justice to the pigs who are ruining their country; while at the same time, Americans bow and scrape to the same people who loot them, dreaming like peasants of the day they can become Donald Trump's "Apprentice." It's a grotesque role-reversal, and we ought to be ashamed.
I've written about the wonderful Chinese "Mobile Execution Bus Fleets" as the solution to America's banker problem, but you folks are all too damn squeamish and worried about "class war." So while you roll over and take it as AIG announces yet another new round of bonuses stolen from your bank account,the Chinese get down to the business of executing their millionaire traitors. Can't reform 'em, folks. Gotta put 'em down for the good of the country. Three more big ones this week, including two put to death because they "seriously damaged the country's financial regulatory order and social stability":
BEIJING // China has executed two people for defrauding hundreds of investors out of millions of yuan in beauty parlour, cosmetics and property scams, crimes which the government described as a serious blow to social stability.

The two executed fraudsters, Du Yimin and Si Chaxian, "seriously damaged the country's financial regulatory order and social stability", the supreme people's court ruled.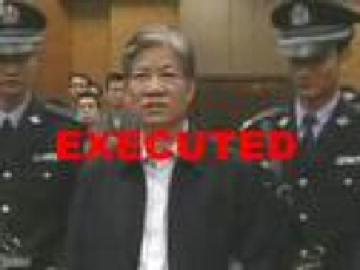 But wait folks, that's not all. One of the most powerful public-private officials was turned into mu-shu millionaire after getting nailed for taking millions in bribes, and more executions of top officials could be a-comin:
Former Beijing airport boss executed in China

BEIJING — Leaders of China's elite state industries are renowned for their power, influence, and — in several recent cases — corruption. Increasingly, they are paying the price.

On Friday, the former head of the company that runs airports in Beijing and more than 30 other Chinese cities was put to death after the People's Supreme Court upheld his sentence in a $16 million bribery and embezzlement case.

Li Peiying's execution came two days after word emerged that the head of China's nuclear power program was under investigation for alleged corruption. Just last month, the former chairman of China's second-biggest oil company, Sinopec, was also convicted of taking $29 million in bribes and given a suspended death sentence.

The heads of state-owned enterprises "possess power and money, making it easy to give rise to corruption," Wang Yukai of the China National School of Administration was quoted Friday in the Communist Party newspaper Global Times as saying.
Meanwhile, in the peasant states of America, here's how we mete out justice to our rich and powerful. We hand over to them whatever they haven't stolen already, and apologize for the delay:
Banks Paid $32.6 Billion in Bonuses Amid U.S. Bailout

By Karen Freifeld

July 30 (Bloomberg) — Citigroup Inc., Merrill Lynch & Co. and seven other U.S. banks paid $32.6 billion in bonuses in 2008 while receiving $175 billion in taxpayer funds, according to a report by New York Attorney General Andrew Cuomo.

"When the banks did well, their employees were paid well. When the banks did poorly, their employees were paid well," Cuomo's office said in the 22-page report. "When the banks did very poorly, they were bailed out by taxpayers and their employees were still paid well. Bonuses and overall compensation did not vary significantly as profits diminished."

The top 200 bonus recipients at JPMorgan Chase & Co. received $1.12 billion last year, while the top 200 at Goldman received $995 million. At Merrill the top 149 received $858 million and at Morgan Stanley, the top 101 received $577 million. Those 650 people received a combined $3.55 billion, or an average of $5.46 million.

Citigroup and Merrill Lynch suffered losses of more than $27 billion at each firm, the report said. Yet Citigroup paid out $5.33 billion and Merrill $3.6 billion in bonuses.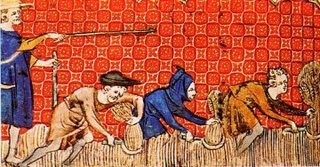 Recent photo of American taxpayers working to keep JPMorgan bankers happy.
The looting's still going on right in front of everyone's eyes. Because no one's doing a damn thing. All the rage in this country is on the rightwing–and all that rightwing rage is being used to make sure that rightwing hicks can't afford their own health care. They're literally willing to kill a liberal to make sure that that liberal doesn't give them a longer, healthier life. But you don't see them storming any AIG meetings, where they're laughing in the hicks' gullible faces:
AIG Sets Aside $249 Million for Retention Bonus Costs

By Hugh Son

Aug. 7 (Bloomberg) — American International Group Inc., the insurer criticized by Congress for handing out retention bonuses after its U.S. bailout, said the awards will cost the company $249 million in the last two quarters of this year.

The earmark includes $93 million for the division with AIG's Financial Products, the unit that sold derivatives blamed for the firm's near-collapse last year, the company said today in a regulatory filing. AIG said the entire retention program will cost $1.09 billion, including $824 million already incurred through June 30 and $19 million for 2010 and 2011 combined.

"The public will perceive this very poorly," said Frank Glassner, chief executive officer of pay consulting firm Veritas LLC.
Er, Mr. Glassner, sir, there's where you're wrong. The public won't perceive this at all. If anything, they get a sick satisfaction from getting fleeced by the rich. "He noticed me enough to steal from my grandchildren! Wow!" In the ghetto mentality of today's America, what matters to the bottom 90 percent is making sure that the bottom 90 percent stays as miserable as they are, and no one gets out.
And ghetto it is, as the masses of Americans are getting poorer and poorer at a rate never before recorded:
American Incomes Head Down, Threatening Recovery in Spending

By Shobhana Chandra

Wages and salaries, which drive recoveries in spending, fell 4.7 percent in the 12 months through June, the biggest drop since records began in 1960, according to Commerce Department figures released yesterday. The Obama administration's tax cuts, extended jobless benefits and a one-time Social Security bonus have helped mask the damage done by the worst employment slump since the Great Depression.
Yeah, I can hear you yawning, "So what? They're just Americans." True, Master-san… but I still have a faint memory of a time when Americans actually minded being treated like cattle, and I can't completely shake it.
Thinking about how low Americans have fallen, I think about something Chairman Mao said about the Hunanese people 70 years ago, which applies to Americans today:
"The Hunanese have not strengthened their backs. They have vomited more than breathed."
Read more: AIG, bonus, china, corruption, execution, Mark Ames, Class War For Idiots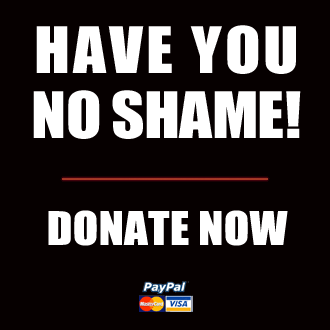 Got something to say to us? Then send us a letter.
Want us to stick around? Donate to The eXiled.
Twitter twerps can follow us at twitter.com/exiledonline