By Mark Ames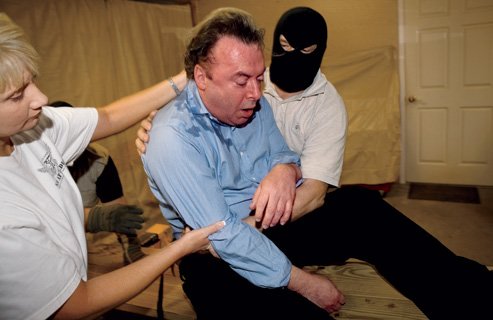 First there was Hitchens' comically idiotic attempt at gonzo waterboarding, in which the macho British warmonger lasted all of 11 seconds, even after he massively cheated in order to make the waterboarding as unfrightening as possible. Now he's spinning a recent hilarious ass-kicking he suffered in Beirut as some kind of principled macho neocon bravado. The story circulating has it that Hitchens bravely defaced a Syrian fascist poster, and was summarily stomped along with two other journalists by gangs of Syrian thugs. However, according to a neocon blogger pal of Hitchens who was on the scene, what really happened was more Sylvester The Cat slapstick than Superman bravado:
I wasn't there. I was there, however, for the immediate after-action report, and have heard it told ten times by now, including most of it from Hitchens.
Hitch and two others were out on some or such errand. One guy was just telling Hitchens that the Syrian Nazi party had little support in the country but was paid by Syria to kill people, and that he'd been told they're the one party you don't fuck with.
So five minutes later they come across the poster for the Syrian Nazi Party on an abandoned bagel shop — abandoned, if I had this right, after Hezballah had attacked it last year due to the overly Jewish connotations of bagelry.
So Hitchens immediately takes out a pen and writes "No, no, Fuck You" on the poster.
…Well, when this Syrian Nazi goon saw Hitch do this, he confronted him and kinda-sorta attacked him. I say kinda sorta attacked, because what his main intent was was to delay Hitchens from leaving — until the ten Nazi goons he had just texted on his cell phone could arrive.
There was some kicking and pulling and hitting. Hitch and the others attempted to get into a cab — the Syrian Nazi goon got right in the cab with them, still hitting Hitchens. They could not force him out. Eventually they all exited, and attempted to get a fresh cab, but other cabbies were now hip to the fact the Syrian Nazis had been riled and wanted no business from them, so two cabs passed refusing their fare.
So rather than getting stomped while fighting bravely against a gang of Syrian fascists, we have Hitchens plus two sidekicks deliberately provoking Syrian thugs in a foreign city…and then fleeing like bitches when one lone Syrian nerd came after them. And even with their three crusading Western selves versus one lone Syrian nerd, Hitchens STILL got thrashed. The offended Syrian fascist even followed Hitchens into the back of the taxi and rag-dolled him in the backseat! It's so Looney Tunes that you have to wonder if the taxi rocked back and forth while the nerd was pounding Hitchens in the back. Like, were there stars shooting out of the taxi windows? Did Hitchens see a tweety bird circling around his head after the stomping?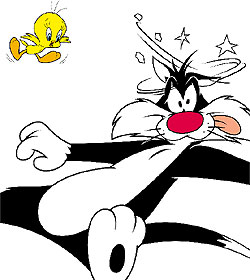 Even the one impressive detail first reported about the fight via Hitchens' supporters–that he got stomped in the middle of the night, in a dark empty Beirut backalley, after getting famously drunk in a bar, fighting alone against a gang of Syran fascists–was an inversion of the truth, a very sad slapstick truth. In reality, Hitchens was stomped in broad daylight in a "posh shopping district" by a lone Syrian twerp fighting against Hitchens and two friends after they set him off. As the aforementioned neocon blogger (who thinks he's doing a favor for his buddy Hitchens) notes:
It didn't happen in a bar. It happened mid-day on the street. It wasn't a drunken brawl. I have no idea if Hitchens had drank at all, but if he had, it was like his typical lunch-time bloody mary. (I'm not saying he didn't get drunk– just not then.)
Thufferin' thuckutash. Hitchens' buddies tried to warn him before the stomping that if he defaced a Syrian fascist poster, it would cause problems for everyone . Naturally, Hitchens didn't listen and instead took a tough moral stand…before fleeing like a bitch and getting his ass kicked, even though with two backups he should have stomped the Syrian. Sorta stands as a metaphor for Hitchens' behavior during the Bush years.
It reminds me of the episode when Sylvester gets stomped by the kangaroo. Sylvester picks the fight deliberately because he's sure he can kick the kangaroo's ass and therefore impress his son, since to Sylvester, the kangaroo is nothing but a mouse. Sylvester's son tries to tell him that the kangaroo is much more serious than a mouse, but Sylvester patronizingly tells his son not to be afraid, they're just little mice, because Sylvester sees this as a cheap opportunity to make himself look tough: "Son, you take care of all the little mice, and I'll handle any BIG mice that come along." Once again, Chritthhhhhhtopher Hitchenttthhh-thhhh, you showed that big mouse who's boss.
Mark Ames is the author of Going Postal: Rage, Murder and Rebellion from Reagan's Workplaces to Clinton's Columbine. You can reach him at ames@exiledonline.com.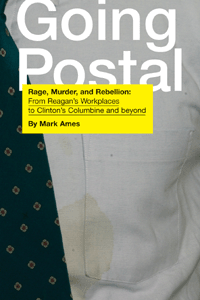 Click the cover & buy the book!
Read more: hitchens, Mark Ames, eXiled Alert!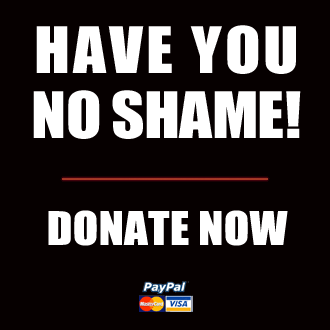 Got something to say to us? Then send us a letter.
Want us to stick around? Donate to The eXiled.
Twitter twerps can follow us at twitter.com/exiledonline