By Jack Mann
Deep in your heart of hearts you know this day will come. It may come tomorrow or 10 years from now, but its coming is as inevitable as your funeral. The TV will go silent, the Internet will cease with a shudder, the police and army will vanish. Whatever the reason, our civilization as we know it will cease to exist and will be replaced by a makeshift barter economy filled with lawlessness, disease and ravenous humanity. Mad Max's time will come, but there will be no pretty hero to save you.
Eventually, the situation may stabilize. But in the first few months, inaction will weed out the weak, the timid and the infirm. Whether you and yours survive depends only on you.
Your survival will depend on the tools you have at your disposal. A lot has been written about earthquake survival kits, flood survival kits, tornado survival kits and the like. Those articles contain great information on how much and what kind of provisions and tools to store, but none of them cover the tools and supplies that will really matter: firepower. Yes, the most important tool you can have in this type of situation is an appropriate firearm and a big supply of ammo. If you chose wisely, and your luck holds, you will live, perhaps long enough to see order restored. If you don't, you will die.
The whole thing is simple, really. If you are to have only one firearm, make sure it is a reliable rifle in a potent caliber. A sidearm can prove very valuable, as it can be easily concealed and operated one handed, but a sidearm is inferior to the rifle in most other scenarios.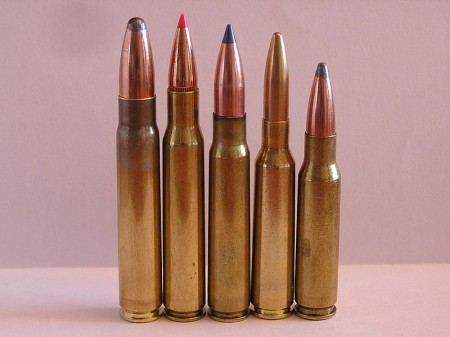 The preferred caliber for your one weapon is .308 Winchester (7.61×51mm Nato). The .308 is a very common round and will be available long after the factories that make it are reduced to smoldering, empty rubble. Any local Walmart or Sportmart is likely to have crates of the .308 – just make sure getting additional ammo is on the top of your "shopping" list when the big day comes. But you're better off stocking up well beforehand.
The ballistic characteristics of the .308 are excellent as well. It is accurate to 700 yards, has a fairly flat trajectory and has excellent stopping power. Some of you who know a thing or two about weapons may have read that the .223 is the best round for a modern rifle. It is, but not for the scenario we are considering. The .223 has less range than the .308 and its stopping power depends largely on using frangible ammunition. In a time of crisis, you have to be sure you rifle will protect you with any ammo you can get your hands on. And compared to the .308, the .223 is a highly specialized round, meant to ensure that a squad carrying M16 carries more ammo and can put more lead on target then a squad carrying AKs with a larger caliber ammo. Shot per shot, however, the situation changes.
The .308 round will incapacitate a zombie-size target with one well-placed shot, while a .223 is likely to require several rounds to put them down. In most states, it's not even legal to hunt deer with the .223, because too many deer are just wounded, rather than killed, by the small bullet. If you can't reliably kill a deer, what chance do you have against a pack of desperate people?
There are many rifles chambered in the .308, so the choice of the rifle should be dictated by its intended use. For dense urban environments, a semi-automatic rifle with 16-18 inch barrel length is preferable. This will assure the rifle is easy to handle in confined spaces and still maintains a 300-500 yard effective range. Some good choices are the AR-10/SR-25, M1A SOCOM 16, and the AK variants available in .308. The Springfield M1A is probably the best compromise between accuracy and reliability, but it is expensive, at over $1000. The AR-10 is highly accurate but requires a lot of maintenance, making it suspect as a survival rifle operated without access to gun-smiths.
Whatever rifle you chose, make sure it is equipped with iron sights and practice using them. A close-quarter battle optic like an Eotech maybe added, but keep in mind that it will require batteries, which do not last forever! Besides,  over-equipping a rifle makes it heavy and without transportation you will have to move around on foot. Remember, being mobile increases your tactical advantage – you want to survive!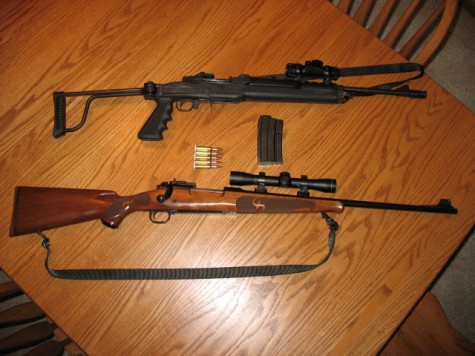 If you live in a rural or otherwise sparsely populated area where you can see and identify targets at more then 500 yards, a bolt action .308 rifle is recommended. This rifle should have an 18-20 inch barrel to assure accurate hits up to 800 yards away and a robust scope system. Bolt action rifles are lighter then carbines, which is advantageous as there are greater distances to cover. The Scout rifle, invented by Jeff Copper, would be ideal. Its main distinction is a forward mounted scope, which allows the operator a wide field of view when not using the scope, and a quick transition to the scope when needed. Due to the forward placed scope, it can be used adequately in close-quarters, and also functions amazingly at long distances. Savage and Steyr make excellent Scout rifles.
Remember, acquiring tools is only the beginning. You must get proficient with whatever rifle you chose. More impotently, you must prepare mentally. You must imagine what will happen when the television tells you not to panic and then goes silent. Where will you go, what will you do? Make a mental list, practice the scenarios in your head. If you panic, you will die. Plan, prepare, stay calm and enjoy your imminent post-apocalyptic future! I can't wait.
Read more:, Jack Mann, eXiled Alert!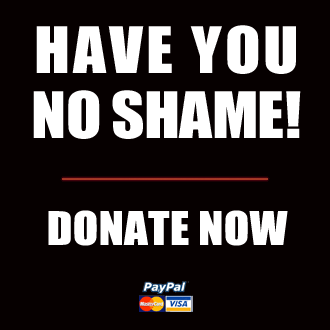 Got something to say to us? Then send us a letter.
Want us to stick around? Donate to The eXiled.
Twitter twerps can follow us at twitter.com/exiledonline