By Eileen Jones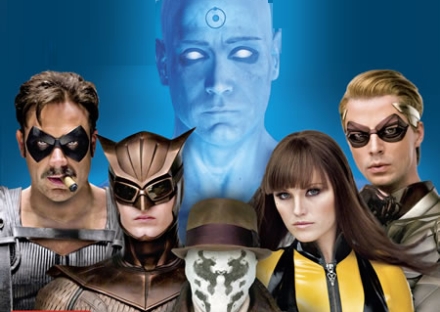 Watchmen is one of those movies that is so thoroughly slimed with promos and recycled opinions by the time it opens, you're already sick of it. The film industry term for this is "a saturation release," meaning a liquid shitstorm of hype covering every surface, oozing into every crevice of the known world. We've endured months of this carpet-bombing: all-media ads, star interviews, fan burblings, critical frettings over nudity, sex, violence, nihilism, and Alan Moore rumbling from his bunker in England, disavowing all future film adaptations of his work and predicting that this one will suck.
So when you finally see Watchmen, if your overall reaction is, "Meh," you don't know whether the movie itself is to blame for the tepid reaction, or whether the tepid reaction means it must've been pretty good because at least you weren't actively retching throughout. Maybe see it again in a month or so, when they've hosed off the sidewalks and the yammering's died down?
Provided you have another two hours and forty-two minutes to spare in a month or so. That's the film's insane running time.
Maybe stick with "meh."

Watchmen, as the world now knows, is about a sort of emotionally disturbed justice league, a team of anti-heroes battling the dystopian forces of human savagery in an alternate-reality 1985. When the movie proper begins, Nixon's still president, America's won the Viet Nam War but is facing off with Russia on the brink of nuclear catastrophe, and the anti-hero team has, ironically, been forced out of action by a law forbidding masked vigilantism. They're reunited at the funeral of one of their members, the chuckling, raping, kill-happy soldier of fortune called the Comedian, aka Edward Blake (played by Jeffrey Dean Morgan with enjoyable brio). Scary right-wing vigilante Rorschach (Jackie Earle Haley) suspects that somebody's hunting anti-heroes and sets out to hunt the hunters.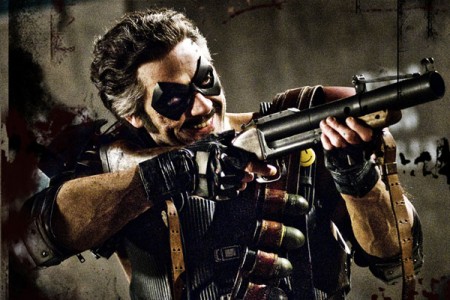 As the world also knows, this film is based on the seminal mid-'80s graphic novel written by Alan Moore (League of Extraordinary Gentlemen, From Hell, V for Vendetta) and illustrated by Dave Gibbons. It posited the "superhero" as a regular screwed-up git, and is credited with ratcheting up levels of narrative complexity and psychological twistedness to challenging heights. There's been lots of stealing from this source material ever since (The Incredibles, Mystery Men, Hancock), which is another reason why you might say "meh" to the movie. Even if you haven't read the graphic novel, the whole thing seems vaguely familiar.
If you have read the source material, you see how faithful director Zack Snyder (300) and his team have tried to be. Some say too faithful, though presumably not the fan-purists. In certain ways the attempts at fidelity pay off: the opening of the film's pretty good, nicely cutty and dense and richly art-designed, finding lively ways to approximate Moore's flashback structures and multiple narrative lines as well as Gibbons' vivid color scheme. We get the recreation of the Comedian's murder (brutal beating, hurled through plate glass window, twenty-story drop to pavement-splatter, counterpointed by Nat King Cole's dreamy song "Unforgettable") plus a fast run through Watchmen history back to 1940, with humorous Weegee-inspired frames of crime-fighting mayhem, all presented in a pleasant rush.
You pay for the inventive frontloading, however. Most of the rest of the movie stretches out like the Gobi Desert, one hell of a plod between oases.
Because in many ways fidelity turns out to be the enemy, accounting for cruelly boring expanses filled with chapter-and-verse exposition and plot points that occurred in the novel but didn't seem to have nearly the same moronic prominence. No wonder Moore kept insisting that the plot was the least interesting thing about his novel. There are endless scenes, for example, with Ozymandias, aka Adrian Veidt (supposedly the smartest man in the world but not smart enough to have an unexpressed thought, apparently) explaining his intentions and actions and future plans at such absurd length they belong in an Austin Powers parody. The actor playing him, Matthew Goode, is triply cursed by a prissy lack of charisma, a stupid outfit, and a long-eared arctic-tiger pet that looked sorta cool in Gibbons' drawings but now appears to be a cute animated stuffed toy, raising the lameness quotient to the sky.
Don't pin your hopes on the sex and violence, either. I don't know what everybody's on about—I guess the R-rating has given people big expectations—but believe me, if you watch action films much, there's nothing special going on here, gore-wise. It's just another day at the office. As for the full-frontal nudity, it doesn't even count, really, when it involves a big blue naked guy (Billy Crudup + CGI as Dr. Manhatten/Jon Osterman) talking in soothing tones about how human existence is a highly overrated phenomenon. We agree, for the record, but nobody could call the effect of his many pronouncements exciting, johnson or no johnson.
Snyder, you'd swear, has no idea what works and what doesn't, judging by the way he allots screen time. For example, he stages an interminable sex scene between the two most boring anti-heroes, Silk Spectre/Laurie Jupiter and Nite Owl II/Dan Dreibrug. Yes, the scene was in the novel, but it took up about five frames. Here they're humping away for several minutes to Leonard Cohen's "Hallelujah" (which is the go-to song for every other movie and TV show lately—I just heard it used in a rerun of Scrubs). Okay, I admit that scene was pretty funny, so it gets a few points for entertainment value.
But these characters are also played by tragically low-wattage actors. Patrick Wilson as Nite Owl is good at portraying the dejected, schlumpy Dreiburg, but he brings exactly the same sad-sack quality to Nite Owl when in costume fighting evil. And Malin Akerman as Silk Spectre was clearly cast for her resemblance to the Gibbons drawings and her ability to fill the vinyl-and-spandex outfit. She can't act at all, but she's got more screen time here than Meryl Streep in Sophie's Choice.
Contrast these stiffs with Jackie Earle Haley, aka The Main Reason to See This Film. He's great. He's playing the masked vigilante Rorschach, and it's too bad he's masked, because that means you only get to look at his wonderful, eerie face in a few scenes. He's got this long, weird head, with high cheekbones, pale, pitted skin, and pale green eyes; it looks like the face of one of those hick sociopathic killers from 1930s mugshots. His head's too big for his small, narrow body, which also looks vintage 1930s with its hard-labor kind of muscles. The phrase "he'd kill you as soon as look at you" was made for this guy.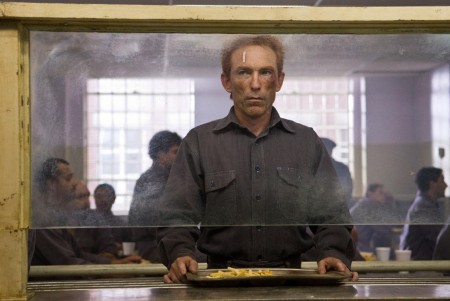 You get to see him in all his glory in the prison scene midway through the movie. The hardcase prisoners are overjoyed and sharpening their shivs for him. But in a cafeteria confrontation, he tells them they don't understand who's in danger: he's not locked in with THEM, they're locked in with HIM. Oh, it's beautiful how Haley pulls that off, all skinny five-feet-five of him. Don't try this at Juvenile Hall, kids. You've got to have the fathomless eyes that only genuine insanity—or a gift for impersonating genuine insanity—can bestow.
Haley's triumph here reminds me of how Mickey Rourke locked down the right tone for Sin City almost single-handedly, indicating the possibilities for a better movie, one not cluttered up with a cast of thousands of Josh Hartnetts and Brittany Murphys and other clueless shmoes. If you just kept Haley and Jeffrey Dean Morgan and then did some major recasting of Watchmen, and if you took the opening and decided to make the whole film fast and flashback-filled and feverishly-colored, and you got very fierce and irreverent and cut all the ponderous dialogue to the bone…well, too late now.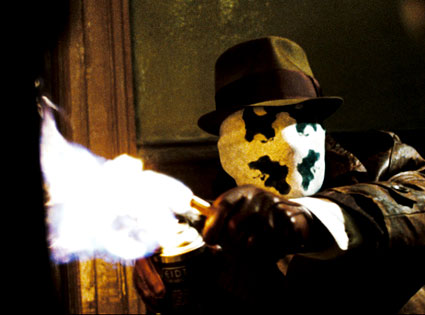 Anyway, this is the kind of movie that people are going to mob to regardless, and decide for themselves what to think about it, and add their opinions to the opinion-slime gunking up this film experience, just like I've done. Because frankly, there's nothing else playing out there but Elle Fanning in Phoebe in Wonderland, and that's one movie we're all willing to leave in its pure, unhyped, unwatched, undiscussed state.
Read more: Alan Moore, dystopia, hype, Watchmen, Eileen Jones, Entertainment, movies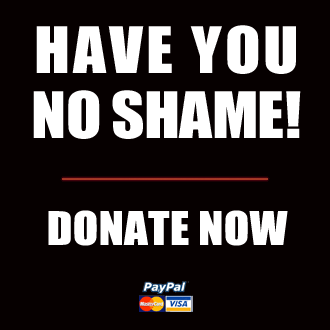 Got something to say to us? Then send us a letter.
Want us to stick around? Donate to The eXiled.
Twitter twerps can follow us at twitter.com/exiledonline