By Eileen Jones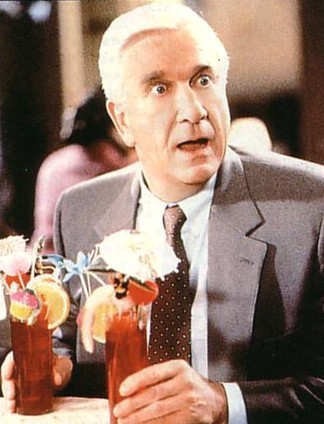 One of the pleasures of the run up to New Year's Eve is reading the list of celebrities who've died during the past year. You can gloat over the demise of people you always hated who've been taking up space in the world that you require for other purposes, and then enjoy fuming over the obligatory media tributes to those horrible creeps. I still remember fondly the death of Ingmar Bergman in 2007. That miserable old git! What a kick that was, I thought he'd never die! I bet he didn't feel so pompous about God's absence when he was choking on his last breath!
Of course, occasionally somebody good dies, and then you feel a little bad, especially if they never got their just due in the world. So, like a lot of pleasures, Celebrity Death Revelry can backfire.
I mean, Steve Landesberg died in 2010, and I felt remorseful, because I forgot all about Steve Landesberg since the old Barney Miller days, and he shouldn't have been forgotten like that. He was good. He had that great wryness and reticence, and now and then would break out unexpectedly in a happy grin over a funny line well-delivered. He should've had a bigger career. I remember that episode when his character, Dietrich, flummoxed a lie-detector test expert by saying with calm certitude, "I was born long ago, in a galaxy far, far away," with no change of heart-rate or other sign of having lied. And then there was the time Dierich helped a woman out with her violent-tempered boyfriend by pretending to be a deep-voiced, super-masculine rival. As the boyfriend pounded on the door, he called out a warning in a baritone impersonation of Gregory Peck that was simultaneously perfectly accurate and yet mocking of the whole Gregory Peck real-man thing.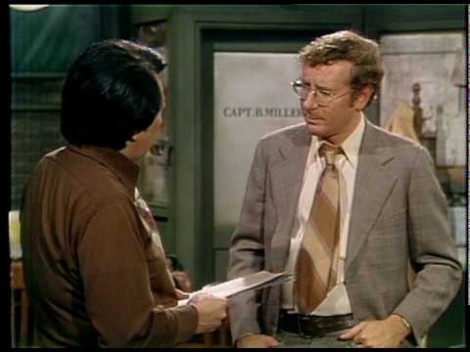 He was able to play a kind of heroism, in other words, that seemed to have no ego in it. It was so rare, his modern-man heroism, that he confounded all the other characters and seemed, to them, unreadable.
But it's not just Landesberg we mourn. Sadly, 2010 took a significant toll on the Forces for Good. Those are some pretty small forces; they can't afford to take casualties. This year, for example, we lost three veterans of that exemplary comedy Airplane!, Leslie Nielsen, Peter Graves, and Barbara Billingsly. Billingsly atoned for many years of sentimental momming in Leave it to Beaver with just one wonderful scene in Airplane! ("I speak jive.") Similarly, Peter Graves never did much else to justify his existence, but he didn't have to—he was great in Airplane! and that's enough. By all accounts, he didn't even know why the movie was funny, and had to have it explained to him, and still didn't get it. ("Joey, have you ever been in a Turkish prison?")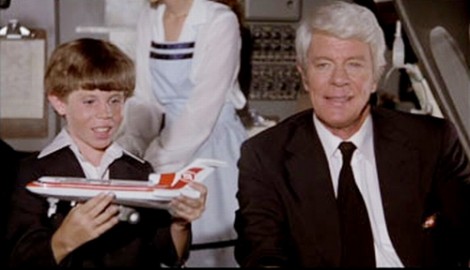 But it doesn't matter. Like Shakespeare said, "Some are born great, some achieve greatness, and some have greatness thrust upon them."
Leslie Nielsen achieved greatness, in Airplane! and the Police Squad! TV series and the Naked Gun films, by getting what the joke was—his own square-headed hero persona from 1950s films like Forbidden Planet—and milking it for every absurd nuance. ("I am serious—and don't call me Shirley.") RIP, Leslie Nielsen! I hope he was as happy in life as he seemed on film playing Lt. Frank Drebin.
Manute Bol died in June at only 47 years old, and that's a terrible thing. He was a beautiful young man as a seven-foot-seven Sudanese NBA shot-blocker, and that's achievement enough for almost anybody's lifetime. But then he went on to be incredibly virtuous as well. He was about the only guy who dedicated his life to helping Africa who didn't make you feel tired, now that Bono's ruined it and made it seem tawdry, boastful, and lugubrious. Why should Manute Bol succumb so young to dreadful diseases, when Bono still lives and thrives?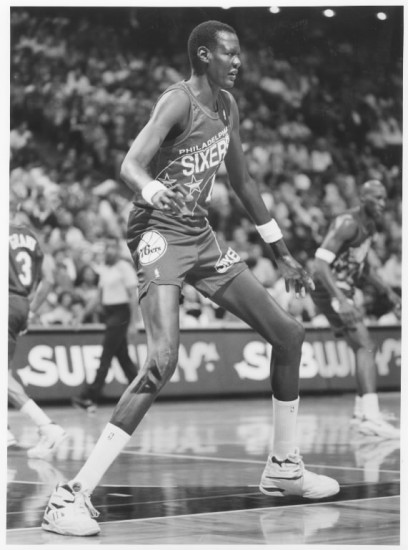 Well, we know the universe is all screwed up and run wrong, but some reminders still come as a fresh jolt now and then.
Harvey Pekar kicked the bucket at aged 70, and I guess we should be glad he made it that far, since he had a surprisingly tough life for somebody who got to be semi-famous. His allegiance to Rust-Belt values is impressive. He refused to leave Cleveland; he worked till retirement as a VA hospital file clerk, writing his American Splendor comic books after hours. When rich famous people reached out to pull him up into the big time, he fearlessly bit the hands that fed him. He either couldn't or wouldn't take any crap off Robert Crumb or David Letterman; he didn't seem to understand the whole patronage system, and how it means you're supposed to suck up and curry favor and stay on the gravy train that way. He relied on furious, compulsive productivity and aggression to get him anywhere at all in the underground comic scene. Crumb himself admits that that the only reason Pekar succeeded was his own idiosyncratic uppityness; he simply nagged artists into submission, made them work illustrating his stuff without pay much of the time, wouldn't take No.
He had a good run.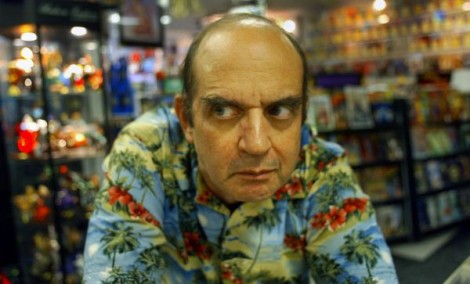 There are some stars who were at their best when very young, but hang on distractingly for ages. Now that they've finally bowed out in 2010 we can go back and appreciate what they once had to offer. Tony Curtis, for example, was never bearable after he lost his smarmy pretty-boy looks which were the key to his whole persona. (Except for one time, when he played the Boston Strangler. He was good in that.) Later in life he became an obscene pudgy figure swaggering around in shorts and a bad toupee with a bleached-blonde Amazon-sized wife, refusing to shut his silly trap. But early on, when he looked like the most beautiful boy in the chorus and that beauty combined hilariously with a honking Bronx accent, he was a great American persona: the working-class kid who gets lucky and can't resist all the goodies that suddenly become available.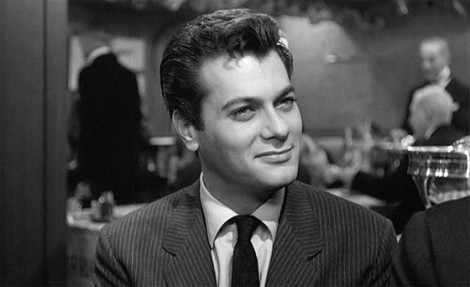 He was endearing, and naturally funny, whether intentionally or not. His emblematic moment comes from the time he played a knight in olde Englande and said the immortal line, "Yondah lies the castle of my foddah." But he was weirdly ambitious for "higher things" in spite of all his natural, lovable crassness that went so well with his sickeningly long curly eyelashes and Cupid mouth and lush blue-black hair. He was determined to make his mark as a serious actor, and actively campaigned for his best role, the desperate, scheming PR flack Sidney Falco in the savage film noir Sweet Smell of Success. But even at that, his logic was strictly working-class: he was enamored of the idea of speaking lines written by celebrated playwright Clifford Odets, and of acting with the respected Burt Lancaster, "because Burt Lancaster don't work with bums!"
The end of Sweet Smell of Success is still traumatic because of Tony Curtis' ability to channel total, clammy, cringing terror as he realizes he's lost the whole gambit and is being handed over to the big fat sadistic cop with a reputation for prisoner-abuse. The cop's been after him all along, and it's clear—the way 1950s movies easily made clear, in spite of censorship—that pretty Sidney Falco is about to get raped with a nightstick, among other things.
Also great when young were Jean Simmons and Lena Horne. If and when you ever wonder why we're stuck with certain people having long careers in the performing arts, take a look at them when they were very young and you'll often find the answer. As a teenage actress Jean Simmons was riveting and beautiful in two key roles: sexually overripe Kanchi in Powell and Pressburger's Black Narcissus and cold, vain Estella in David Lean's Great Expectations.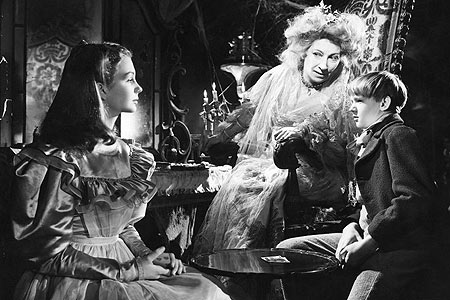 She went on to be a major star, but her roles got less interesting (with a few exceptions, such as the incestuous father-lover and murderess in Angel Face, for example) and she was never as effective in roles accentuating sweetness and niceness, the usual fare for lovely girls in films. Her real power dissipated early. This seems to happen a lot with female stars. If you want to see why Lauren Bacall ever had a career, you must see her at 19 in To Have and Have Not. And just think of poor Winona Ryder, never better than in Beetlejuice!
Lena Horne always gets high praise as someone who just got better and better the longer she lived, but speaking for myself, I never wanted any part of her presence after her Hollywood studio stuff that ended back in the 1950s. I realize it was no fun for her, being a token black performer on the MGM lot, a shunned celebrity singing songs in glamorous isolation so her scenes could be easily cut out for the hateful Southern viewership. Rotten, but there's no getting away from it: she's another one who was riveting in her youth, when both her voice and face had a honeyed, hypnotic quality.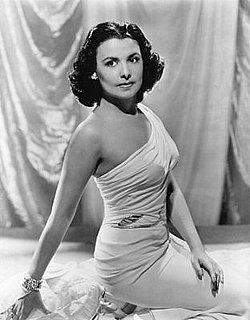 After that, no doubt she was still talented as hell, though people would talk about her fabulous singing technique a lot, which is often a code phrase meaning the voice itself is getting ragged and needs all the technique it can get. In her later life, she always reminded me of an aunt of mine who smiled in a big toothy way but was a mass of tension and old resentments and might lash out like a cobra if you weren't careful.
There's been such a high body count of Good or at least somewhat worthy celebrities in 2010, I've run out of time to take on the legions of the Rotten. But to at least end on a happy note, Alexander Haig is dead. Also Ted Stevens, Daryl Gates, Eddie Fisher, and many other vile bastards. Though they deserved to die much sooner, and managed to cheat the Reaper long after their rightful expiration date, the up side is, at least they're dead now.
And I'm personally pleased at the deaths of several famous people who particularly annoyed me for reasons I'm too lazy to go into now: Elizabeth Edwards, Jill Clayburgh, Dixie Carter, Blake Edwards, J.D. Salinger, Lynn Redgrave, and Alexander McQueen.
Here, for your further enjoyment as 2010 limps to a close, is a list of additional Dead Celebrities:
Tom Bosley
Art Clokey
Gary Coleman
Robert Culp
Dino De Laurentis
Jimmy Dean
John Forsythe
Kathryn Grayson
Corey Haim
June Havoc
Dennis Hopper
Art Linkletter
Teena Marie
Mitch Miller
Patricia Neal
Teddy Pendergrass
Arthur Penn
Ingrid Pitt
Pernell Roberts
Joan Sutherland
Read more: Alexander Haig, dead celebrities 2010, Harvey Pekar, Lena Horne, Leslie Nielsen, Tony Curtis, Eileen Jones, Entertainment, Fatwah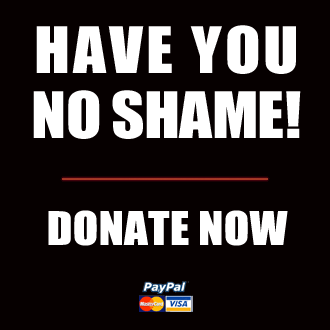 Got something to say to us? Then send us a letter.
Want us to stick around? Donate to The eXiled.
Twitter twerps can follow us at twitter.com/exiledonline