By Death Porn Bureau

It seems that driving in Moscow is getting more and more dangerous all the time. On Sunday a high-speed ring-road collision of a new Mercedes 350 SL and a black tinted-windowed Chevrolet Suburban threatened to disintegrate into an even more deadly encounter between the drivers of the two vehicles. But when Oleg "The Laotian" Markov and Igor "Fishy" Gnyiloukhov emerged from their cars to survey the damage, they found they had much in common.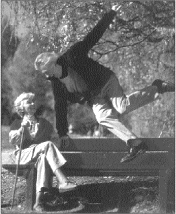 "After all these years, I'm still so much in love with you!"
Putting aside the material damage both men knew from their religious training to be insignificant in the eyes of God and nature, they sat down along the side of the road to discuss more important matters-namely, life choices, family, and their future friendship. When Oleg withdrew a bottle of Georgian wine from the wreckage of his Chevy, Igor countered with a checkers set pulled from the trunk of the Merc. With wine and draughts they passed the time in perfect satisfaction while they waited for the GAI to arrive and offer friendly assistance in repairing their severely disabled vehicles. The two men later met again and decided to rent a dacha together, which sounds like a good idea to us. Checkers, anyone?
---
Trouble Averted
Moscow Police were alarmed last week when they received a phone call with a tip that a citizen in the Novoslobodsky region was considering robbing his neighbor. Dispatching a crack squad of OMON to the scene, they discovered the citizen in question, an unemployed 23 year-old former army private, standing outside a shop window with a crowbar and a troubled look on his face. It turned out the veteran had placed the call to the police himself in the hopes that they would prevent him from absconding with or otherwise injuring the hard-earned property of another. OMON troops felt for the wayward youth and used sensitivity training and Eastern meditation techniques, including the burning of incense, to restore him to a moral, non-acquisitive state of consciousness. In the end the theft was averted and yet another crime-free day in Moscow passed with the stroke of midnight.
---
A Touch of Friendliness

"A charming wife, a beautiful child-I have everything!"
51 year-old Vera Pestrakova got more than she'd bargained for when she visited her cousin, Yuri, in the Tekstillshiki region last week. Arriving at his flat on Okhrenevshkaya Ulitsa, she stood back in amazement as her cousin greeted her at the door with a bouquet of fresh flowers-an unexpected gesture of familial warmth. The flowers, it turned out, had been purchased from a Dagestani trader at the Tekstillshiki market, where authorities have long known they are traded freely. Pestrakova later testified that Yuri had been a taciturn but dependable relative whose warm side she'd guessed at, but had never seen surface. She's sure seen it now.
This article was published in Issue #4 of The eXile, April 1997.
Read more: death porn, exile issue 4, Death Porn Bureau, eXile Classic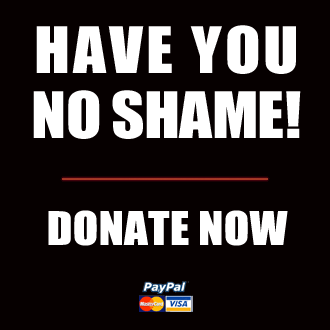 Got something to say to us? Then send us a letter.
Want us to stick around? Donate to The eXiled.
Twitter twerps can follow us at twitter.com/exiledonline