By Yasha Levine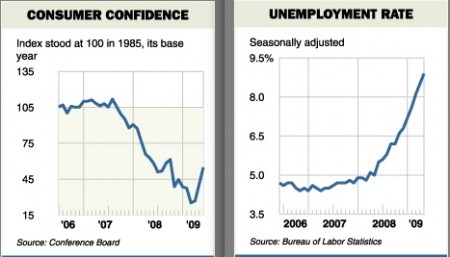 US Stocks Gain On Report Of Pending Home Sales . . . Pending Home Sales Rise the Most in Over Seven Years . . . Consumer Confidence Spurs Broad Gain . . .

You see the same bullshit headlines churned out everywhere you turn. Yes sir, we're supposed to believe the recession is over, recovery is underway and prosperity is just around the corner. We need to go out and fulfill our patriotic duty, which means buying things, preferably houses. That's what smart investors would do, we're told. And judging by the polls, Americans are starting to believe it.
Contrary to just about every single economic metric — rising unemployment, rising credit card debt, falling production, spiraling real estate values — people are optimistic. The recession is yesterday's news, everyone's moved on. People are actually believing the hype and getting into real estate again. And anyway, how the hell can we talk about real estate when America is torturing people and still not closing Guantanemo!
Well, the real estate industry is fine with us not paying attention. Because it has a dirty little secret that shows just how fucked our economy really is, and how insolvent they really are.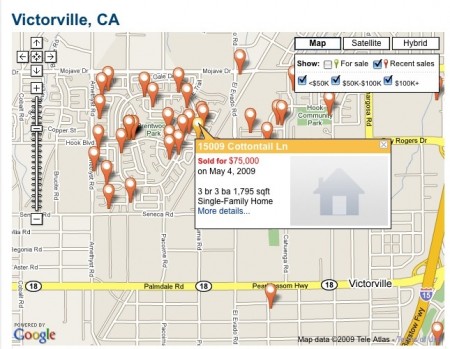 In reality this McMansion is worth $30,000
If you, like me, live in a foreclosure-ridden area, it isn't very hard to notice that the real estate optimism of you hear in the news just does not match reality. Take Victorville, my new adopted home. There are a total of about 30,000 single-family homes  in Victorville. As of today, 4,590 of them are for listed sale in the general area (3,500 of them are foreclosures). The average listing price is $150,000, but most of them sell for half that.
There's a 3 bedroom/3 bathroom McMansion just around the corner from my own that sold for $75,000 a month ago. The house cost $249,500 when it was built in 2004 and sold to some sucker for $338,500 at the peak of the boom in 2006. Three years later it was worth $125,000 — half of its original price — and now belonged to the bank, which was happy to cut the price by another 50% just to get rid of it. Houses sell so poorly, that real estate Web sites don't bother listing  "days the on market" metric.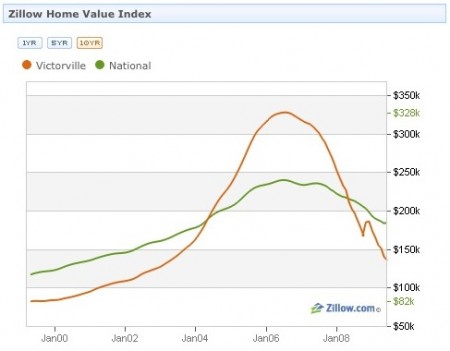 The Rise and Fall of Victorville's Real Estate
Pretty grim, right? Actually, it's much worse. See, the weird thing about Victorville is that while 1 in 4 houses are vacant, and obviously have been for quite some time (just judging by the dilapidated state of the empty houses), very few of these empty houses are on the market for sale. Walking around my neighborhood, you rarely see a For Sale sign. There's a foreclosure property up the street from me that has been prepped for long-term storage by its bank, with a notice posted on the living room window warning that the house's pipes are filled with antifreeze so that they won't burst when the temperature starts plummeting to zero in the wintertime, as it does here in the high desert.
Fact is, banks all across the nation are keeping foreclosed properties off the market. They're doing it on purpose, to fudge the statistics and make it seem like everything's alright.
Read more: foreclosure, linkedin, real estate, stress test, victorville, well fargo, Yasha Levine, Fatwah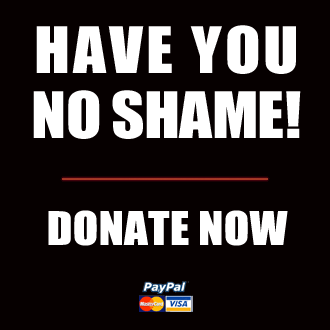 Got something to say to us? Then send us a letter.
Want us to stick around? Donate to The eXiled.
Twitter twerps can follow us at twitter.com/exiledonline