By Yasha Levine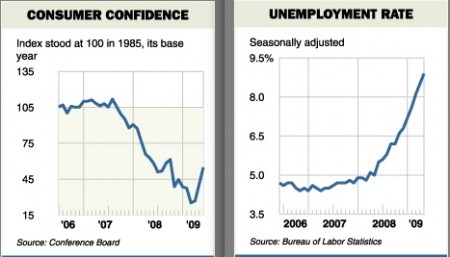 US Stocks Gain On Report Of Pending Home Sales . . . Pending Home Sales Rise the Most in Over Seven Years . . . Consumer Confidence Spurs Broad Gain . . .

You see the same bullshit headlines churned out everywhere you turn. Yes sir, we're supposed to believe the recession is over, recovery is underway and prosperity is just around the corner. We need to go out and fulfill our patriotic duty, which means buying things, preferably houses. That's what smart investors would do, we're told. And judging by the polls, Americans are starting to believe it.
Contrary to just about every single economic metric — rising unemployment, rising credit card debt, falling production, spiraling real estate values — people are optimistic. The recession is yesterday's news, everyone's moved on. People are actually believing the hype and getting into real estate again. And anyway, how the hell can we talk about real estate when America is torturing people and still not closing Guantanemo!
Well, the real estate industry is fine with us not paying attention. Because it has a dirty little secret that shows just how fucked our economy really is, and how insolvent they really are.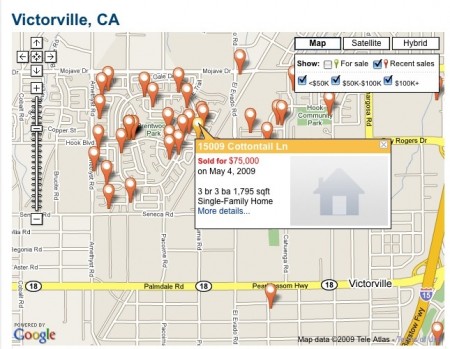 In reality this McMansion is worth $30,000
If you, like me, live in a foreclosure-ridden area, it isn't very hard to notice that the real estate optimism of you hear in the news just does not match reality. Take Victorville, my new adopted home. There are a total of about 30,000 single-family homes  in Victorville. As of today, 4,590 of them are for listed sale in the general area (3,500 of them are foreclosures). The average listing price is $150,000, but most of them sell for half that.
There's a 3 bedroom/3 bathroom McMansion just around the corner from my own that sold for $75,000 a month ago. The house cost $249,500 when it was built in 2004 and sold to some sucker for $338,500 at the peak of the boom in 2006. Three years later it was worth $125,000 — half of its original price — and now belonged to the bank, which was happy to cut the price by another 50% just to get rid of it. Houses sell so poorly, that real estate Web sites don't bother listing  "days the on market" metric.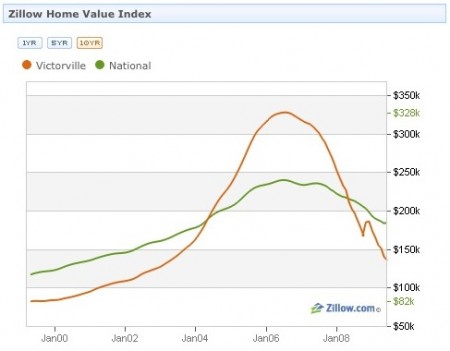 The Rise and Fall of Victorville's Real Estate
Pretty grim, right? Actually, it's much worse. See, the weird thing about Victorville is that while 1 in 4 houses are vacant, and obviously have been for quite some time (just judging by the dilapidated state of the empty houses), very few of these empty houses are on the market for sale. Walking around my neighborhood, you rarely see a For Sale sign. There's a foreclosure property up the street from me that has been prepped for long-term storage by its bank, with a notice posted on the living room window warning that the house's pipes are filled with antifreeze so that they won't burst when the temperature starts plummeting to zero in the wintertime, as it does here in the high desert.
Fact is, banks all across the nation are keeping foreclosed properties off the market. They're doing it on purpose, to fudge the statistics and make it seem like everything's alright.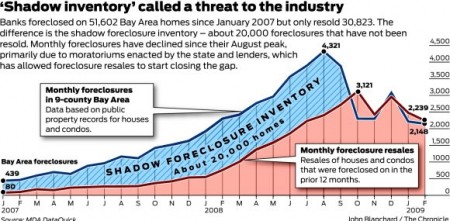 The San Francisco Chronicle:
Lenders nationwide are sitting on hundreds of thousands of foreclosed homes that they have not resold or listed for sale, according to numerous data sources. And foreclosures, which banks unload at fire-sale prices, are a major factor driving home values down.

"We believe there are in the neighborhood of 600,000 properties nationwide that banks have repossessed but not put on the market," said Rick Sharga, vice president of RealtyTrac, which compiles nationwide statistics on foreclosures. "California probably represents 80,000 of those homes. It could be disastrous if the banks suddenly flooded the market with those distressed properties. You'd have further depreciation and carnage."

In a recent study, RealtyTrac compared its database of bank-repossessed homes to MLS listings of for-sale homes in four states, including California. It found a significant disparity – only 30 percent of the foreclosures were listed for sale in the Multiple Listing Service. The remainder is known in the industry as "shadow inventory."
The number of foreclosures is not going to decrease any time soon. Sean O'Toole, Founder and CEO of ForeclosureRadar.com, told me that out of the 9 million mortgages in California, 2 to 3 million are upside down, which means their houses are worth less than what they owe on the bank. On top of that, anywhere from 700,000 to 900,000 households have stopped making payments and somewhere around 250,000 are scheduled to be foreclosed.
This adds up to a staggering number: a total of 3 to 5 million homes, one quarter of the 12 million households in California, are going to flood the market very soon. Nationwide, there is a two-year supply of unsold homes, twice what official statistics estimate.
To put it simply: banks are limiting supply in order to keep inflating the bubble. Keeping properties off the market makes sense for two reasons: it allows banks to engage in another round of brazen ripoffs by selling at least some of their properties at artificially high prices to a new wave of sucker investors (many of which are first-time home buyers). But more importantly, it allows the banks to avoid recording a loss on their balance sheets, making them look more profitable then they really are
It looks like the banks are all in on this racket together. Earlier this year, the industry had accounting rules changed to make this kind of market manipulation possible (meaning, profitable.) That's what those new "mark-to-model" accounting rules back in April were all about. Instead of having the market determine prices, the changes allowed banks to value their assets based on a future projected worth to be determined by the banks themselves.
The change was pushed through with an aggressive lobbying campaign by the financial industry. For a measly $30 million in lobby fees, banks inflated their worth by tens of billions of dollars, instantly. Wells Fargo said the change boosted its capital by $4.4 billion in the fist quarter. In the second quarter, it is expected to increase banks' earnings by an average of 7%.
It might be legal now, but it's still fraud and flagrant market manipulation.
Here's an account by the WSJ of how it went down:
The rules had required banks, securities firms and insurers to use market prices to help assign values to mortgage securities and other assets that don't trade on exchanges — to "mark to market." But when markets went haywire last fall, financial firms complained that the rules forced them to slash the value of many assets based on fire-sale prices. That contributed to big losses that depleted their capital and left several of the nation's largest firms on the brink of failure.

Earlier this year, financial-services organizations put their lobbyists on the case. Thirty-one financial firms and trade groups formed a coalition and spent $27.6 million in the first quarter lobbying Washington about the rule and other issues, according to a Wall Street Journal analysis of public filings. They also directed campaign contributions totaling $286,000 to legislators on a key committee, many of whom pushed for the rule change, the filings indicate.

Rep. Paul Kanjorski, a Pennsylvania Democrat who heads the House Financial Services subcommittee that pressed for the accounting change, received $18,500 from coalition members in the first quarter, the second-highest total among committee members, according to Federal Election Commission records. Over the past two years, Mr. Kanjorski received $704,000 in contributions from banking and insurance firms, the third-highest total among members of Congress, according to the FEC and the Center for Responsive Politics.
The one obvious connection that is not being made is that this change in accounting, linked up with the shadow real estate inventory, is the shady base supporting our entire economy. Without the new rules, banks wouldn't be able to pad their books in order to appear profitable. And without fudging the numbers, banks would never pass Geithner's "stress test" or ever hope to to appear even slightly solvent.
It's a twisted sort of logic, but it's legal. It's also very frightening. To think that all these empty homes I see around me are what's keeping the US economy from total meltdown… If they had For Sale signs on them, the economy would tank even further. For now, these zombie homes don't officially exist.
Ain't the free market great?
Read more: foreclosure, linkedin, real estate, stress test, victorville, well fargo, Yasha Levine, Fatwah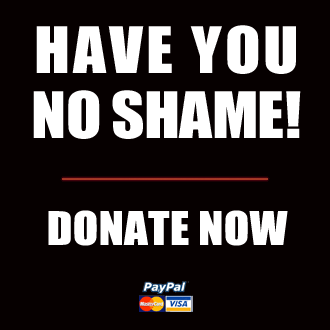 Got something to say to us? Then send us a letter.
Want us to stick around? Donate to The eXiled.
Twitter twerps can follow us at twitter.com/exiledonline