By Yasha Levine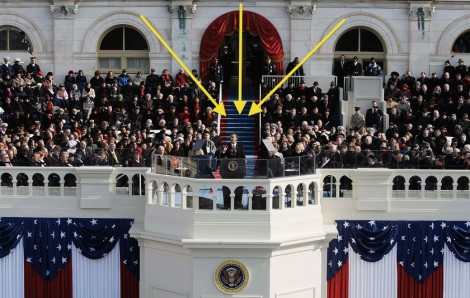 Yes, the Kochs are everywhere. Even under our feet.
See that plush red and blue carpet cascading down the steps of the United States Capitol building, framing President Barack Obama as he makes his historic inaugural address? It's made from material manufactured by a Koch Industries subsidiary called Invista.
Yes, that's right. You heard it here first: Charles and David Koch made the carpet used in Barak Obama's swearing-in ceremony. Liberals might have worshiped the ground Obama walked on, but the Kochs owned and manufactured the carpeting covering that hallowed ground.  What makes it all so creepy is that just a month after that carpet was rolled up and Obama took his place in the White House, the Koch brothers launched the Tea Party revolt against their carpeting client.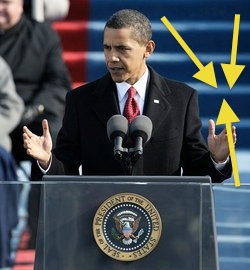 While this rank little oligarch-irony has evaded the American press corps, the Kochs have not been keeping it secret. They bragged about it in an April 2009 company newsletter, which was later published on their website:
INVISTA helped make history when Barack Obama was sworn in as the U.S.A.'s 44th president.

The red and blue carpet cascading down the steps of the U.S. Capitol and underneath the presidential podium was Bentley Prince Street's King's RoadTM carpet, made from INVISTA's Antron® LegacyTM fiber.

Several thousand yards of Bentley carpet (the same type used for the inauguration) have been purchased for installation in the Koch Tower in Wichita.
Invista, purchased by Koch Industries from DuPont in 2003 for $4.4 billion, is one of the world's biggest producers of polymers and fibers, and  is best known for brands like Teflon, Lycra, Stainmaster and Coolmax–a material you'll find in socks made for REI-shopping liberal eco-yuppies. Charles Koch, who rules Koch Industries with an iron fist, bought Invista during a period of frenzied expansion. In 2005, he took control of Georgia-Pacific, a paper and pulp giant that makes Brawny towels, Dixie cups and a whole range of products we use on a daily basis, for $21 billion—with $13.2 billion of it paid in cash.
That's the reach the Kochs have and the kind of money they can come up with, which shows you just how powerful the billionaire brothers have become in recent years.
The weird inaugural carpet situation adds to the creepiness of it all, as if the Kochs were sending out a message to Obama and the country: "You might not see us and you probably don't even know we exist, but we're everywhere. We manufacture the ground you walk on, you stupid fucks. So no matter who you are or what you believe in, chances are you're buying our products and filling our coffers with your cash, and we'll recycle that cash back into political campaigns that fuck you even harder. So thank you for your business. And come again. Or don't–what do we care, you won't know when you're doing business with us anyway. "
The Kochs were obviously mighty pleased with themselves for getting Invista this kind of high level product placement. They put the exact same type of carpet into their own offices to celebrate and mark the occasion. I wouldn't be surprised if a framed photograph of Obama standing on the Koch carpet is hanging up in Charles' office for everyone to see. This one would be perfect, for example: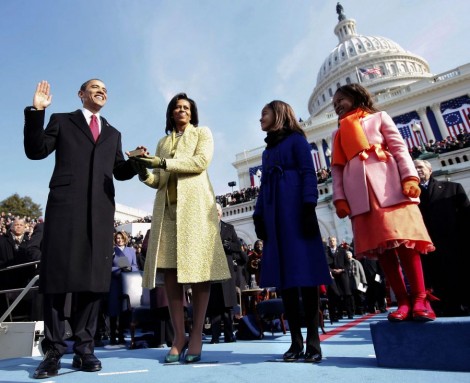 Hell, it would even look good in those customized Christmas cards the Kochs no doubt send to friends of the family like Antonin Scalia and Clarence Thomas every year: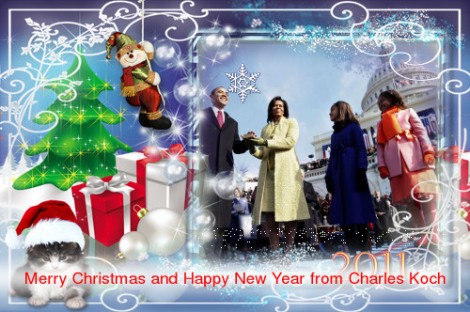 But Obama and his family weren't the only ones striking poses on the Koch carpet. Bush and his cripple mentat Cheney were also spotted lounging, along with Obama and Biden's bald spot, on Invistia's plush Antron® LegacyTM fibers.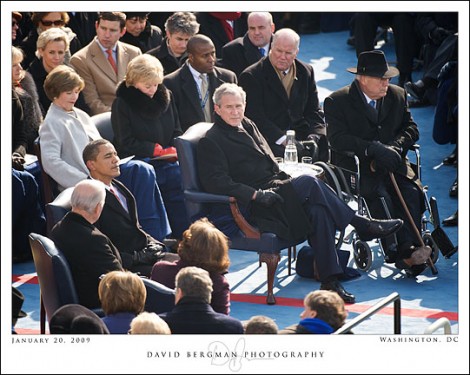 For your viewing pleasure, here are a few more photos of the Koch carpet from other vantage points: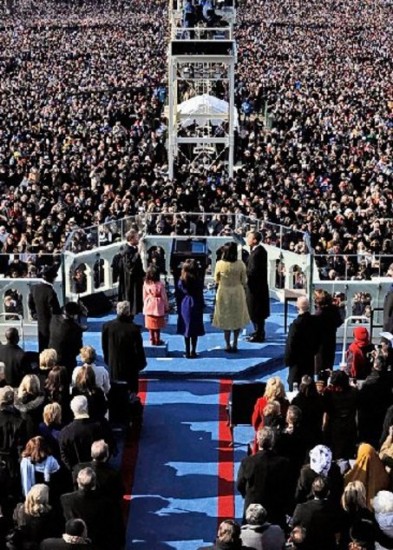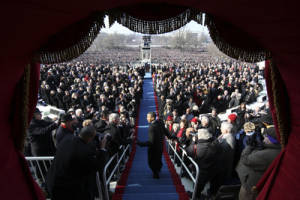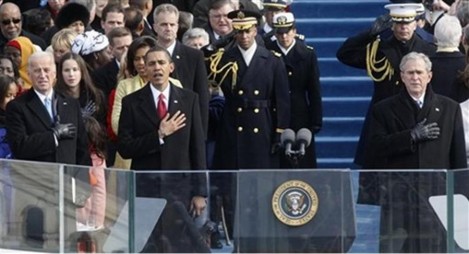 ***
Yasha Levine is an editor of The eXiled. Levine and co-editor Mark Ames first broke the connection between the Tea Party and the billionaire Koch brothers in Playboy.com in February 2009, sparking lawsuit threats, and causing CNBC's Rick Santelli to publicly distance himself from the Tea Party movement and cancel his Daily Show appearance.
Want to know more? Read:
Read more: carpet, charles koch, inauguration, invista, koch, Obama, president obama, Yasha Levine, eXiled Alert!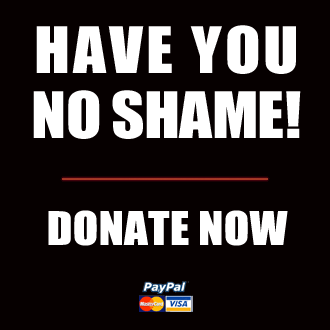 Got something to say to us? Then send us a letter.
Want us to stick around? Donate to The eXiled.
Twitter twerps can follow us at twitter.com/exiledonline