By Mark Ames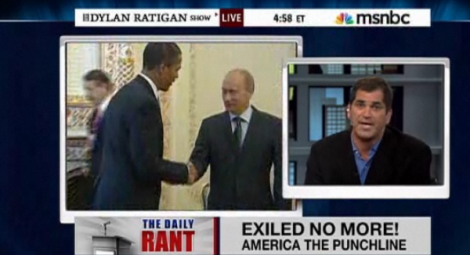 Update: You MUST watch today's Ratigan performance. If we're not going to riot against all this crap like the rest of the world is doing, Ratigan will riot for us. [Video below]
Exiled Online editor Mark Ames went on MSNBC's Dylan Ratigan Show Thursday to respond to Russian strongman Vladimir Putin's latest trash-talking smackdown against America, in which Putin accused the world's only superpower and leader of the free world of, "sponging off the global economy like a parasite."
Ames is appalled at the shame of living through America's bottomless decline: "A Russian autocrat calling America a 'parasite'–like he's some John Galtsky, and we Americans are just sponging off Mother Russia?! Which, okay to be fair, technically we are–but still."
"America has become a punchline in Vladimir Putin's standup routine–we're the laughingstock of the world's laughingstock!"
O, how the once-mighty have fallen, folks!
While our country's political and media establishment are going about their foul business like they're still running a Superpower, Ames told Dylan Ratigan's viewers that it's time for us to stop pretending that America isn't going to shit. Instead of pretending like we're still Number One, it's time for us to start embracing the shame. And you can start doing that by getting out a paper grocery bag and hiding your face.
Embrace the shame, America!
Just in case you've forgotten why you should hide your face in a paper bag and be embarrassed as Hell about America's decline, Ames reminds viewers why:
"Just a decade ago, Russia was our punching bag for our triumphant leaders and comedians. It was as though Russia only existed then as a hard lesson to the rest of the world in, 'Do you see what happens when you fuck a free-world superpower in the ass, huh Mother Russia?'"
(Okay that last clause was edited to, "what happens when you mess with the best," but still, you get the point folks.)
First step is recognizing and embracing the shame. The next step: Fighting back, RAT-FOCR style, as first discussed in Ames' last appearance on the Dylan Ratigan Show.
Let's FOC the RATs–we don't really have a choice anymore, folks. We've tried fleeing. We've tried being partisan. We've tried cynicism, we've tried nihilism, we've tried romanticizing losing out to the pigfuckers of this world–and maybe that made sense in more prosperous times. But not today.
At some point, losing gets boring, folks–losing has lost its romantic appeal. We can FOC the RATs. And we will.
Sometimes there's no choice left but to FOC the RATs. Which is why RAT-FOCR is moving forward. We'll have to be a bit patient about this though: to FOC a RAT it's got to be done right. It will take time to get it off the ground.
Meanwhile, watch Ames' rant on Dylan Ratigan's show [full transcript published below], and make sure you keep a paper bag handy:
Here is the transcript of Ames' rant:
Hi, America. You probably don't know it yet, but right now, you really shouldn't be showing your face around. You should be way too embarrassed, as in paper-grocery-bag-over-the-head embarrassed. Because as any fan of a losing sports team (cough-Oakland Raiders-cough-cough!) can tell you, when you've thrown your lot in with losers, and you're stuck with them year after year, there's no point pretending–the only way to deal with the shame is to embrace, and flaunt it, and wear it, paper bag style.

Here's the problem: While the people running this country are pretending like things have always been this way, America has become a punchline in Vladimir Putin's standup routine. A few days ago, Putin went before a crowd of Russian teenagers, trashing the United States as a "parasite" on the global economy.

A Russian autocrat calling America a "parasite"–like he's John Galtsky and we Americans are just sponging off mother Russia? (Which–to be fair–we technically are.)

I don't know if you remember this or not, but just a decade ago, Russia was our punching bag for our triumphant leaders and comedians. It was as though Russia only existed as a hard lesson to what happens when you mess with the best. It was only yesterday –Yeltsin begging us for handouts, Russians lining up for hours just to eat a Big Mac.

And let's face it: it felt good. Who can forget George Bush-41 doing a dirty chicken dance at the republican convention about "I beat the Russians in the Cold War!"

Today, Americans line up at McDonalds job fairs to flip burgers for Vlad.

A decade ago, America was called "the most powerful empire the world has ever known." We were running around the world lecturing Russia and everyone else about how they should run their economy, how they should run their political systems… and we shook our heads sadly at how the poor savages would never, ever get their act together.

And now, look at America a decade later: two losing wars–now three–a collapsed economy that we can't fix for the life of us because our political system is corrupt and broken.

Today, we're a punchline in Putin's jokes, an object of his contempt.

We're the laughingstock of the world's laughingstock.

It hurts–it should hurt.

Instead of trying to figure out how this happened or why, I want to know-who? Who did this to us? Who? Who??? I want answers–I also want a brown paper bag, but I want answers, and I want names of the failures who are doing this to us.

Last time I was on this program, I talked about this problem, and I offered a way to fight back–an organization called RAT-FOCR. I want to tell you that I was surprised by the reaction from that show. So I want you to know that with your help, this organization is moving forward. Blaming one side or the other doesn't work–mere cynicism doesn't work. We're failing because failures are in control. I don't think it's a hopeless cause–if Russia could turn around, so can we.

If Russia after losing the cold war and everything else, could turn it around, we the nation that beat them to the moon and everything else surely can fix it and it is up to us to fix it ourselves.
Don't forget to watch the Dylan Ratigan Show weekdays at 4pm EST, 1pm PST. Also check out Ratigan's website and make sure to downloadRatigan's excellent podcasts at Radio Free Dylan. For a taste of Ratigan, sample this extraordinary clip:
Visit msnbc.com for breaking news, world news, and news about the economy
Mark Ames is the author of Going Postal: Rage, Murder and Rebellion from Reagan's Workplaces to Clinton's Columbine.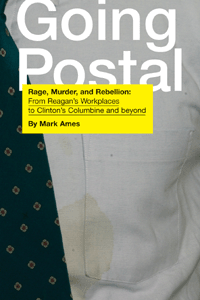 Click the cover & buy the book!
Read more: decline, failure, McDonalds, oakland raiders, putin, ratfocr, Russia, Mark Ames, eXile TV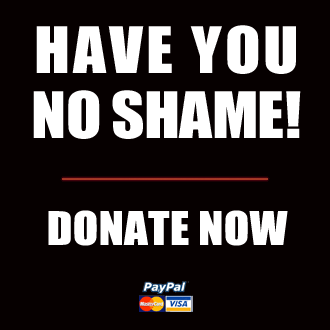 Got something to say to us? Then send us a letter.
Want us to stick around? Donate to The eXiled.
Twitter twerps can follow us at twitter.com/exiledonline