By Eileen Jones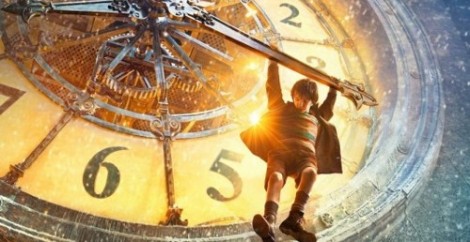 Hugo is an overstuffed candy-box film of the type that some people really, really like. And if you add "A Martin Scorsese Confection" to the tag, everybody's over the moon with how unexpected it is, this gift to mankind that's so creamy and delicious and deep.
I didn't like it much, myself, but then people say I'm not very nice when it comes to films. And this is one of those super-nice films. Nice nice nice. Even the meanest characters turn out to be nice, or else they conveniently go away early on and die in the snow. It's very nice snow!
Do children like this nowadays, the no-tension, no-real-villainy thing? Or do their parents like it for them? I can't really tell. I only know a few kids these days, and they are proper old-school boys when it comes to art and entertainment. One of them lives for the day his parents will let him watch zombie movies, and the older one, who has such a vast collection of skull T-shirts he can wear a different one every day, has frequently declared, "I love evil." Both are unusually polite, sweet-tempered boys, too; their pursuit of evil in entertainment only seems to make them kindlier in real life. Would they like Hugo?
Well, I doubt it. But I'm such an old hand at the pursuit of filmed evil, it could be I'm jaded, and not a fit judge anymore.
Anyway, here's the rundown: Hugo is based on the children's book The Invention of Hugo Cabret by Brian Selznick. It's about the kid Hugo (Asa Butterfield) whose clockmaker father dies and leaves him to the doubtful care of his drunken uncle (Ray Winstone). The uncle installs him in the giant clockworks of the Montparnasse train station in Paris before conveniently exiting stage left to die.
(Dickens would've kept the drunken uncle alive and a fixture in the story, for sure. He would've made the kid's life a hell till he had to run off and meet other memorably rotten folks. But we've jettisoned the wisdom, realism, and entertainment value of the Dickensian model, which tells us we're liable to have to run a long, long way in life before we meet some nice people.)
Hugo goes on winding the clocks, plus stealing from the merchants in the train station in order to survive. It would seem to be a kind of kid-heaven—total independence, plenty of amusements, and a big clock to live in, but this kid is wan and sad throughout. He's even sad about not going to school anymore. He's lonely, see, and perpetually mourning his dead dad (Jude Law, who's quite good when he's not in the lead role) by trying to complete the museum-piece automaton his dad found, as a kind of posthumous communion. The automaton is very nice—a placidly asexual silver fellow with solid-black eyes.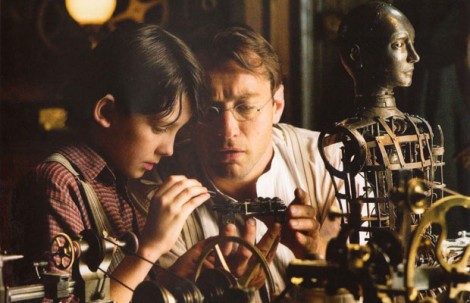 The kid is periodically harassed by the Station Inspector, a pompous martinet in a blue-velvet suit and a  metal leg brace, who's always on patrol with his Doberman Pinscher Max, hunting for thieving orphans. (Excellent dog acting throughout.) The Station Inspector is played by Sasha Baron Cohen, who manages to nail down a brisk comic tone that livens up every scene he's in and gestures toward a better movie, one that could've been less slow and precious and glutinous. The Inspector has a crush on the flower-seller Lisette (Emily Mortimer), so you know early on what's going to turn him into another monotonously nice character.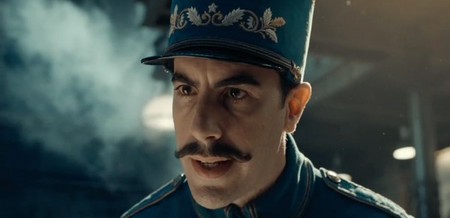 So the plot lumbers along like this awhile till the kid and his new friend Isabelle (Chloe Grace Moretz) try to solve the mystery of what's ailing her angry guardian "Papa Georges" (Ben Kingsley). Turns out he's embittered because he's Georges Melies, the forgotten film pioneer, so the kids have to get him rediscovered and lionized. Which they do.
Is that a spoiler? Can a plot like this be "spoiled"? I don't know. Not a fit judge. NAFJ.
The Georges Melies plot device puts all film critics and would-be cineasts into ecstasies, because it's regarded as an essentially good thing whenever a film includes a film history lesson. I don't know why. But I've read reviews about how marvelous it is that Martin Scorsese, auteur, has worked into this movie his own obsessions with film history, has even presented a kid-version of himself in Hugo, a character who saves a filmmaker and his films. See, Scorsese is always running around saving "lost" films and doing documentary tributes to filmmakers, and he once did this very admirable thing for the great director Michael Powell. Powell was living in poverty somewhere in England, all but forgotten, when Scorsese rescued him and got his film Peeping Tom shown and appreciated decades after it was condemned as so shocking it drove Powell into obscurity. Scorsese's editor Thelma Schoonmaker then married Powell, and it was all very heartwarming.
There's even a big plug in Hugo for film preservation, Scorsese's favorite cause. And apparently Scorsese is a Melies fan, because he shows the most lovingly restored clips of old Melies movies ever, and actually makes a case for their being watchable anytime after 1910. Judicious editing really helps. If you've ever actually slogged through A Trip to the Moon (1902) or any of the less-famous Melies films, you know the punishing pace and static camerawork and elaborate staginess of the Melies experience, which changes very little over the course of his many films. For every clever effect that makes you say, "Oh, that was pretty good!", there's a ton of leaden footage of plump chorus girls waving their arms pointlessly, and cardboard sets sliding in and out, and endlessly repeated trick shots of monster-suited extras leaping into invisibility with a poof of stage-magician dust.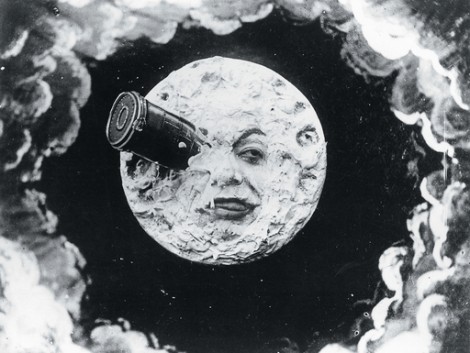 In other words, Melies ain't my favorite of the cinema pioneers. And Hugo is fundamentally dishonest about how World War I and the traumas of modern reality overrode audience's capacity for "magic," thus ruining Melies' career. It's a miracle he held onto popularity as long as he did, considering how speedily films were developing, especially in the area of editing and camerawork. He had a darn good run, considering. But it seems he did wind up poor, running a toyshop in the Montparnasse train station, till he was rediscovered and feted. So this yarn is based on some broadly factual stuff.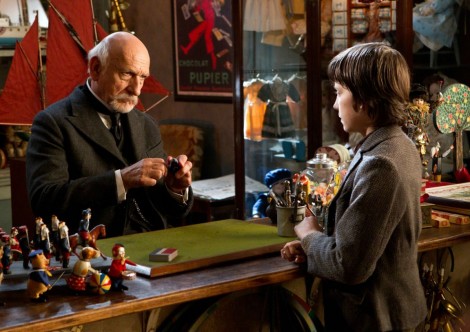 But the poverty Melies is supposed to be enduring in the film takes the form of a very posh toyshop at the lushly beautiful station, and what looks like an eight-room luxury flat in a lovely part of town. You  get to the flat by walking along a promenade lined with cowled statues, all apparently mourning Melies' sad case. Oh, it's a massive pity party, this film!
No expense was spared in making the film visually splendid. It's art-designed and CGIed to the point of suffocation. There'll be no end of Oscar nominations piled onto it. Much is being made of Scorsese's foray into 3-D, and it looks very nice, with those swooping kind of shots meant to wow us with how you can start a mile in the sky over 1930s CGI-Paris and then glide down and swirl around seamlessly into the pupil of Hugo's eye looking through a peephole. But see, we've already watched many swooping shots from macro to micro in our 3-D/CGI filmscape. And hard as Hugo tries to make it seem thematically relevant, the way small objects and actions and lives are tied to big world events, and the way movies seem to have a unique capacity for showing us "the big and the small" (as old film theorist Siegfried Kracauer put it)—it just, somehow, doesn't come across, doesn't add up to anything memorable.
But it's very nice. And between Thanksgiving and Christmas, people crave that. Or so they tell me.
Read more: 3-D, CGI, film history, Georges Melies, Hugo, Jude Law, Martin Scorsese, Sasha Baron Coehn, Eileen Jones, movies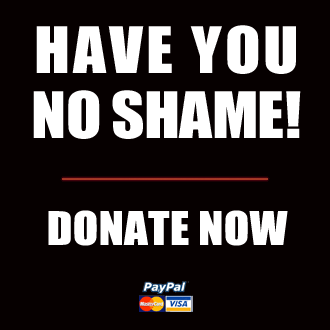 Got something to say to us? Then send us a letter.
Want us to stick around? Donate to The eXiled.
Twitter twerps can follow us at twitter.com/exiledonline