By Mark Ames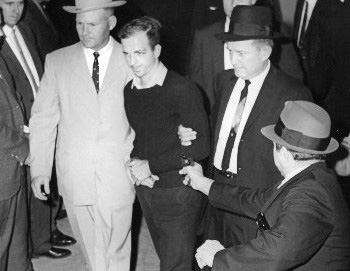 I recently came across a book from the late 1970s called "Kill Without Joy: The Complete How To Kill Book" written apparently by a Canadian locksmith. The hard-boiled title belies the book's dark comic flair. Or maybe it's just the war nerd in me that finds this book oddly mood-enhancing. It's exactly what it says it is: A practical "How-To" manual on the many ways to kill a human being.
Whether or not Kill Without Joy is meant to be serious or parody or for the vast market of nerds who think they'll someday become dark professional killers, it is an entertaining read and most of the information seems to make sense. He really went out of his way to catalogue everything from the obvious to the bizarre.
One passage that really stuck out, in the section on "how to assassinate," was this description of Jack Ruby's murder of Lee Harvey Oswald 48 years ago today. Remember, the author is apparently Canadian, from Ottawa:
One of the best visual representations of an assassination that I've ever seen is the shooting of Lee Harvey Oswald by Jack Ruby. Ruby was strictly pro in that photo showing him pumping bullets into Oswald. One should note that the left hand is drawing back the jacket and the gun has no sooner cleared leather than it starts shooting. The grip on the gun is also interesting and further backs the suspicion of Jack being a pro. He's using his middle finger to squeeze the trigger and his index finger, the normal shooter's trigger finger, is pointed right at his target. He shoots where he points. This method is not too well known in the States but the method was SOP with wartime SOE and SIS agents of Britain. Another method advocated by them was the stamping of the right foot and thereby lunging forward and firing at the same time two shots in rapid succession at each target that presented itself.
I had never thought about this before because Ruby seemed like such a bizarre noir-dad from another era. Also the iconic photo of the shooting focuses on Oswald's gasp, and the cop-escort's recoil. But here is the larger photo that the author of "Kill Without Joy" is talking about, Ruby really is lunging forward and does, come to think of it, look plausibly more "pro" and less like someone's deranged dad from this angle: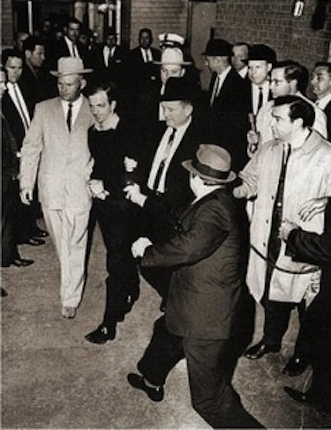 "Strictly Pro"
Anyway, food for thought on this Thanksgiving anniversary of Jack Ruby's hit on JFK's assassin.
Here's a video of the shooting:
Oh, and speaking of turkeys, Kill Without Joy has some carving tips for all you would-be assassin-nerds and turkey-avengers: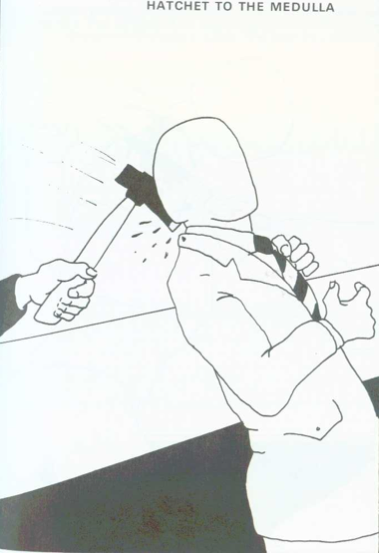 Happy Thanksgiving!
Read more:, Mark Ames, Recovered History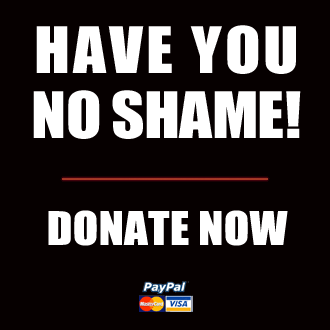 Got something to say to us? Then send us a letter.
Want us to stick around? Donate to The eXiled.
Twitter twerps can follow us at twitter.com/exiledonline