By John Dolan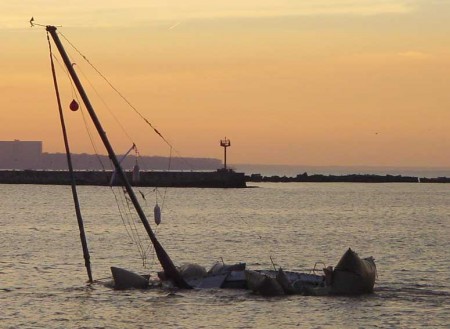 I came to extreme poverty late in life, and did very badly at it. I should have done some kind of crime. But what kind? That's what I couldn't figure out. What kind of crime can you actually do, if you aren't a lawyer and don't understand computers?
There were certainly plenty of people who could have offered me some advice on the matter. We were living on a boat, moored in a skuzzy little harbor full of small-time criminals. The one guy who went off to a job every day was a figure of awe and mockery, a freak. Everybody else scavenged or stole to buy their booze and weed.
But crime didn't pay, at least for these guys. They were as poor as we were. Poorer, because they needed a lot of cash for their chemicals, and we stuck with free government Prozac.
They talked a good game, crime-wise, but their lives were more than just bad—they were ridiculous. Horrible, stupid things happened to them on a regular basis.  Like Chris, who failed to notice that his boat was resting lower in the water every day. It finally sank right under him. I hear he's living in his van now. Then there was Mike, who used to ride with the Angels and still had a classic Fu Manchu, maybe the last on the continent. He was dropping prawn traps, drunk as ever, when he managed to wrap a rope around his legs and found himself zooming to the sea floor, a big screaming mass of live bait. He was proud of having cut the line and made it back to the surface, but everybody else was so sick of the story they wished he hadn't had his knife with him when he took his dip.
Those people forced me into something like a partial revaluation of my values. There was no honor among these thieves. I mean, you think you know that already, but in the early winter months, when our murderer friend rowed over through the sea ice with a propane heater and shared it with us—with us and his pale young friend Benny—we were deeply moved. You'd have to have been through what we went through, begging the respectable people of British Columbia first for jobs, and at last simply for shelter from the first blizzard—and getting not just rejections but loathing, utter disgust that we might need help. At least Johnny-the-double-murderer, fresh from 17 years in Collins Bay, a venerable medium-security institution in Ontario, didn't despise us for needing help. He was proud to help us, and that counted for an awful lot with me and Katherine. We still talk about the night of the first big snowstorm, when we begged for shelter at the thrift store, then the public library, and got nowhere—but when we rowed over to Johnny's boat in desperation, he just said, "Go over to your boat, I'll be right over!" and rowed over with his propane heater. That night Johnny and his catamite lay in their sleeping bags a few feet from us, all warmed by that blue sunflower of Propane. We wanted badly to believe that they were our friends; there were no other candidates.
We learned soon enough that even murderers can't be trusted. We fled the boat in mid-winter, with the sea ice grinding at the hull, and by the time I made it back to collect our stuff it was all gone, pawned by Johnny. He had every intention of paying me back, he explained, and that was the last I heard of it.
In fact, that was the only crime that seemed to pay out on the boats: talking newcomers out of their money by offering to do repairs, or befriending them in a heavy-handed prison manner. That worked, at least on us, but the trouble is, you end up with what Flann O'Brien succinctly described as "paupers impoverishing each other." There's got to be a better, braver, more honorable form of crime than that.
We went over the possibilities many times, sitting hungry and cold on that damn boat. Not that crime was our first thought. You don't want to know how hard and long I tried for every job in Canada. The locals have all the teaching jobs well wrapped up, though. Like Limonov said, "In America, every profession has its mafia." Nice legal mafias. That's the apex of the crime pyramid, and it soon became clear it was as closed to overeducated immigrants as the Sicilian original would have been.
Then we panicked and just tried for a job, any job. You can't get "any job" these days, though. You may think you're being very flexible, but McDonald's doesn't actually want a fifty-year old, slovenly, slightly crazed academic taking orders. You'd be surprised what snobs they are. Call-centers didn't want me answering their phones with my expensively trained voice. Inuit villages hundreds of miles inside the Arctic Circle didn't want me teaching English to their kids. It was astonishing; it seemed improbable, excessive. Until you got back to the boat in the evening with no food and no propane, sleeping two-to-a-mummy-bag for warmth.
When you're literally out in the cold, in the middle of thousands of nice warm houses, you think about home invasion first. It must be some Pleistocene brainstem connection: Me cold…Them got warm and foodzez…beat them heads in and take foodzez.
That was the only sort of crime that came naturally to me, arising naturally from the long cold walks past rows of warm, well-stuffed houses full of smug, stupid householders. You start to wonder, how hard would it be? Just knock on the door with something, anything, a tree branch, a piece of pipe.
You'll never do it, at least I'd never do it, but you sort of wish you could. I had a more practical version that made a little more sense: find a house occupied by a single aged recluse, somebody who kept totally to themselves. Knock-knock, bang-bang, and spend the winter there, leave in the spring.
It was a comforting notion, no more than that. As Nietzsche said about suicide, it got me through many a long night. But it did nothing about the fact that we were utterly broke, poorer than I thought it was possible to be in North America.
Read more: boat, canada, crime, john dolan, poverty, John Dolan, Fatwah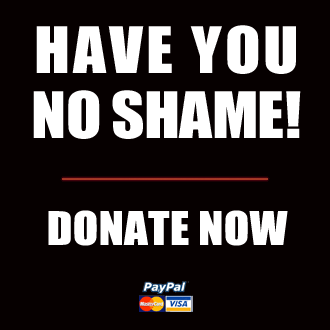 Got something to say to us? Then send us a letter.
Want us to stick around? Donate to The eXiled.
Twitter twerps can follow us at twitter.com/exiledonline