By Mark Ames
The photos definitely reveal something else: that the world of rightwing thinktanks means even a Mad Midget has a circle of friends. Here's Matthew Vadum with the Atlantic's resident libertarian-welfare-queen, Megan McArdle: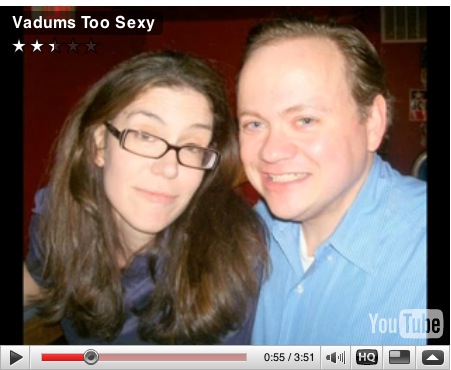 …and photographic evidence that Vadum is friends with that Moonie freak Amanda Carpenter, the one who e-mailed me a scary "I'm a-gonna write a column 'bout y'all!" threat last week (shown here on the right):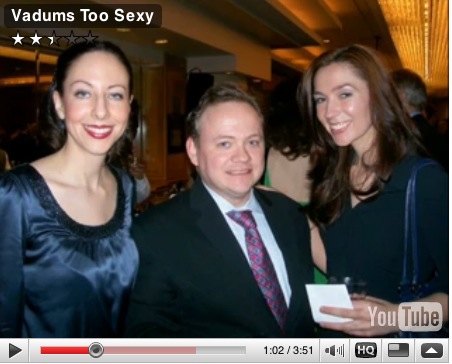 What a close, tight-knit community these rightwingers have–a hagfish-feasting-on-ocean-floor-carrion sort of close, if'n you know what I mean. See, Megan McArdle's fiance, Peter Suderman, worked as a fake-grassroots propagandist for the notorious rightwing monster FreedomWorks, which set up the Tea Party movement, and today is behind the town hall mob violence to stop health care reform. And wouldntchaknowit, FreedomWorks is also the gravy train that Amanda Carpenter's husband rides! That's right, the Moonie attack dog Amanda Carpenter's husband, Chris Kinnan, is or was in charge of "Online grassroots organizing and messaging" for FreedomWorks. In other words: AstroTurfing. (I say "is/was" because Kinnan's Linkedin page was strangely changed after August 6, 2009, to say that he runs Rally Congress; but we have a google cache of his Linkedin page from August 6 which showed Kinnan listed as working for FreedomWorks since 2001. Interesting too that Rally Congress's "Meet the founder" omits the 7-plus years Kinnan has spent at FreedomWorks and affiliates.)
Omigod, it's like, seriously, no way, it's such a small world! Megan's FreedomWorks fiance and Amanda's FreedomWorks husband must be such good friends! And look, here are some photos of Amanda's and Chris's wedding: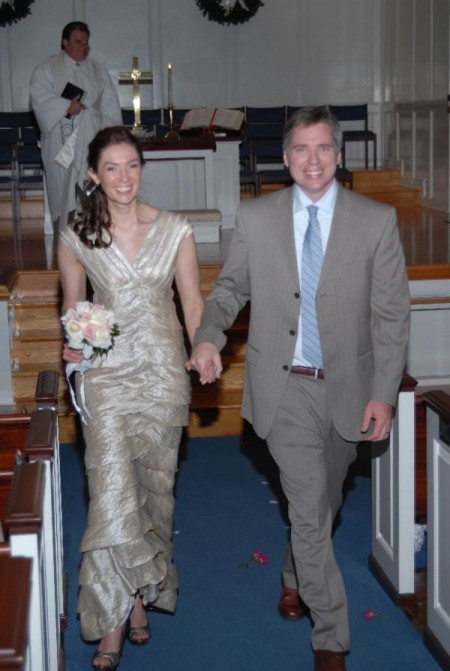 Now, I know what you're thinking: "Jesus Christ, Amanda Carpenter married her grandpa! That old dude has more gray hair than Barbara Bush!" Well, folks, you gotta stop being cultural imperialists here and understand that Amanda comes from one of those banjo-plucking Red States, where marrying your grandpa is considered a delicacy. Heck, she went to a school called "Ball State." Seriously, it's in her bio. I had no idea there was such a thing as "Ball State" except in Butt-head's dreams. "Ball. Uh-huh-huh."
So where does the Mad Midget fit into all of this? Welp, his think-tank, Capital Research Center, fits in real nice-like. See, Capital Research Center is funded by the same cast of billionaire freaks like Scaife, Coors, Olin and the rest, along with corporations like Exxon and Philip Morris, that all the other rightwing lairs are funded by–like the Heritage Foundation . Capital Research Center has had an incestuous relationship with the Heritage Foundation going back to its inception in the early-mid 1980s. Capital Research Center's president, Terrence Scanlon, was the vice president of Heritage Foundation before landing his current gig in 1994, while the founder of CRC also served as a VP at Heritage.
But Vadum's boss, Terrence Scanlon, has an even more illustrious background. Before he settled in for the easy retirement of life in the rightwing think-tank nomenklatura, Scanlon was a government employee. In the mid-1980s, Ronald Reagan named Scanlon to head the Consumer Protection Safety Commission. Scanlon's brief reign was described by a Harvard lecturer/researcher this way:
As CPSC chairman, Scanlon did more to undermine consumer product safety than any chairman in the agency's history, a dubious achievement that holds true to this day."
Scanlon ran into hot water not only because he promoted a policy of "voluntary safety standards" for businesses, but also because he allowed so many hapless ATV enthusiasts to die or suffer injury on his watch, and did all he could to keep the slaughter-for-profit going as long as possible:
Scanlon's loyalty to industry and his disdain for government intervention in commerce, regardless of the body count, played out in his battle with Commissioner Stuart Statler over the regulation of All-Terrain Vehicles (ATVs).

ATV-related accidents skyrocketed from 29 deaths and 10,000 injuries in 1982 to 156 deaths and 78,000 injuries in 1984. Of greatest concern was that children under 16 years old made up half of those injuries and deaths.
Not a problem for Scanlon–the only lives he wanted to save were little fetus-lives, not the lives of the hicks who rode ATVs, because they were more useful as profit-cows for his sleazy corporate sponsors.
And guess who was aligned with Scanlon and the ATV industry against the last pre-Reagan holdout in the Consumer Protection commission? Larry Craig. The Republican from Idaho. Yup, the guy who liked tapping Morse Code love sonnets in men's restroom stalls. Here's the connection between Larry Craig and the Mad Midget's boss, Terrence Scanlon:
While the GAO was investigating Scanlon, Representative Larry Craig (R-ID), ranking minority member of the House commerce subcommittee and an ATV industry-supporter, sought ways to protect the industry. In November 1985, Craig called for the Justice Department to investigate [Stuart Statler, the lone holdout on the commission] had breached federal law by issuing a CPSC Fact Sheet on ATV-related injuries and deaths culled from the CPSC's database….[Statler said,] "What really needs to be investigated is why this congressman is so hell-bent to deprive the American public of critical information about one of the most dramatic surges of injuries ever to be associated with a product under CPSC's authority." Congressman Craig (R-ID) failed to muster support for his investigation and the Justice Department turned him down.
So there you have it, the Klendathu world where Matthew Vadum thrives: sleazy bosses who helped his friends profit from ATV deaths, mixing with fake-grassroots propagandists and taxpayer-funded libertarians, a world where grandpas marry their granddaughters, and angry midgets are allowed to take photographs with all of them, as though they're all great friends. It is the cast of Star Wars Bar freaks who ran America under Bush. And they're planning to take over again before you know it–and they will, too. It's only a matter of time.
Mark Ames is the author of Going Postal: Rage, Murder and Rebellion from Reagan's Workplaces to Clinton's Columbine.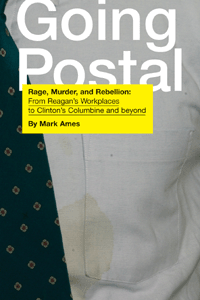 Click the cover & buy the book!
Read more: Amanda Carpenter, Capital Research Center, Heritage Foundation, Matthew Vadum, Megan McArdle, Terrence Scanlon, Washington Times, Mark Ames, Fatwah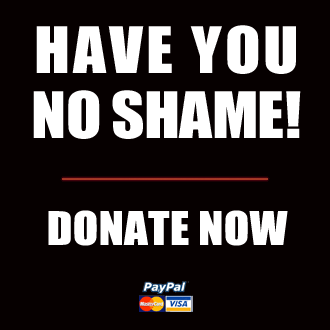 Got something to say to us? Then send us a letter.
Want us to stick around? Donate to The eXiled.
Twitter twerps can follow us at twitter.com/exiledonline