By Eileen Jones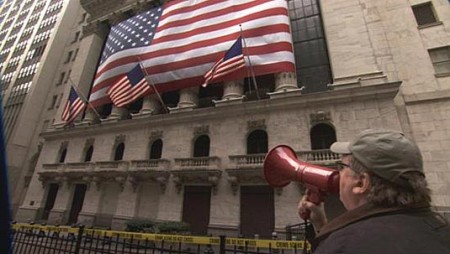 Capitalism: A Love Story is a fantastic slap-upside-the-head film, just what we need right now. It's been playing a week in New York and Los Angeles, and just opened wide. The reviews are "mixed." Critics say it's just Michael Moore preaching to the choir again: people who love Michael Moore will go see the film, people who hate him won't, therefore he has no persuasive effect whatsoever.
Though Dana Stevens of Slate doubts that anyone can really love Moore:
If you already dislike Michael Moore, Capitalism: A Love Story, his latest documentary/provocation/performance-piece/decoupage project isn't likely to win you over. And if you love him without reservations, this movie has nothing to tell you that you haven't already shouted through a bullhorn at a "Free Mumia" rally. But is there anyone who falls cleanly into that latter category of unabashed Moore love? The hulking Michigander's 20-year career as an agitprop prankster, his stalwart refusal either to go away or to hone the blunt instrument of his demagogic style, has made Moore a problem for the left and the right. Even those who largely agree with Moore's politics are often mortified by the delivery system: the juvenile stunts, the easy demonization of his opponents, the deliberate donning of blinders when a cogent counterargument comes along.
As usual, that leaves me out. I love Michael Moore, and I never shouted anything through a bullhorn. I should've, though. Maybe I'll start. (Note to self: buy bullhorn.)

In his 1989 feature film debut, Roger & Me, Moore charted the ruin of his hometown of Flint, corporate headquarters of GM, and went off on a quest for an explanation from then-head of GM, Roger Smith. In his 2009 film Capitalism: A Love Story, he charts the ruin of America, which is now one big Flint, pillaged by a horde of Roger Smiths. But now he doesn't just want to ask corporate heads, or their government shills, for an explanation. Instead, he enacts an attempted Citizen's Arrest on a grand scale. This fails, as it's meant to, because obviously one lone Michael Moore can't sledge-hammer this system. But a relentless mob of a hundred million smart, angry, organized citizens could. Right? RIGHT?!?
It beats me how people have managed to get themselves so completely balled up about Michael Moore, the excellent filmmaker who gave us such great stuff as Bowling for Columbine, Fahrenheit 9/11, and now Capitalism: A Love Story. Conservatives hate him and try to dismiss him for obvious reasons—he's a real threat, a working-class lefty with nerve, brains, humor, ass-kicking rhetorical strategies, and a lifetime membership in the NRA. But liberal types don't seem to like him much either. Even when they praise his films they do it apologetically, grudgingly, condescendingly, hastening to make clear that, of course, Moore's a fat naïve self-aggrandizing buffoon with a tired shtick that he's been boring us with for twenty years, but still, he does get a lot of attention and pulls off an amusing prank now and then.
Given how few people are willing to praise him out loud in public, it's a mystery that Moore's films are such consistent hits. They are, though. Somebody besides me is paying to watch them. In fact, Moore's films are so popular they make lots of money, which in turn allows him to make more films, and to wind up rich himself. This leads to a furious charge of hypocrisy—how dare he profit from the capitalist system he criticizes? Why's a rich man pretending to stand up for the poor and working class?
Here's Liam Lacey working that angle in the Toronto Globe & Mail:
Abetted by the support of a couple of Catholic priests and a bishop, Moore says, unequivocally that "capitalism is evil" and should be eradicated.

But does he mean it? As a filmmaker creating a product for a marketplace, supported by profit-seeking investors, he obviously has some comfort level with capitalism in the sense of doing business.
Familiar logic, this. Because anyone trying to make a living is implicated in capitalistic "profit-seeking," none of us have any right to kick about it. Any lucky soul who scores big money and argues that something should be done to make things less harsh on those who don't have money is immediately charged with heresy because he hasn't pulled a Jesus Christ and given away everything he owns. The nervous heretic quickly understands the necessity of converting to the Gospel of Wealth and becoming an upper-class bastard who can socialize easily with other upper-class bastards in the Hamptons or wherever.
Here are the other most typical dismissals of Moore, besides he's-preaching-to-the-choir and he's-a-rich-hypocrite:
Moore's hopelessly naïve and simple-minded, reducing complex issues to absurd polemical stances. He apparently doesn't understand the complex issues he takes on.
Owen Gleiberman, Entertainment Weekly:

Here, as in the health-care doc Sicko (2007), Moore's real subject is the collapse of the social contract. That's a powerful theme, but why did he have to make the film's villain nothing less than…capitalism itself? Moore depicts the very concept of American free enterprise as inherently unjust. But even if you believe that deregulation in the '80s went too far, that unchecked capitalism is a voracious beast that can eat a culture alive, you may have a hard time swallowing the film's finale, in which Moore trashes our system as "evil" and pushes for a citizens' "revolt." At its best, Capitalism: A Love Story is a searing outcry against the excesses of a cutthroat time. At its worst, it's dorm-room Marxism.
Why does he have to make capitalism the villain? Because capitalism is killing us right now, and we can all see it and feel it and practically smell it. Anybody out there following the news lately?
Moore has been arguing for twenty years that we need a return to serious government regulation, and a recommitment to the idea of the common good as a primary motivating factor in our culture. So okay, Obama gets elected, but uh, strangely enough, Goldman Sachs is still calling the shots. Now what? What rhetorical strategies can he deploy? The hard right is unreachable. How to motivate the snooty left and an angry yet inactive American center? How about shouting "capitalism is evil" in a crowded theater? Followed by "socialism doesn't sound so bad"? A little dorm-room Marxism might be just the way to get everybody up on their hind legs ready to fight for what they want.
Michael Sragow, Baltimore Sun:
In the end, [Moore] lacks mental toughness and clarity. In his melodramatic view of politics, capitalism alone brings out the worst in men. He says that we must replace capitalism with its opposite: democracy. The symmetry doesn't work. Capitalism is an economic system; democracy, a political system.
Sragow's always exemplary mental toughness and clarity doesn't allow him to see that an economic system can have an impact on a political system and vice versa. The two can even be inextricably intertwined. Communism, anyone?
Moore is trying to suggest that our commitment to capitalism has subsumed our commitment to democracy. As Exhibit A, Moore gives us an appalling suit-and-tied Wall Street Journal git bragging how he personally has no commitment to democracy, because there have been poor democratic countries, but capitalism has made America great because it's made America rich. Some of America, anyway.
Moore also shows us excerpts from a horrifying letter circulating among an elite group of bankers and rich investors openly identifying the new "plutonomy" which allows 1% of the population to control 95% of the wealth, and lays out an action plan for keeping it that way. The only potential danger, investors are warned, is the ongoing democratic system of one-person, one-vote. So apparently democracy still has something to do with capitalism in America, though maybe not for long.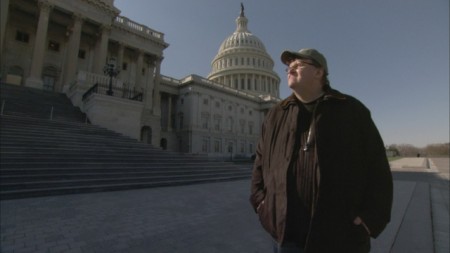 Anyway, let's see if we can get it straight: Moore makes impassioned arguments in a popular mass media form to people who still have some latent political muscle, and he wants to persuade them to use it before it's too late. Maybe his way isn't the right way. Probably it won't work. But after all, how DO you persuade people like the scared majority of Americans to get smart and stop supporting the buzzards who are picking their bones clean? How would you do it? And if you know so damn much about it, why DON'T you do it?
Moore doesn't make properly objective documentaries.
Deborah Young of The Hollywood Reporter notes that "Simplifications are Moore's stock-in-trade, and his documentaries are not known for their impeccable research and objectivity."
Pop quiz: define "documentary" in terms of its history as an objective form of filmed reportage.
That'll be a very short essay.
Film History Lesson:
Direct Cinema is that fly-on-the-wall documentary style that most people vaguely assume is the gold standard of documentaries because the filmmaker is not seen or heard and you can kid yourself the film is free of the filmmaker's subjective take on the material. It represented a break with documentary tradition, because prior to the 1950s-'60s documentaries were largely staged affairs, featuring authoritative "Voice-of-God" narration telling you what to think about the images. Technological innovations during and after WW II, such as lighter cameras, faster film stocks, and portable sound recording equipment, allowed documentary filmmakers to get out in the streets and shoot on the run, and the Cinema Verite and Direct Cinema movement developed.
Cinema Verite was the more aggressive form of the new documentaries, featuring a filmmaker insisting upon his/her presence in the film, often asking deliberately provoking questions ("Are you happy?") and sometimes bringing the film subjects into the process to analyze their own participation.
Yeah, you guessed it—Michael Moore is in the Cinema Verite line.
In the '70s Direct Cinema came under fire, as people argued that it represented a bigger lie, the pretense of impossible objectivity. After all, some subjective schmoe is framing the shot, editing material in or out for some intended effect, etc. So years of doc experimentation followed, addressing the fraught relationship of film to reality and authentic experience.
These days we watch Synthesis Documentaries, which feature a mushy, familiar set of conventions we tend to embrace as "objective," neutral, representing no particular point of view, weighing all controversies fairly and impersonally. All the techniques tossed out by Direct Cinema filmmakers in the interests of "neutral" observation are back—talking-head interviews, voice-over narration, musical scores, intertitles, archival materials, etc. Just think PBS.
We buy the Synthesis Documentaries as "impeccably researched" and "objective" because we are stupid and we learn nothing and we remember nothing.
But it's true, Michael Moore insists upon the fact that he's making an argument in film form, that it is his argument based on his experience, that he is not neutral.
Moore's an egomaniac hogging the spotlight in his own films, pretending to be a blue-collar simpleton surprised by his filmic encounters.
Stephanie Zacharek, Salon:
But 20 years after "Roger & Me," "Capitalism: A Love Story" proves that Michael Moore's greatest subject is himself. This is a love story, all right, but it has less to do with the flaws of capitalism than it does with Moore's unwavering fondness for the sound of his own voice, and for what he perceives as his own vast cleverness.
Deborah Young, Hollywood Reporter:

As in his previous films, Moore is himself the chief character, offscreen narrator and investigator. Wearing his inseparable baseball cap and T-shirt, he pretends wide-eyed surprise as his interview subjects recount personal dramas related to America's economic meltdown.
Moore's film persona is exactly that, and has remained consistent from film to film. He plays himself as a sane working class guy trying to figure out what the hell's going on, a proxy for other presumably sane working class people who also would like to know what the hell's going on. He dresses the part. His insistence on his own presence in his films goes back to the very first shots of Roger & Me—ME, see?— and is vital to his argument, which is that his own lived experience, in his view, reflects the larger American experience of late capitalism.
Yes, this gives him a lot of screen time.
Moore is the left-wing equivalent of Rush Limbaugh.

Owen Gleiberman, Entertainment Weekly:

Pointing his finger at "capitalism" Moore sounds a little too much like Rush Limbaugh getting hot under the collar about "socialism." In both cases, they're not making an argument — they're demonizing a word.
Liam Lacey, Toronto Globe & Mail:

Though presumably a fan of more, rather than less, government involvement in the economy, Moore sees the bailout as another example of the rich screwing the poor, and rather unexpectedly ends up sounding like the anti-government zealots from the right.
Oh hell, these are just stupid.
Moore is repeating himself; he makes stale, formulaic, crowd-pleasing films.
Dana Stevens, Slate:
In the movie's most painfully redundant scenes, Moore approaches the Manhattan headquarters of Goldman Sachs and other investment banks and stands outside with a bag, asking the doorman to let him in to reclaim America's money. Now that 20 years have passed since his first film, Roger and Me, can we all just agree to tap into our collective memory of these moments when Moore is refused entry into corporate high-rises by polite and embarrassed doormen (all of whom belong to the working class he so loves to champion)? We get it, Mike: The head of GM will not see you. The chairman of Goldman Sachs will not see you. The secretary of the U.S. Treasury will not see you. Waste any more footage on this tired gag, and your loyal fan base may start to feel the same way.
Manohla Dargis, New York Times:

Mr. Moore doesn't just refer to "Roger & Me," which involved his attempts to speak with Roger Smith, the chief executive of the floundering General Motors; he also includes some nominal highlights from that 1989 movie. A lot of performers like to replay their early hits, so it isn't surprising that Mr. Moore, a practiced showman, recycles images of his younger, slimmer self engaging in one of his trademark moves: trying to enter a building to speak truth to power, only to be turned away by security guards. It was faintly amusing theater then, especially if you didn't think too hard about the fact that he was hassling working people just trying to do their jobs. It's less amusing when he repeats the same routine in "Capitalism."
The critics have noticed that Michael Moore is returning to certain scenes and situations he's filmed before—nice work, critics! Way to stay awake through the whole film!
But let's consider whether there might be a reason for doing this before we scorn him for it. Perhaps Moore is trying to emphasize the fact that he's been doing this for twenty years now, not just because he's too lazy to film new kinds of scenes, but because there is a certain cumulative power to memories of Moore, Working-class Man, making endless trips up steps to formidable buildings trying to get an accounting from CEOs of their ruinous practices. He STILL can't get one, and he's now rich and famous for trying. No one can get one. The president can't get one. When are we going to demand they come out of those fortress-buildings and face us?
Though it is true that trying to persuade people to think about what's going on does include occasionally "hassling" them when they're merely trying to do their jobs guarding the entrance to Goldman Sachs for, no doubt, pitifully low pay.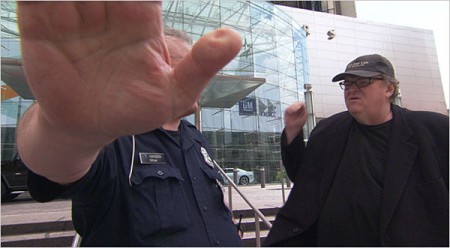 Moore's exploitative in manipulating audience emotions.
Ann Hornaday of The Washington Post says "…Moore's sentimental appeals too often veer toward the maudlin (he's neck and neck with Oprah in making his interviewees cry)…"
Manohla Dargis, NY Times:

Captain Mike is here to explain it all or at least crack jokes, milk tears, recycle the news and fan the flames of liberal indignation. Along the way, because his heart is in the right place even if his images aren't always, he also makes room for other voices, including those of striking workers and members of one family in foreclosure who videotaped the police breaking down the door to evict them.
Dana Stevens, Slate:

One section of the film deals with so-called "dead peasant" insurance policies, a malevolent practice in which large companies (including, for a period in the '90s, Wal-Mart) take out hefty policies on employees who seem unlikely to die, essentially betting on the odds of their survival. Moore interviews the families of two Wal-Mart employees who were horrified to learn, after their beloveds' deaths, that the company stood to profit by them (in one case, to the tune of $1.5 million). The way Moore gathers one such family around the kitchen table, then leaves the camera on the children's faces while their father remembers their mother's final days, feels exploitive and crass. The scene makes you cry, yes—who wouldn't when hearing how a little girl asked whether she could cut a hole in the hospital wall to see her mother one last time?—but it seems like something you shouldn't be allowed to see. Once again, Moore's goodhearted aims come into direct conflict with his bludgeoning tactics.
The way we have allowed ourselves to be tied in knots, so that we can't make a move in any direction, is really wonderful. We can't express any emotion over terrible things because that's "maudlin," we can't try to take action because that's naïve and simplistic, we can't "make capitalism the villain," we can't indulge in class warfare, we can't try for political change because it seems to make no difference what party's in power, we can't identify with labor and the underclass because that's dorm-room Marxism and a one-way ticket to Palookaville, we can't identify with the leisured rich because we've got no money and refuse to be as completely stupid as all that. We can't do nuthin.'
Well, maybe rob banks and commit workplace massacres. Those are still options.
Moore doesn't offer solutions to the vast problems he identifies.
Manohla Dargis, NY Times:

In the end, what is to be done? After watching "Capitalism," it beats me. Mr. Moore doesn't have any real answers, either, which tends to be true of most socially minded directors in the commercial mainstream and speaks more to the limits of such filmmaking than to anything else.
Liam Lacey, Toronto G & M:

These things are shameful, but what do they tell us about economics? Through inference, we can guess that the capitalism Moore is angry about is capitalism gone berserk, as the free-market theories of Milton Friedman and others became enshrined into the Reaganite, neo-con ideology of deregulation, anti-unionism and tax-cutting.

Like pure socialism, free-market capitalism seems like one of those single, unifying ideas that have no place in the real world.

In the end, the best the weary-sounding Moore can suggest is that capitalism needs to be replaced by "democracy," which amounts to exchanging one slippery term for another. Admitting that he's grown tired of his own theatrics, Moore urges the audience to "join him" in his cause. Well sure, Captain Mike, as soon as we can figure out what exactly that's supposed to be.
Yeah, Moore didn't give us The Answer in his twenty-year filmic harangue, because nobody knows The Answer, but he's certainly identified the main problems and outlined a number of lively suggestions for action. And now he's throwing the ball to us, and we can't think of enough ways to drop it. But I'm sure he'll check in with us in another twenty years, in 2029, if he's around, to see how that's working out for us.
Read more: america, Bowling For Columbine, capitalism, critics, Farenheit 9/11, Michael Moore, Roger & Me, Sicko, Eileen Jones, movies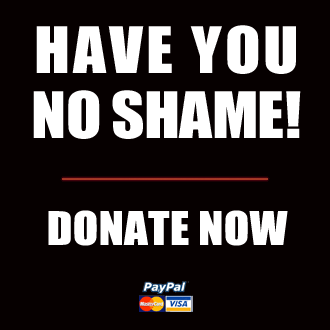 Got something to say to us? Then send us a letter.
Want us to stick around? Donate to The eXiled.
Twitter twerps can follow us at twitter.com/exiledonline