By John Dolan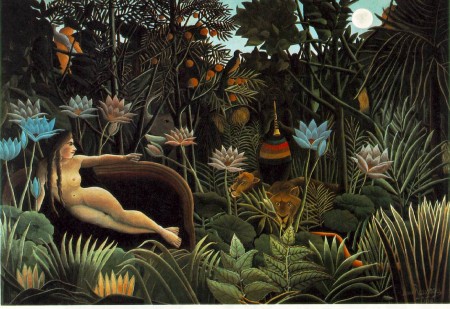 Anyway, Rousseau's naked lady is funny in the way of toilet art, but sad too. It deserves captioning—funny thing, a lot of this art needs captioning—and the caption would be: "Oh God my life is so dull, please at least get me a ticket on those bateaux-mouches, please."
Then come the big boys, the very worst of all being, of course, Picasso. Picasso is interesting because he never did anything new at all. Never. The stifling, soporific tradition of European high art, with its pears and bowls and girls who were pears and bowls too, was just fine with him, the way a tarantula is fine with one of those wasps that drags the poisoned spider into a den and injects it with its own eggs. Picasso was the exact counterpart of those hostile-takeover capitalists of the eighties who consumed the company for short-term gain.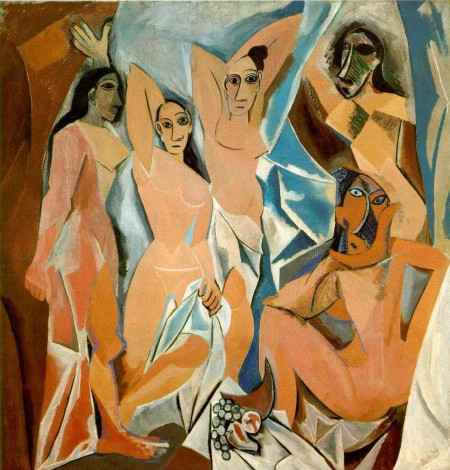 So on the next page we have his Demoiselles d'Avignon: the same gaggle of well-fed European goose-girls posing with their arms in various breast-enhancing positions…only this time they're blurry. Whoa, blurry nudes! It set the century on its aesthetic ear, those blurry nude girlies. Because they're melted down to…whoa, just shapes! Except you can see they're still pretty hot in a zaftig way—Picasso, as Jonathan Richman has noted, was a horny little commie. This, dear sirs and madams, was the breakthrough of the century on the high-art front: pedantry meets titillation, still-life frigs itself.
Worse yet, and somewhat to the side: the bastard Picasso is responsible for every bad move Stevens ever made. Seriously: if you know Stevens, you know what I mean. From the fucking pears to the far, far worse Blue Guitar—Stevens blathering about a guitar! Agh!—it's always Picasso's evil hand sketching away when Stevens goes bad, ensuring that the best prosodist in centuries was under permanent contract to a junk-bond credo.
And after the pedant we have the frat boys, the pranksters. Look, right below Picasso's naked Ph.D. candidates is a picture of a pipe with the note that this is not a pipe. Reminds me of a line from Fight Club, a nice bitter visit to the world where all this got us: "Oh, I get it. It's clever. How's that working out for you, being clever?"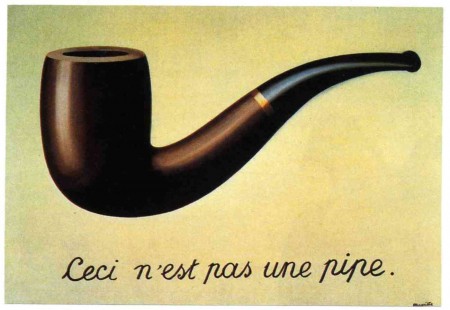 More pranks, one-shot gags, on the next page. Duchamp, who was nothing if not clever, and was indeed nothing.
Read more:, John Dolan, Books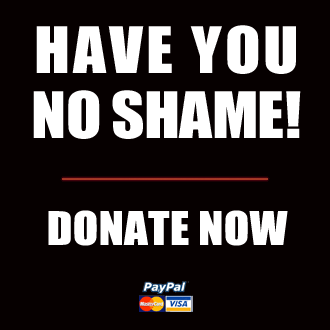 Got something to say to us? Then send us a letter.
Want us to stick around? Donate to The eXiled.
Twitter twerps can follow us at twitter.com/exiledonline