By John Dolan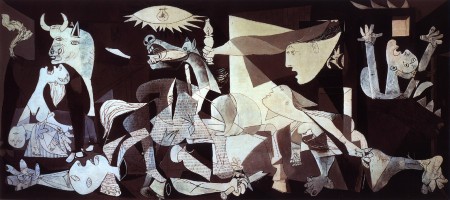 I've been reading anthologies again, God help me. It's all about money, as in we ain't got none. So it's back to teaching, and that means reading the anthologies that attempt to take a bunch of innocent kids through the dismal art of the twentieth century in one semester.  Today's culprit is The Norton Anthology of World Literature: The Twentieth Century. It's not bad. I guess. No worse than the others. The problem is the century itself, anyway, not the anthology.
Don't get me wrong, it was a great century in many ways. But you wouldn't know it from these anthologies. No science fiction, for starters. Think of that: an anthology of twentieth-century literature with no H. G. Wells, no Philip K. Dick.
At least they no longer include Ezra Pound. He was a God when I was young. I never got it but blamed myself the way young provincials always do: "Pound must be great in some way you only get if you're really civilized, not like me." All I could get was that he sure ripped off a lot of stuff from my old favorite, Robert Browning. And what wasn't ripped off was sentimental; it seemed like Pound could out-weep Hallmark Cards just by calling it a "translation" and writing in painfully grammatically correct sentences like the way Injuns talked in the new breed of sixties Westerns where they were always saints. His "River Merchant's Wife" talked just like the old chief in Little Big Man, only even soppier.
And if the sentimentality and the rip-offs were wearing thin, he'd squirt a cloud of squid ink by coughing a bunch of phlegm in the original Greek or Chinese right onto the page, and if you didn't like it you were a bumpkin. I always wanted to hand in an essay on Pound translated into Old Kingdom hieroglyphics, and if the prof. didn't like it I'd look astonished and a little scandalized and mumble, "You don't read ancient Egyptian?"
I think they gave up Pound because all his crazed fans just plain died. There was one named Jim Powell at Berkeley, used to be in a lot of workshops with me. He was Pound to the death. Had that real old twentieth-century aestheto-fascist crazy on for Pound; he'd read you a line, typical Pound, starting with ye olde Browning and veering into bathetic pedantry, and if you didn't do cartwheels he'd stare at you thinking how fine you'd look stood up against a wall with all the other Pound unbelievers. You almost had to admire it. That was the twentieth; people were serious. Stupid, but serious. It was quite the home-brew: avid stupidity, artistic pretensions, and mass-produced automatic weapons. You can see why we had such lively times on the weekends.
The funny thing about Powell is that he was the worst suckup I ever saw, but innocent with it, in the way that the truly possessed are always innocent, no matter what sleazy grovels they execute. He used to sit front and center so he could hand Pinsky a cigarette—damn, I guess you could smoke while you were teaching then, which shows how long ago it was. The rest of us passive aggressive punks would hiss and mumble resentfully at this bolder and more effective suck-up-ery, but you couldn't even resent it properly because Powell wasn't a cynical careerist, he was a fanatic, and he would have been innocent even while performing the most degrading sexual services for the cause of Pound (which he did, come to think of it, but that's another story). And now his great cause, his demigod, has been dropped from the anthologies. I wonder if he'll survive that, if he's still alive now.
Unfortunately, the great Revisionism has not extended to the graphic arts. I guess it can't, really; there isn't any alternative to the dreary high modernism of twentieth-century painting, not until you're ready to embrace the real great art of that century, fascist poster art and Looney Toons animation. So this anthology I'm chewing through like a 700-page bowl of unsweetened Quaker Oats features the same rotten painters who we had to pretend were great way back when the teacher could smoke in class.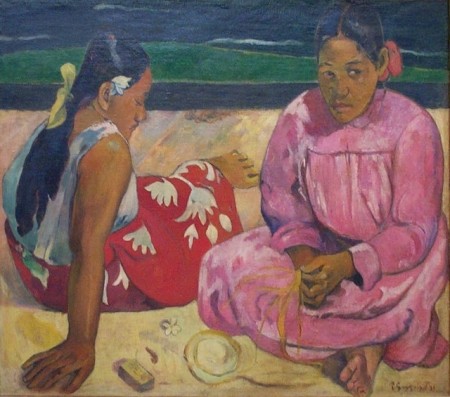 The selection begins with Gauguin's Tahitian Women/On the Beach. It's a men's room painting, which could just as easily be titled with a postcard caption on the back: "I fucked both these native chicks. Hey all you guys at the water cooler, still think I was crazy to quit the Bourse? See ya LOOZERZ!" He paints the two girls looking worried and pensive, like they're still reeling from their dose of Gauguin penetrative colonialism. "Think about that, baby!" One is holding her belly like "Uh-oh, I think I've got a little Parisian coming on!"
It's art, though, because he painted sloppy, a lot of blotching instead of trying to out-camera the cameras. Of course they ended up doing pedantry like Picasso or wallpaper like Matisse, but those were my boys, them 20th-centers, they played to the death, stupid but serious.
Down the page we got another naked lady done men's-room style, this time by a certified amateur, the lowly customs clerk Henri Rousseau. Rousseau didn't go to Tahiti, which is what his picture is about. He puts the naked lady, who looks like she came off a saloon mural in Tombstone, Arizona, in the middle of the jungliest jungle ever imagined by a man who never left the suburbs of Paris, the stinking soldier-breeding pens immortalized by Celine.
And by the way, ladies and gentlemen, any guesses on whether Celine, best writer of my century, is in this anthology? Correct: not so much as mentioned. But that goes without saying—without so much as breathing his Voldemorty name, even.
Read more:, John Dolan, Books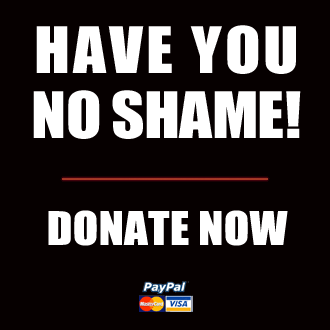 Got something to say to us? Then send us a letter.
Want us to stick around? Donate to The eXiled.
Twitter twerps can follow us at twitter.com/exiledonline