By John Dolan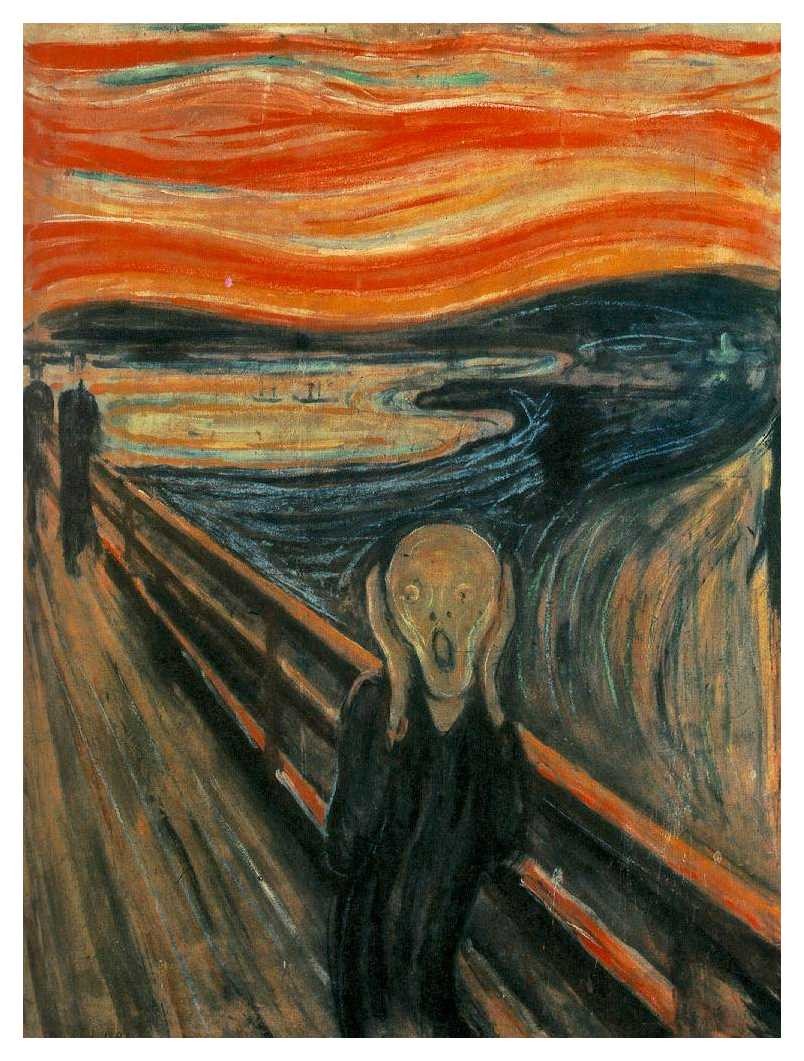 Flicking fast to the next page, God be thanked—and a piece of actual art: The Scream. Quick rule: if it made it onto t-shirts, if you remember it even though high art makes you queasy, it's real. A Norwegian cartoon, our first decent icon, Daffy Duck with seasonal affective disorder.
Then it's back to Picasso: Guernica, aka "When Your Side Kills People, It's Mean." Picasso is so perfect an emblem of all that was wrong with my rotten century that not even a committee of Thurber, Waugh and Bulgakov could have invented him. He knows exactly how much career-enhancing registered-trademark Picasso-Brand iconography he can insert into what is ostensibly an occasional painting, a grand grief, without the bumpkin critics noticing. Which turns out to be a lot. Look, there's the bull with both eyes on this side of its face, and there's a cartoon Athena yelling…. He was only five foot one but bumpkins could not resist his pedantic titillation; Pablo Picasso was never called an asshole. But he sure should have been.
And then it's Frida Kahlo. To quote another of the usual suspects, "I can't go on. I'll go on." OK, then, Frida: to speed up the processing we'll just check the boxes: amateur, noticeably can't paint, like Rousseau of the naked jungle queen, CHECK. Monobrow as stigma of sacred proto-anti-feminist self-hatred body image, not to mention bus bar through spine, CHECK. Sort of third-worldy even though she had money, CHECK PLEASE.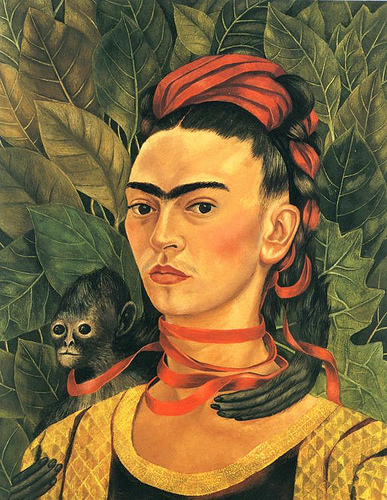 Once in Moscow Katherine and I had dinner with a colleague who was, to use the technical medical term, completely loopy. The kind of stagnant ego that's been staring at itself since puberty, learning languages and moving around the globe to avoid dealing with its monad existence, its frozen pubescent "I am everything" autoinfatuation. She served us lentils—I admit, that still rankles; lentils! To guests!—and showed us her paintings. Which covered the apartment and were all, every single one, of herself. They all showed her with "teeth like baseballs, eyes like jellied fire" to quote Hunter Thompson (and do I even need to mention he's not in the anth either?). Of course she sort of did have eyes like jellied fire, and her teeth were not of the shy, retiring sort, but it was still a jolt to see her scariest features reproduced again and again, as enthusiastically as an Aztec stonecarver would have chipped out his ten thousandth god-fang, in this airless fifth-floor mausoleum.
If only I'd thought of it, I could have asked permission to introduce a Frida Kahlo self-portrait into that vacuum chamber and have a stare-off, monobrow Mothra vs. bug-eyed Godzilla. Frida would win, I guess, because there was a movie of hers. And of course there are no movies in this anthology. Movies were too excited to do "anti-art." So they survived—for a while, anyway.
There is great writing in this anthology, by the way. The problem is that it's all nineteenth-century writing. Lu Xun's story "Upstairs in A Wineshop" is as good as Sentimental Education. And the Japanese satirist Kojima Nobuo manages to get the feeling of life-as-she-is-lived absolutely perfectly, in an agonizing account of a field trip by English teachers in postwar Japan.
Which brings us to Naipaul. He's not in the anthology. If that surprises you, you don't know English professors.
But in one way, Naipaul, Lu Xun and friends are vindicated, because the volume ends with a mess of propitiator offerings to women of color, all of them workpersonlike examples of pure nineteenth century "art," as opposed to "anti-art." There's no anti-art when you actually have something to say, or at least vomit up, and even a grudge is something. Not much, to be sure—and to be absolutely sure of how little it can be, the thoughtful editors have given us a Leslie Marmon Silko story, "Yellow Woman," to close the volume with a bang. The title would be enough, having a color and a gender and all, but Leslie let them print the whole thing. Closing out university anthologies is her specialty, and she makes a damn good living at it.
It's the best we can do, I suppose, until the Geiger counters stop sounding like angry rattlers every time they get close to those Soviet and Nazi and Fascist and Kemalist painters who were, fools that they were, actually trying to show things.
Read more:, John Dolan, Books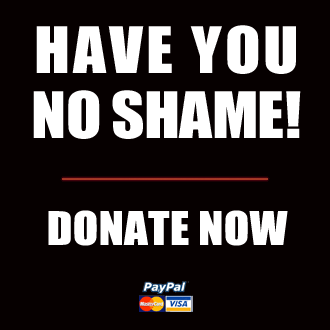 Got something to say to us? Then send us a letter.
Want us to stick around? Donate to The eXiled.
Twitter twerps can follow us at twitter.com/exiledonline