By Mark Ames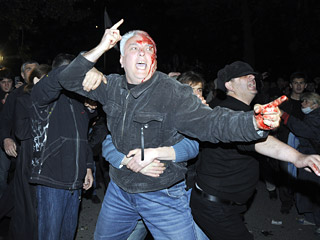 (This article first appeared in TheNation.com on May 11, 2009.)
The May 7 edition of the Washington Post features one of the most poorly timed op-ed commentaries in recent memory. Carrying the harmless headline "A Friend to Georgia and Russia," it features the soothing bipartisan co-byline of Democratic Senator John Kerry and Republican Congressman David Dreier. The editorial argues that the best way to "reset" relations with Russia while at the same time support Georgia's "fledgling" democracy would be–are you ready?–to enact a free trade agreement with Georgia.
There are only two problems with this position: 1) free trade agreements are widely considered to be a big cause of the mess America and Georgia are in today; and 2) Georgia doesn't have a functioning democracy, as the tens of thousands of antigovernment protesters can attest. Just hours before the Kerry-Deier editorial was published, Georgian riot police brutally attacked protesters in the capital, Tblisi, using truncheons and rubber bullets, according to the protesters, sending dozens to the hospital, including some of the opposition leaders as well as several journalists. A popular singer turned protester, Giorgi Gachechiladze, was reportedly pinned to the ground by police and beaten with truncheons, breaking one of his ribs. Police reportedly were chanting the nickname of Georgia's authoritarian president, Mikhail Saakashvili, during the melee.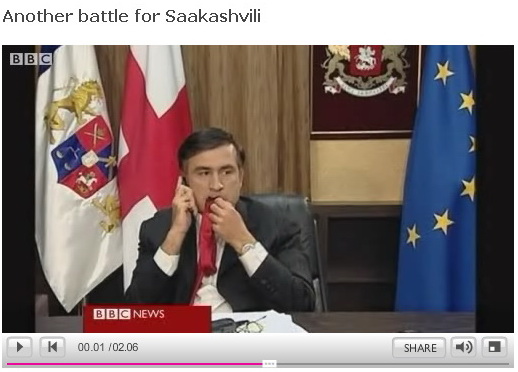 Saakashvili chews on his tie during his disastrous  invasion of South Ossetia.
Pro-democracy demonstrations against the savvy English-speaking Georgian strongman first gelled in November 2007, when 100,000 people took to the capital's center square to demand real democratic reforms. Saakashvili responded with force, sending in his Special Forces to brutally crush the demonstrations, shutting down the opposition media and imposing martial law, leading to worldwide criticism. Last year he nearly sparked World War III after recklessly invading South Ossetia and provoking a war with Russia, leading to war crimes accusations by Amnesty and Human Rights Watch.
Over the past few years, human rights organizations have increasingly condemned Georgia's deteriorating democracy record, while most of Saakashvili's prominent former allies have abandoned him for the opposition, accusing him of turning into a mini version of Vladimir Putin. Critics have been jailed and forced into exile; powerful figures mysteriously died, including a former prime minister and Georgia's former top oligarch. Others have been harassed with classic police-state tactics, such as Nino Burjanadze, the former parliamentary speaker who co-led the 2003 Rose Revolution with Saakashvili, but who last year joined the opposition after accusing Georgia's leader of creating a dictatorship. On the eve of the recent protests, members of Burjanadze's party were arrested on trumped-up charges of allegedly trying to acquire weapons to stage a violent coup d'état.
In response to these crude attacks on Burjanadze, other former allies of Saakashvili's, including his former prime minister as well as Georgia's former UN ambassador, a figure popular among Western diplomats and journalists, rushed to her support. Both are now in the opposition calling for Saakashvili to resign and for democratic principles to be restored.
This past week, again, Saakashvili has been arresting figures in the military, accusing them of planning a coup. He regularly dismisses any opposition as a Russian plot to unseat him, which suggests that he's spinning deeper and deeper into the sort of paranoia common to tinpot Third World dictators.
Yet none of this is mentioned in the Kerry-Deier commentary; rather, some variation of the word "democracy" appears seven times in their short editorial, reinforcing the sense that Georgia really has a democracy. Interestingly enough, the name of the country's authoritarian strongman, Mikhail Saakashvili, doesn't appear once.
Read more: georgia, Glover Park, John Kerry, lobbyist, Mubarak, Public Strategies, Saakashvili, Washington Post, Mark Ames, eXiled Alert!, Fatwah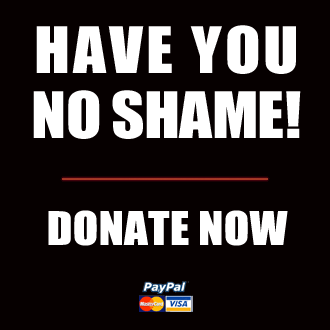 Got something to say to us? Then send us a letter.
Want us to stick around? Donate to The eXiled.
Twitter twerps can follow us at twitter.com/exiledonline