By Yasha Levine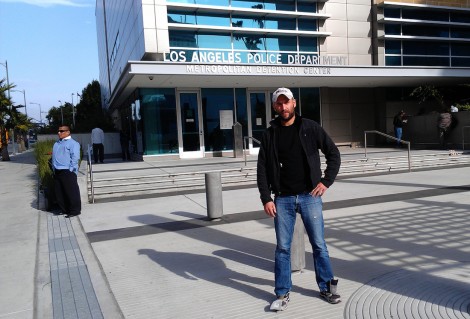 Last Thursday I got up at 7:00 a.m. and drove NASCAR-style to make it in time to my arraignment hearing at the Central Arraignment Court in sunny downtown Los Angeles 8:30 a.m.–only to find out that I'd wasted my time.
After waiting around for twenty minutes outside a courtroom with a bunch of other people arrested during the November 30 LAPD raid on Occupy LA, including Family Guy writer Patrick Meighan and a few other guys I spent two nights in jail with, I learned that the City Attorney, Carmen Trutanich, had decided to postpone arraignment for most of us. We weren't given a new date, just a cryptic message stamped on our bail/release slips: NO CHARGES FILED / WILL NOTIFY BY MAIL.
Some took it to mean that the charges against them were being dropped, and at first so did I. So a bit of excitement rippled through the crowd. But we shouldn't be counting our chickens before they hatch. According to my attorney, "no charges filed" was shorthand for "no charges filed today." Which means that there is no reason that charges couldn't—and wouldn't—be filed a little while later, like next week or next month. And judging by the threatening letter I received from the City Attorney's office, that looks like a definite possibility. But more on that later…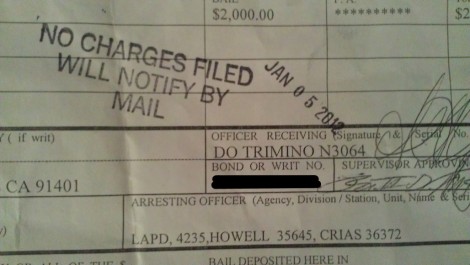 NO CHARGES FILED…TODAY
I don't have the exact stats on this, but it seemed like the few dozen of Occupy LA arrestees in court that day got their arraignment postponed. But definitely not everyone. There was a small number of folks that day who were arraigned as scheduled, most notably Family Guy writer Patrick Meighan. I spoke to him on the phone later that evening, and he told me that he entered a plea of not guilty and had his pretrial date set for late February. (Check out Patrick's account of his Occupy LA arrest.)
Why was arraignment postponed for some and not others? It's still not clear. I talked to Patrick Meighan about it, and he had no idea why he was deserving of such an honor. Could it be because he was the most famous person to be arrested that night, and had his file prepared first by a nosy and curious clerk? Nobody knows.
Whatever the reason, I've been told that the whole postponement thing is, in all likelihood, a matter of routine bureaucratic overload and/or incompetence. Courthouse clerks are known to whip out their "no charges filed / will notify by mail" stamps when the City Attorney's office is swamped with cases and/or doesn't have its shit together. And right now it seems like it's dealing with both.
As of late last week, prosecutors have pressed charges against 50 November 30 arrestees. Out of the 26 cases filed in court so far, prosecutors have obtained guilty verdicts in just two cases: Jason Brodsky, 35, was sentenced to 20 days of community service and 18 months probation for failing to disperse, while Justin Fragosa, 19, was found guilty of the same "crime" as Brodsky and was scheduled to be sentenced today. (Update: Justin got $1,000 fine and a year probation.)
But aside from those two victories, city prosecutors have been getting thrashed in court.
Here's what LA Weekly reported last week:
City Attorney Carmen Trutanich wants to teach Occupy L.A. a lesson about the First Amendment. But as the first wave of failure-to-disperse cases goes to court, the Occupiers are teaching him about the Sixth Amendment.

That's the one that guarantees a speedy trial, as well as the right to confront witnesses. The Occupiers are refusing to waive those rights, which has led to a slew of dismissals.

So far, 11 cases have been thrown out — mostly due to insufficient evidence. Occupy court-watchers say that prosecutors are having a hard time tracking down their witnesses and getting their paperwork together in time to proceed with jury trials.

…

In the wake of the Nov. 30 raid on the Occupy L.A. camp, Trutanich filed 50 misdemeanor cases. Most of those demonstrators wanted to be arrested, so the cases should be relatively easy to prove.

But so far, according to the City Attorney's Office, Trutanich's prosecutors have obtained three convictions, all via plea deals. Another two cases were deferred for six months. At the same time, seven cases were dismissed for lack of evidence, and another four were dropped in exchange for pleas to probation violations. The rest are pending.
According to the LA Weekly, a judge threw out the city's case against a guy named Lawrence Ziese, a legal observer who was arrested and kept in jail for 10 whole days, because the only evidence the prosecution could dig up against him came in the form of a bunch of photos of park hours signs. To clarify: the photo evidence showed just the signs–not the accused in front of the signs, or anywhere near the signs. Another big problem in the city's trumped-up case against Ziese was that he was arrested a block away from the Occupy LA camp–which meant that he was outside the park. (According to one of my cellmates, Ziese was the vegan guy from our cell block whom I previously wrote about, and who hadn't been fed for two full days by the time I was bailed out of jail.)
They locked up Ziese for ten days, and couldn't even come up with a good reason for why he was arrested? What a joke! No wonder the City Attorney is stalling the process…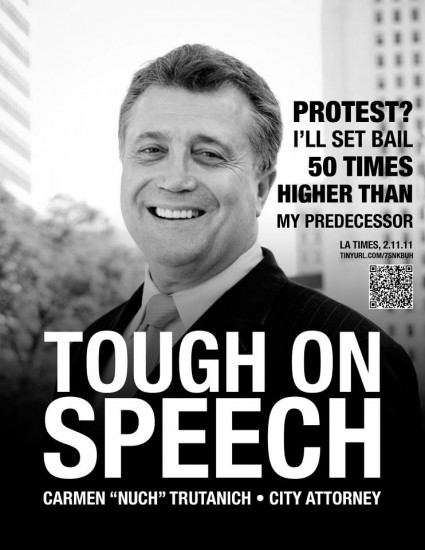 Meanwhile, I still have a misdemeanor charge of "failure to disperse" hanging over my head. But that can change at any moment, and not necessarily for the better. As I understand it, the city can add, subtract and/or substitute any charge the City Attorney damn well feels like—as long he thinks the charges can be made to stick.
Whatever they end up charging me with, I'm grateful as hell that I got a great defense attorney and we plan on fighting it all the way.
A quick background re-hash on my story: I was arrested on the night of November 30 while covering the military-style police raid on Occupy LA. The reason I was arrested: I was not part of the "official press pool," which the LAPD had assembled in virtual secrecy the day before the raid, selecting a handful of local mainstream news organizations that could be counted on not to rock their boat. The LAPD was clear on this: non-approved journalists would be stripped of their journalist identity if they remained in the camp to report on the police raid. As a result, I was arrested along with nearly 300 Occupy LA protesters, and kept in jail for two nights on outrageously unprecedented high bail for the crime of reporting on a protest legally sanctioned by the US Constitution.
There's just no way in hell I can sit around and let the City of Los Angeles trample our rights like that. The 1st Amendment doesn't just guarantee our right to peacefully assemble and protest, it also guarantees freedom of the press. And there can't be much press freedom when a police department with a long history of violence and corruption like Los Angeles' is given the power to decide who is and who isn't a journalist–especially when the journalists are there to observe the police.
This video of photojournalist Tyson Heder being violently attacked by a pack of LA cops shows just how well journalists who were granted access to report on the LAPD raid did their jobs: At about the 8-second mark you can hear a KCAL/CBS TV correspondant tell his camera operator to turn off the camera light, just as a handful of riot troopers move in to violently take Heder down. This is the same news station that switched off its helicopter video feed of an LAPD staging area in the run-up to the raid because, as a KCAL/CBS rep explained, "We made an agreement with LAPD to not give away their tactics." Indeed.
The City Attorney does not want me or anyone else to fight the charges in jury trail, and is trying to scare Occupy LA arrestees who haven't yet been arraigned into accepting a pre-plea bargain deal that would mete out punishment cheaper and off-book through an Alternative Prosecution Program, aka a political reeducation class, administered by a shady private company called American Justice Associates. In exchange for a $375 course—which includes a self-paced DVD learning program and a real live lecture on the 1st Amendment—the city is willing to drop criminal charges. (I'm in the process of taking a closer look at American Justice Associates, so if you have any info or tips, send them to levine@exiledonline.com. As always, anonymity is guaranteed.)
My offer came in the mail on December 30, just in time to qualify as a New Year's gift:
Please be advised that a law enforcement agency has submitted a report to this office charging you with committing a violation of the law on November 30, 2011.

We have reviewed your case and conclude that we have sufficient evidence to file a criminal complaint against you.

However, we also conclude that you are eligible to avoid criminal prosecution by participating in an educational program that the American Justice Associates conducts under an agreement with this office. If you complete this program, and do not commit any further offenses, we will not file charges against you.

We are advising American Justice Associates that you are eligible for their program and they will contact you soon in a letter. This program is called the Alternative Prosecution Programs (APPS). Participation in the program is voluntary. If you want to participate in this program, you must enroll with American Justice Associates by January 09, 2012. If you do not enroll by this date, or do not complete the program once you have enrolled, your case will be returned to our office for the filing of criminal charges.

You should be aware that once a criminal case is filed, this program is no longer available to you.
As you can see, the deadline to enroll in the class was yesterday…
UPDATE I: Just got an email saying that a third N30 Occupy LA arrestee, Danny Johnson, was found guilty. Here's the email:
At 10:45 am today, the jury delivered a guilty verdict of failure to disperse against Danny Johnson. The prosecutor asked for bail pending sentencing, but the judge said no she was not going to remand because it was a nonviolent offense and he had shown up for court every day. All sides agreed to sentencing on Feb 2nd at 8:30 am. The public defender, Miss Aisha Singh, said she wanted to find out when the jury left the courtroom if they had not understood the defense's case, but they went out through the back, so, no opportunity to talk to them. She also said she would look into a stay of sentence pending appeal.
***
Want to know more? Read Yasha Levine's account of LAPD's appalling treatment of detained Occupy LA protesters…His other Occupy LA coverage…And LA Weekly's writeup of his arrest.
Yasha Levine is an editor of The eXiled. You can reach him at levine [at] exiledonline.com.
Read more: 1st Amendment, arraignment, arrest, free speech, freedom of the press, lapd, los angeles, n30, occupy la, occupy wall street, ows, war on press, Yasha Levine, Class War For Idiots, Occupy Wall Street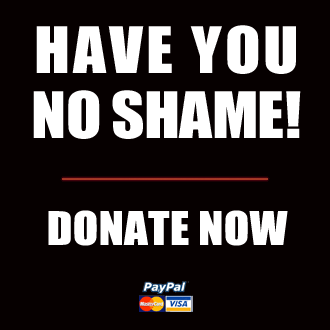 Got something to say to us? Then send us a letter.
Want us to stick around? Donate to The eXiled.
Twitter twerps can follow us at twitter.com/exiledonline