By Joe Dodson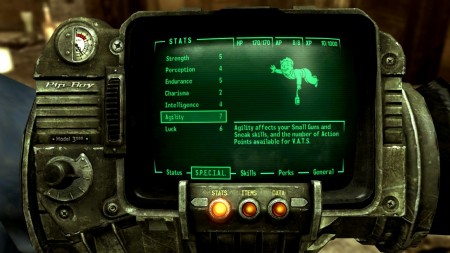 I'm in a play pen, but I refuse to be caged! I open the door. Hmm, what's up in this room? A book on the floor says "You're Special". Damn right! Oh ho! Using this book I can give myself Strength, Perception, Endurance, Charisma, Intelligence, Agility, and Luck. I already have 5 out of 10 in each, but only 5 points to spend. Crap. I should have 10s in everything, but I'm faced with a huge points budget deficit. It would make too much sense to give myself cat-like agility; I'd rather have cat-like intellect! I also decide to pair super high strength with dismally low perception; dim-witted and freakishly strong seems like an awesome way to go through virtual life, son.
Dad's back, and he wants to read my mom's favorite passage from the bible. It is: "I am the alpha and the omega, the first and the last, the beginning and the end." Even her bible passages were overbearing. Now dad wants me to go play with my little friend, Amata..
Whoa, nine years later!
And it's my birthday! I'm ten! I get an awesome rocket wrist machine thing…and a work assignment? What a shitty birthday present! There's a little girl staring at me. Am I wearing pants? I look around but I can't see my legs. Ah, I can now see myself from the third person, and indeed, I wear pants! Phew!
Me and my pants approach the little girl. Her name is Amata, and she's the Overseer's daughter. She got me a Grognak the Barbarian comic! Damn, that's pretty cool for a little girl. Especially one whose daddy is the boss of the vault. I read the comic and gain +5 to melee weapons! Note to real life self: read more comics.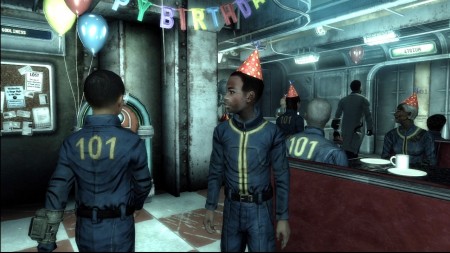 Hmm, an old lady gave me a sweetroll, that's kinda cool.
Whoa, some douchey kid named Butch wants to take my sweetroll! I tell him to go "Soak his head" whatever that means. I'm a ten year old with the intellect of a tabby. I don't know how to cuss. Crap, I don't know how to punch either! He's kicking my ass! If only I had a melee weapon. Before I can get my hands on one, the adults break up the fight.
Jesus, I only invited jerks and girls to my birthday. It's like Congress in here. This party sucks. I'm supposed to go meet someone named Jonas in the reactor. But first, a sexy white lady tells me she used to change my diaper and wants to give me a present.
She wants to give me…a poem? That's like giving a kid a toothbrush on Halloween. Oh well, maybe it's dirty, lessee:
"Gray walls, impenetrable steel.
Suffocation! Condemnation!
Little hands groping in
Subterranean uncertainty.
Mommy? Daddy? Am I dead?
Nay! Nay! Reborn into
Purifying fluorescence!
A face emerges, strong and
Male.
Father to me? Father to all!"
Wow, I take it back, that's an awesome thing to give to a ten year old. But before I can go ask her to interpret it for me in private, I'm called down to the reactor room to meet someone named Jonas.
Perhaps he has a melee weapon.
Jonas is a black guy with an even whiter voice than my dad. He's like a Dave Chapelle imitation of a white guy. He plays coy, and is like "What are you doing down here, you rascal?" I tell him to "Can it." Jesus, I have to get out of this vault. Everyone talks like assholes, myself included. Jonas is yammering, but all I hear is "Blah blah blah present"
Present? My dad shows up and asks if I'm ready for my surprise. I ask him what it is…and he gives me a BB gun! I immediately shoot him in the face with it. He doesn't care! My dad is tough!
I run up to Jonas and shoot him in the head with the BB gun until he passes out. That may sound wimpy on his part, but it took about 40 pellets in the face from point blank to drop him. I don't think I could take more than nine or ten.
Everything fades out, and six years pass.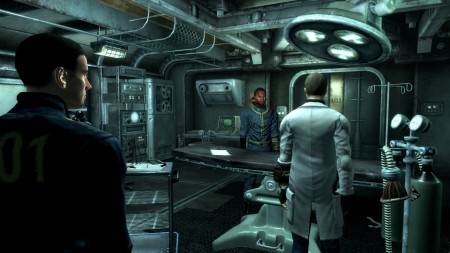 I have to go take a test, ugh. Aw yeah, I can punch now! I'm gonna go beat up Jonas! I kick his ass in front of a patient (I guess Jonas is a doctor). Then I leave his office, walk around a corner, and see Butch and his friends picking on Amata. Butch offers to show her what a tunnel-snake is.
I think snakes are cool and am tempted to wait for Butch to show us one, but he has a beatdown coming for trying to steal my birthday sweet roll. I show him what a broken nose is. He and his friends run off, so I follow Amata to the classroom where I actually take a test. As far as exams go, this one is alright (An actual answer to a question: D. Throw hot tea in your grandmother's face), but I'll spare you the details.
Read more: fallout 3, video game, Video Games, Joe Dodson, Entertainment, Video Games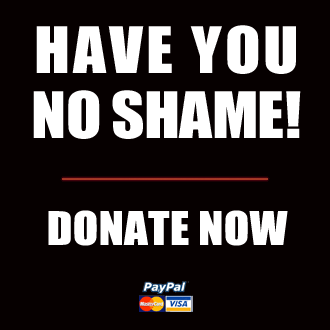 Got something to say to us? Then send us a letter.
Want us to stick around? Donate to The eXiled.
Twitter twerps can follow us at twitter.com/exiledonline