By John Dolan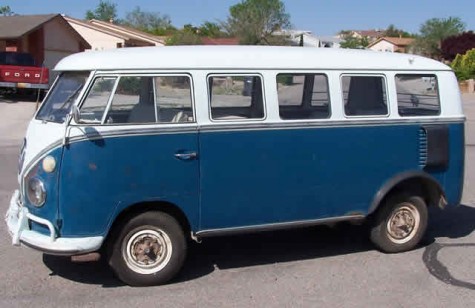 That was how he died, Professor Robert Beloof, my first mentor: crushed by a hippie van.
In Portland, yet. It was a ridiculous way to die, and Beloof was, let's face it, a ridiculous man. But it was also a very uncanny, fey manner of death for a Berkeley professor made and broken by the hippie era. You almost want to say something pompous, like "We were all run over by that VW van," carve that on the headstone of the whole place.
He was one of those bitter loners you meet in every academic hallway. Or rather, you don't meet them, because they keep their office doors shut, with a big opaque poster over the window. Academics are more restrained these days, trying to be "professional" as the profession dies a genteel death, but back then you could tell the bitter loners by the huge posters they plastered over the scalloped glass of their office doors. The young "professionals" who still went to faculty meetings and had a career just put their office-hours card up, or at most a New Yorker cartoon. A big poster, blotting out the whole window, was a sign meaning "do not disturb, you backstabbing bastards!"
Beloof's poster was of W. C. Fields squinting at a hand of poker. It meant something or other; those posters always meant something, or tried to. He looked a little like Fields, with his big nose and little eyes. And he was always desperate for attention, one of those starved egos that pine away for credit they never deserved in the first place.
He used to tell us about his epic battle with the powers that be in the department. Some fight at a faculty meeting, "And since then I haven't gone to a single one." Everyone had wronged him; his poems were ignored, his colleagues had offended him, and the world was going to Hell.
He summed it all up in a story he told us over and over, about his best collection of poems, "The Children of Venus and Mars." He'd written it in the mid-1960s, and it was some sort of prediction of the hippie era. "I got it exactly right," he'd say, shaking his head, sighing. And nobody noticed. I saw the great book later: a little chapbook, refuge of the most obscure poets, bound with colored string. In the days before desktop printing, the difference between real books and vanity press ersatz was painfully, instantly clear. And this was a sad little artifact even by poetry standards.
He didn't show me that until he considered me one of his protégés. That was the great thing about Beloof, the way he made up for his bitter divorce from his colleagues by cultivating his first-year students. It was a dweebs' bargain between his starved, swollen ego and a handful of lonely provincials lost in the confusion of UC Berkeley as it slept off its great binge. But Adam Smith would have approved; the exchange served both parties. Beloof got to tell us about his poems that no one else would read, and we got a little attention from a professor. I suppose he was a half-assed version of the 70s guru type.
In fact, he tried to enlist me in the zombie armies of the most fell of those gurus, the great and dire Werner Erhard himself. Remember est? A lot of people would like to pretend they don't. It was a sort of religious hysteria for agnostic blue-staters, Dale Carnegie Meets the Dalai Lama and starts a fro-yo franchise. It was huge then, as the hippies strove to convert themselves into real-estate moguls.
est (no caps please, we're coool) promised to make you a more effectual striver while keeping, nay increasing, your spiritual muscles. Weights were just coming back into fashion, Ahnold was a celebrity after the documentary Pumping Iron, and est was like a personal trainer for your fiscal soul. Really the same old Cotton-Mather promises: riches and God's grace.
Beloof dragged me to one of their guest seminars when I finally messed up too stupidly even for him. He liked me, I suppose, as much as anyone could like a coy, hysterically touchy, pretentious ass like me. Or maybe he didn't like me but he found me handy; I knew poetry, which was what he taught, and added some literary heft to his clique of lonely first-years. Once when he was ranting about how the public schools were producing nothing but idiots, I dared to mumble coyly, hoping for a pat on the head, "Well but…I went to those schools, Pleasant Hill High, Pleasant Hill Intermediate…does that mean…?"
He got furious; he had a vicious temper, which probably had something to do with that epic divorce from the department; he screamed at me, "That's just self-serving passive-aggressive crap and you know it! You know damn well you're not…." He was right; my little stylized protest was a classic bit of coy grandstanding, and he was right to call me on it. Not that I learned anything. Nobody ever learned anything from these psychological sessions. It was just a kick in the face accompanied by a compliment, and the compliment was as coy and oblique as my protest—his implication that I was an exception, that the stats didn't apply to me.
God knows I was desperate to stand out somehow. I lived at home, took the train to Berkeley, went days and days without speaking to a soul. Even getting yelled at was something like contact.
What drove Beloof to drive me to est was a disaster of the sort in which I specialized. I came into his office in the next-to-last week of the semester, coyly miming embarrassment, to tell him that I'd just found out my whole semester was wiped out because my tuition check had bounced. Apparently the university had sent a letter to my parents' house way back in Week 2 of the semester, announcing the check was no good, and either I hadn't seen it or I'd been too scared to open it or some damn thing. Even now I don't know how it could have bounced anyway, because I was on a scholarship. Not the pat-on-the-head kind, by the way, just a California State Scholarship, the kind you get for being poor.
So now, in the next-to-last week of the semester, they sent a followup informing me in bland lawyerly diction, "Hey stupid! Hope you don't think you're getting any credit for this semester because we kicked you out three months ago!"
Since two of my classes were with Beloof, it was my duty to come and tell him I wouldn't be taking the final exams. And besides, it was a pleasure, or as close to pleasure as I had in those days, getting to talk about myself and have a psychology. It was my moment of glory, almost as good as limping around in the wounded Union soldier's uniform back when I was young enough to trick or treat. Teling him in a carefully modulated, understated way that 14 weeks were officially down the drain.
He grimaced at me, instinctively furious but wary of falling into another of my passive-aggressive traps. His moustache was writhing. Finally he told me, "We need to do something about you."
I was all for that. I'd even dragged myself up the hill to the Student Health Center, but had drawn a Freudian "silent mirror" analyst, Dr. Spinka. He asked me questions about my childhood, and stared back at me like a good silent mirror when I said, "It just seems like it'd be better if I died." Which, of course, I took as his learned equivalent of "Well duh!"
Beloof told me there was a seminar he wanted me to attend. He'd take me there. And he did, a week later, picking me up at BART in his fussy little French car to head into SF.
est (my Word program keeps wanting to capitalize it; Word clearly doesn't remember the 1970s) was pure SF. Herb Caen, the pyramid, opera, all that Chron stuff I read about and never expected to meet. Maybe dormies at Berkeley got over to SF every weekend, but I hadn't been there in years. I spent the ride over worrying if I was sitting correctly in the passenger seat and feeling how full my bladder was. That was the one thing I knew about est: they wouldn't let you go to the bathroom for the whole seminar. And the seminar lasted a whole weekend. My bladder was terrified.
We joined the stream of youngish real-estate stoners filing into a huge room with folding chairs. A warmup preacher was ranting on the podium, a high-voiced manic little kibbles & bits terrier of a man. He told us he only needed three hours of sleep a night these days. Sometimes he could get by with two. Massive applause. Calls from the crowd, "Me too!" "Yeah!" Kind of white yuppie revival style. But then, for all their coastal smooth, most of these people were probably only a generation away from Missouri. Add a little Tibetan incense and voila, you're a deity, like Werner was.
Beloof sat beside me, which was awkward enough, but worse yet he was a mere spectator, clapping away like everybody else. It was painful, because even then I knew enough to know how fragile his claims to fame were, and it seemed very unwise for him to let one of his protégés see him in mere spectator mode.
That's the thing with Beloof, with all those damned mentors; you can't settle on a tone with them. He was infuriating, a buffoon, a spoiled old brat.
When I went home to see my poor father teaching himself Lithuanian with a paperback dictionary, doing his unpaid and in fact bitterly-mocked research into Indo-European linguistics—my father who remembered every word of every book he ever read, and flinched every time the doorbell rang for fear it was a bill collector—it's very hard to feel too much pity for Beloof, who lived in a mansion in the hills and was paid an obscene salary to prattle about his absurd vanities.
But he was about the only person outside my family who paid any attention to me in those years, and I guess I should damn well be grateful. And besides, his enemy Brandt, who had transformed the old Speech Department, was no better, to put it mildly. Not even much more sophisticated; just better-networked, with updated patter, which was already dating very quickly and would be overthrown by the theory-geeks in a few years. I'm sure as Hell not on their side, or any side here, even my own– little manipulative coward.
My cowardice was in overdrive at the est revival as the warmup orators finished and the big seminar broke into smaller groups. Beloof went off to some advanced group, for people who already loved themselves, and I was shunted off to the beginners' room, the kindergarten of self-love. They hadn't assigned their best to this room. The speaker was like a youth minister from some depressed, failing parish. He was ten pounds too heavy, which was ten pounds beyond acceptable SF norms, and he sounded way too sane and mild. He seemed to be saying that est was helpful, not that it would make you a living god. That was what these strivers wanted to hear: bigger commissions, eternal life, the ability to put your aged parents in a home without feeling bad about it, all of the above in exchange for one pee-less weekend.
And the no-peeing aspect was what was getting to me. The speaker's voice got Charlie-Brown adult dim as I transformed quietly into a wobbling bladder, with suspense-building drum roll. They don't let you out! And I didn't know how long he'd go on. Probably a day or so. I'd explode, a grenade of piss all over these successful Chron readers.
I started scoping the exit. There was a blond woman standing by the door, but what would she actually do, would she yell? Grab? Or would the guy in the front single me out and slay me with a phrase? Something like, "Whoa, OK, that's exactly what I'm talking about, a soul out of phase with the universe, and you see the expression of that in the bladder, that's where it comes out first!"
Ten more minutes of ambient human vocal noise competing with the quiet urgency of my bladder, and I broke. Stood up fast, made a break for the door. The blond didn't even try to stop me, didn't even stop her smile, and the speaker just went on with his "waaa-waa-waa" vocalizations. Out in the empty hotel corridor, walking very fast but not running as I'd learned from crime movies, expecting to hear pursuit, gunshots, exposure as unworthy to live. But there was nothing, a couple of civilians waiting for an elevator.
After three more minutes I found a door with that blessed male silhouette on on it, and drained all that terror into a urinal, then made my way out onto the street, to BART.
Beloof and I never mentioned the est seminar episode. He was too furious, and I was too cowardly. I found other, cooler mentors and stopped speaking to him, avoiding his office and dodging past him as fast as I could in the hallway. He was a joke around the department when he was mentioned at all.
Last week I found his obituary. That hippie van hit him in 2005. It took me four years to google it.
***

Buy John Dolan's novel "Pleasant Hell" (Capricorn Press).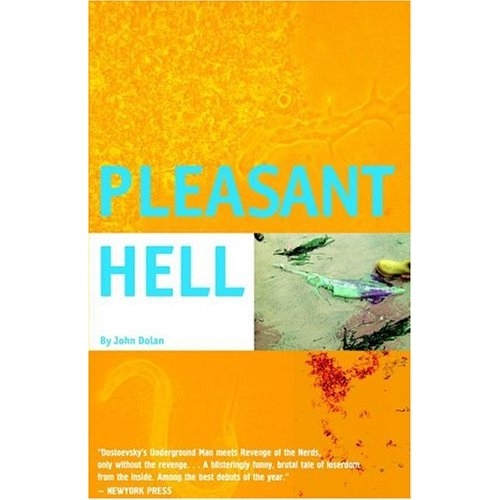 Read more: berkeley, john dolan, obituary, vw van, John Dolan, Feature Story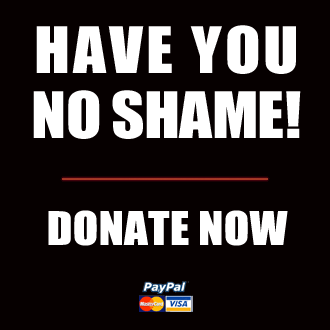 Got something to say to us? Then send us a letter.
Want us to stick around? Donate to The eXiled.
Twitter twerps can follow us at twitter.com/exiledonline