By Pancho Montana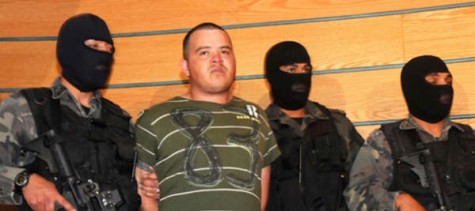 MONTERREY, MEXICO — I woke up the other day and started the morning off just like I do every normal day: by sitting on a bench in my front yard, reading the newspaper and toking. There's a saying in Mexico that goes: "Un churro al dia es la llave de la alegria," which roughly translates to: "one joint per day is the key to happiness." It's supposed to rhyme and all that, but the poetry got lost in the translation.
Well, I was doing that when, suddenly, one of my friends calls me on my NexTel and says: "Hey, you heard who they caught?" and before I could guess that it was the son of "El Mayo" Zambada in Mexico City, he blurts out: "They grabbed El Canicon cabron!"
The news hit me like a tablazo and I ran inside my house, turned the TV on, booted up my computer and started surfing the web to get a confirmation on this amazing piece of intel. And I did. Sigifredo Najera Talamantes, a.k.a. El Canicon, was caught in Saltillo during a military raid.
The feared Canicon answers (or I should say, answered) directly to two very very high placed Zeta bosses: Heriberto Lazcano, a.k.a. "El Lazca," and Miguel Treviño, a.k.a. "El L-40." These dudes were in charge of all the money-making activities carried out by the Zetas. That means they were pulling the strings in narco-trafficking, human-trafficking, piracy, kidnapping, murder, extortion, rape (done for purely for philanthropic reasons), tapping into gas pipelines (like some criminals do in Iraq), etc., etc., etc. Basically, these guys were in charge of most of the day-to-day operations. (As you can see, Mexican Cartels are not just Drug, Inc. They are more All Crime, Inc.)
The reason I got all fired up about the news of El Canicon's capture was because it was personal. This motherfucker traveled close to my circle and was actually involved in the kidnappings of various friends of mine. He also had a hand in the execution of my coke/lsd/chiva go-to guy, as well as being connected to a whole lot of unpleasant shit that happened to people I know and the people they know.
But I'm already saying way too much. And since I can't get all personal (yes, I don't want a eat a metal slug while reading the morning paper and enjoying the first toke of the day), I'm gonna back off and tell you about some of the conquests that have made El Canicon famous, or infamous—whatever you prefer.
He is responsible for ordering the execution of 9 soldiers in Monterrey (three of them got their throats slit while they were sitting in a strip club, their eyeballs fixed on a set of gyrating titties). He also masterminded the execution of 6 federal agents in 3 different cases between 2007 and 2008. He attacked the US general consulate in Monterrey last October. (You gringos made a big deal about this, but it was nothing, really. The damn grenade he lobbed didn't even go off. Yet the consulate is still closed right now, with a strong police presence guarding the building and cement roadblocks set up to protect its surroundings.) He also mounted raids on installations of Televisa, a local news/tv company. I'm not even gonna start listing the all the various shootouts and executions he's participated in. There are so many, I'm not sure he'd be able to remember a tenth of them himself, no matter how hard you torture him.
El Canicon rose to power somewhere around 2007-2008, when he got leadership of the plaza in Monterrey after the guy he replaced, Eleazar Rojas, a.k.a "El Chelelo," was captured. That's when I first learned of El Canicon. And then I didn't stop hearing about him. See, some of my friends knew El Chelelo and had his permission to "operate" in the area. And after the police nabbed him, the protection stopped counting for shit. With El Canicon in power, it was a new ball game. A few people I know got to know him pretty well, a few never returned and those that did weren't looking so hot. (Remember that story I told in my second post?)
El Canicon barely lasted a year in this position. Sure, it ain't much out there in the normal world, but it can seem like a lifetime in this business.
Leading up to his capture, I'm told that the Army and SIEDO were tailing El Canicon for days before finally taking him down. Some say it happened while he was cruising around downtown Saltillo in his bullet-proof Altima Coupe, others say the takedown took place at a his hideout/party place. Whatever it was, apparently he was in the middle of a mid-week rager, partying for days on end, right up until his capture on Friday afternoon. I guess that picture of him shows it. It's hard to tell where exactly on his face the haggard hang-over stops and the puffy beating marks begin.
When it finally went down, it took a whole battalion to take El Canicon into custody. The guachos weren't taking any chances. They were scared stiff. Dozens of snipers and riflemen with ski masks over their faces set up firing positions behind parked cars, on rooftops and garbage cans, nervously waiting for what they thought would be the scariest shootout of their lives. I'm sure there was a lot of shaking G3 rifles. But all the buildup was for nothing. The big firefight never came.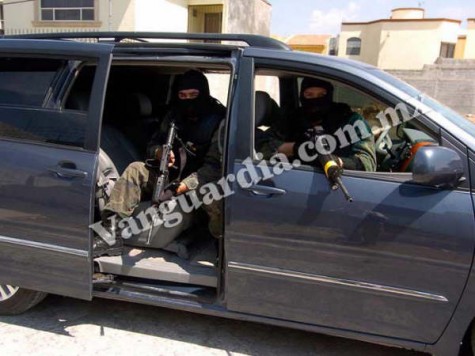 When special op guys finally stormed the house, the fearsome El Canicon was passed out in bed. He didn't put up any resistance, neither did the other five dudes in his crew that were arrested along with him. They were too strung out to care. (Other assorted Mexican drug cowboy booty was taken out of his hiding as well: all sorts of bling bling jewelry, some Rolexes and Cartier watches, a whole heap of cellphones and NexTel radios, 24 grenades, 8 rifles, 3 pistols, 1 40mm grenade launcher add-on for m16 (R-15 here), chingos of ammunition, 5 vehicles (2 of them bullet-proof), 10 million pesos and 930 dollars.
The feared "soldier-killer/narco-terrorist" gave up his freedom without firing a single shot. And, to tell you the truth, I can understand him, as much as I hate him. I've been there, too. After days of coked-up partying you don't give a shit about anything else other than taking a nice toke of weed, finding the closest bed and passing out for a day or two, hoping for some sweet dreams. But El Canicon got himself a green-colored nightmare with a dozen machine gun barrels pointing at his head, and felt the raw pain of being on the receiving end of a few rifle butt thrusts to his face.
Ok, they got him. But you gotta wonder, But what does it really mean? See El Canicon had been in the news a lot lately, way too often for it to be good for him. He was becoming a liability, and it was just a matter of time before he was gonna get caught. I'm pretty sure he was hiding out in Belize because of all the "heat". And then there's this "strange" coincidence of this high-profile take-down happening right before Hillary Clinton visits Mexico. I think she was scheduled to arrive yesterday.
Read more: drug war, El Canicon, gulf cartel, mexico, zetas, Pancho Montana, Dispatch, The Mexican Drug War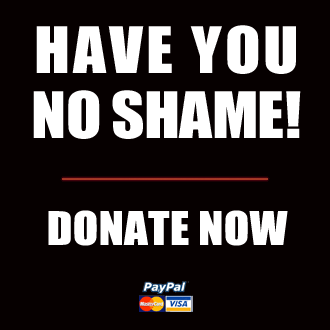 Got something to say to us? Then send us a letter.
Want us to stick around? Donate to The eXiled.
Twitter twerps can follow us at twitter.com/exiledonline