By Yasha Levine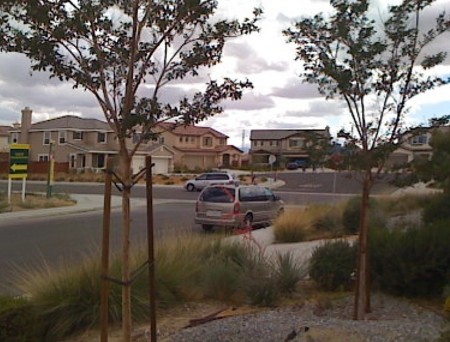 "This is a nice neighborhood. I have a few foreclosures in here, but if you drive around the neighborhood and ask the people, they'll tell you how they like it here. And how they are real comfortable. I got some correctional officers here, LAPD, teachers from the school."
Jesus, I thought. What a neighborhood. Prison guards, cops and their school-teacher wives. All die-hard small-government Republicans, no doubt. And all in government employ. The last gainfully employed people in this country, and they're always talking shit about their employer, Big Government.
"But go look at the houses for yourself first. We can talk about it when you go back."
The model homes were fully furnished, and looked like they came out of a Martha Stewart magazine with a theme of "the antique and modern in harmony." I had to hand it to them, it worked. It felt like home, as long as you didn't look out of the master bedroom window. The mini-highway and a barren desert wasteland dotted with high-voltage power lines squashed that comfort feeling.
These houses were clearly a step up from the entry-level McMansion I lived in just a few blocks away. But were they worth the extra $100,000 that you could be saving if you tried to get one of few foreclosed properties that are on the market? The sales lady assured me they were, and besides I'd never get a house for that price in Victorville.
"I have a lot of people coming in here that have been bidding on foreclosures until they are sick of it. They bid and they bid and they bid, and 20 other people are bidding, too. You throw a number out, and you never get anywhere. So they say 'I want my tax credit. I want my new home. I'm gonna pick my own carpet. I know it's under 10-year structural warranty and two-year cosmetic warranty.' "
Are the news reports about the increase in home sales true, I asked. She nodded. "I've been here for three years. Last year was really slow going, but this year has been really good. I've had four sales last month, three sales the month before that. First-time home buyers, that's what I'm getting. People are like, 'prices are down, the rates are low … time for me to get a house.' So why not? People are not afraid of getting into home ownership. So that's a good sign, right?"
Of course, I nodded. Great for the economy. Great for Victorville. But the longer we talked, the more obvious it was FHA loans were at the core of a real estate scam of frightening proportions that was reinflating the real estate bubble with taxpayers' money, all in the name of economic recovery.
"Oh yes, we work with a lender. All you have to do is come in and let me worry about the paperwork. Right now you'll probably be able to get a 5 percent interest loan, which is good. And credit history is not much of a problem. We are doing just FHA loans, so we don't even go by a FICO score. If you haven't been late in the last 12 months on anything, you are eligible. People get in here with credit scores of 580s and 600s, but they've been on their job for 15 years, and they got a good history. The FHAs, that's what's helping out the first-time home buyers."
The FHA was helping the developers out, too. Even with boosts like the new accounting rules that allow banks to keep existing homes off the market (which boosts banks' assets and inflates home values by limiting supply) and taxpayer-funded cash perks for purchases of newly constructed homes, it could only work with zero-risk loans. No bank would consider giving a loan on obviously overpriced homes these days, especially with people with borderline bad credit. But thanks to the FHA, lenders literally cannot lose on these high-risk customers. So they are happy to hand out loans to all comers. In fact, places like Braeburn only sell to people who qualify for an FHA-backed mortgage: first-time home buyers. Fact is, FHA loans were the only reason places like Braeburn were still open for business. And that may not be such a good thing.
FHA loans have been around since the Great Depression, helping working-class Americans buy their first homes by providing government insurance that guarantees certain types of loans at no risk to the lender. Until recently, they have been largely a force for good. During the civil rights movement, for example, FHA loans were retooled to help African Americans purchase homes. But like most public programs designed to help the American people, the FHA has been hijacked by big business — in this case, the banking and real estate industries.
It was really a coup d'état for everyone involved. When the subprime market collapsed, President George W. Bush pushed Congress to heavily expand the the FHA loan program, increasing its budget, lowering entry requirements for both lenders and debtors. Eventually, our elected officials even took care of the bothersome 3.5 percent down payment requirement for the loan with all sorts of free cash.
Right now, the FHA is in essence giving out no-money-down loans to anyone who doesn't already own a house, regardless of credit history. In California, first-time homebuyers purchasing a freshly built home receive instant cash in the form of a tax credit: $8,000 from the feds (soon to be increased to $16,000) and $10,000 from the state. Local governments are also throwing in some goodies.
"I have some some money from the school facility fees that I can get. Like you need 3.5 percent down, but I can get you about $4,000 of that from down-payment sources. That just came back. It was gone but it's back," said the sales lady at Braeburn, lowering her voice just a bit that made it seem this was some sort of racket. "And we pay the $10,000 closing costs for you, as well. It's a win-win situation."
Win-win, indeed. If you bought Braeburn's largest home at base price, you'd pay nothing up front and have more than $5,000 left over for some new furniture, a 40-inch LCD TV and a weekend trip to Disneyland.
Homeowners have never been offered a better deal, but many won't hold on to their purchases for very long. It is common real estate industry knowledge that the less a buyer puts on a down payment, the more likely that buyer is to default. But no one seems to care, not the banks and not our government. In fact, Connecticut Sen. Chris Dodd, a hardworking bank-shilling Democrat, has been pushing to increase access to FHA by making them available anyone, and not just first-time homeowners. He also wants to push the new-home federal tax credit to $15,000.
Under the guise of helping economic recovery, the bill is really a multidimentional wealth transfer, funding bank profits with taxpayer money while cutting taxes (tax credit is just another way of reducing tax revenue). This plan has received wide support.
Read more: federal housing administration, fha loan, inflating, real estate bubble, scam, subprime, subprime loan, victorville, Yasha Levine, Banking Porn, eXiled Alert!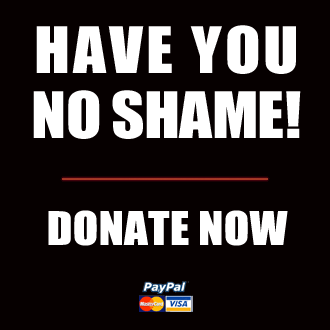 Got something to say to us? Then send us a letter.
Want us to stick around? Donate to The eXiled.
Twitter twerps can follow us at twitter.com/exiledonline