By Yasha Levine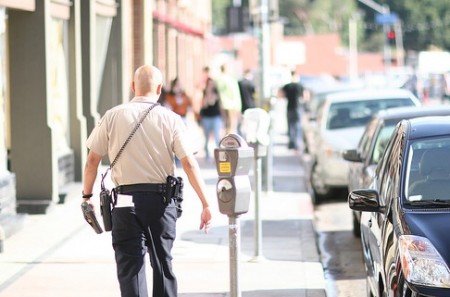 It was 11:00 am on Saturday morning when I woke up and jumped out of bed in panic. I realized that the night before, I had parked my car in a 2-hour parking zone around the corner from my house. I ran outside barefoot, in a rumpled T-shirt and boxer shorts. But I was too late. A neat white envelope stuck out from underneath a wiper blade. I missed the fucker by only a few minutes and was busy cursing my bad luck under my morning breath and looking around for the meter maid when I heard a voice at my shoulder. "I'm too much of a pussy, but if I had the guts, I'd block out all the personal information on the tickets I get, wrap them around a rock and break a window in some city government building. That way, these assholes know exactly what my money is going to be used for. Repairing that busted window," a neighbor of mine said with hate in his eyes, and then bent down to scoop up his pit bull's steaming pile of shit.
For me, this ticket was something to celebrate. If I'm counting them right, it was my 10th since I moved out to LA two months ago. I owned two different cars while I lived in Russia ― a Zhiguli in St. Petersburg and a Volga in Moscow ― yet I had totally forgotten the injustice of being served with a parking fine. Say what you will about the shitty drivers, the fucked up roads and the corruption of Russian highway police, but the country's complete lack of parking laws is pure bliss for any motorist. Forget worrying about an expired meter. If you could drive your car into it, then it's a parking spot.
So I've had some difficulty adjusting to the totalitarian rigidity of America's parking laws. And I've been paying dearly for it. I've amassed half a grand in fines, all collected while parked in a purely residential area around my house in West LA. Every time it was something different. Wednesday's street cleaning would slip my mind. Then I'd forget that Thursday is cleaning day on the other side of the street. Once it was a loading zone that had the yellow paint stripped off the curb. I have yet to be whipped into obedience, but I've become intimately familiar with the dollar amounts printed on the red, white and blue tickets the meter maids here type out on their hi-tech ticketing machines. But there was something different about the one I was holding in my hand. A week before, the same ticket on the same street cost me $40. This one was $43. A cryptic note blaming Sacramento for the increase was printed on the bottom of the slip, just above the part that told me I have 21 calendar days to pay up: "Citation increased $3.00 by the State." This was something that needed further investigatin'.
I assumed that the increase had something to do with the State's dire financial situation. As I write this, scary headlines of imminent financial collapse swirl around the Bear State, the 10th largest economy in the world. California is out of money, has been for the past year and half. Now it's about $22 billion in debt and can't pay a cent of it back. It's holding on to state tax returns just to pay for day-to-day operations. Surely the $3 increase had something to do with that, maybe used to top off some sort of emergency fund. But no. A few words on LA's user-friendly parking department's Web site set my naive ideas about governance straight.
On August 31, 2008, the California State Senate passed SB 1407, which increases the parking penalty amount deposited from parking fines to the State's Immediate and Critical Needs Account for court construction projects, from $1.50 to $4.50 effective January 1, 2009.
Did they just say court construction projects? I had to read that a few times to make sure I wasn't mistaken, and then I rushed to find some corroborating information. But it was true. This past summer, while I was walking around Moscow paranoid about an FSB tail after The eXile's shutdown, California State Senators were busy in Sacramento passing a law that authorized the financing of a $5-billion remodeling project for California's courthouses. According to the guy who drafted the bill, a State Senator from Oakland named Don Perata, California's "court facilities have created dangerous conditions that place children, jurors, witnesses, litigants, visitors and public employees at risk." Children at risk? Well, if you put it that way, then I'm convinced of the extreme necessity of this project. After all, that day, with the same pen,  Governor Schwarzenegger signed off on another important law that created the "California Gold Star Family" license plate series that will allow families with relatives blown-up in Iraq or Afghanistan to brag about it on their license plates. It's not clear who's gonna benefit from these cheesy sacrifice badges, but it sure as hell won't be the dead soldiers or the taxpayers. But we do know who'll be paying for the courthouse facelifts: anyone who breaks the law and is caught doing it.
Some local bigwig activist/columnist from the Democratic party named Frank D. Russo was all puppy-dog praise for the project. "There is some good news coming out of Sacramento today," he wrote. "Kudos to Governor Schwarzenegger who earlier today signed Perata's bill, SB 1470 authorizing a $5 billion bond which will be funded entirely by increased fines and court fees. This is one of those rare situations where a genuine lease revenue bond could be put to good use, and taxpayers are not asked to foot the bill."
When Russo said that taxpayers were not going to be asked to foot the bill, what he meant was that only some taxpayers were not asked to foot the bill. The rest are simply going to be told. See, law SB 1407 is getting financed in an underhanded and downright evil manner by jacking up the amount of money the State skims off the top of various fines and legal fees. It isn't just the parking violators like me who are forced to fork out extra money for more spacious and better appointed judges' chambers ― anyone convicted of a felony or misdemeanor is gonna be pitching in. And everyone knows who's usually convicted of felonies and misdemeanors: poor people.
Last month, out of simple curiosity, I popped into LA's main courthouse with a lawyer friend of mine to sit in on some arraignments and preliminary hearings, and I'll say this: I'm not so sure about the post-racial America of the Obama era. Other than the judges, lawyers and cops, I was the only white person in the place. It was embarrassing watching a prosecutor drill a 13-year-old Mexican kid for attempted robbery just because he told some of his hoodlum friends that some kid he went to school with had nice stuff in his apartment. It was even sadder to listen to the kid trying to explain that the cop ― who was sitting 5 ft. away from me with a "fuck you, kid" look on his face ― picked him at 4 a.m. on a school night, took him to the station in his PJs and basically dictated what the kid should say in his statement, all the while waving off his need for a lawyer. "You watch too much Law & Order, kid. There's no reason for a lawyer. That is, unless you did something wrong. Didja?"
Read more: america, california, financial crisis, tax the poor, Yasha Levine, Dispatch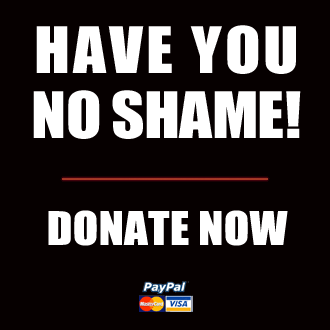 Got something to say to us? Then send us a letter.
Want us to stick around? Donate to The eXiled.
Twitter twerps can follow us at twitter.com/exiledonline