By Yasha Levine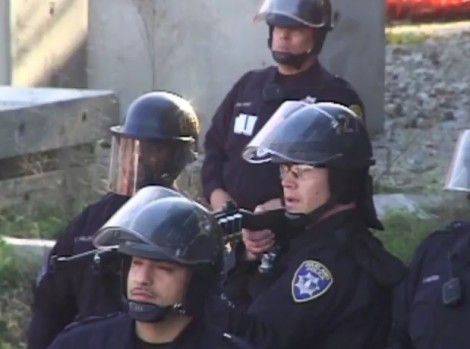 The Oakland Police Department went on another massive tear this weekend. On Saturday, they used rubber bullets, pepper flash-bang grenades, tear gas and batons to violently crush an attempt by Occupy activists to take over a vacant convention center in downtown Oakland and turn it into a community center/local Occupy HQ. Scores of people were injured, including a 19-year-old woman rushed to the hospital and treated for internal bleeding after a cop thrashed her kidneys with his truncheon. Yesterday, I got second-hand info that a man was shot in the face with a rubber bullet, and had his tooth/teeth knocked out. Using the same sort of kettling techniques extensively employed by the NYPD to trap and net protesters like fish, the OPD arrested over 400 people.
The sheer number of arrests, the brutal overreaction, only shows just how paranoid the 1%ers are getting. The Occupy protesters must be something right if they're provoking such a heavy-handed disproportionate response merely for hanging out. Someone should remind them that the 1st Amendment explicitly guarantees "the right of the people peaceably to assemble"…
That number—400 arrests in Oakland—is about double the number of people detained by the LAPD (myself included) in their raid on the Occupy LA encampment on November 30. Just like in LA, Oakland police targeted journalists for harassment and arrest.
According to Free Press' Josh Stearns—who has been doing the important work of keeping a tally of all the journalists arrested while covering the Occupy Movement—at least 6 reporters were rounded up and jailed in Oakland. That's despite the fact that many of those arrested were accredited with the city of Oakland.
This kind of brutal intimidation of the press–something we usually associate with tinpot Third World dictatorships– is a major reason why Journalists Without Borders recently ranked America #47 in press freedom.
I'm going to write more about America's growing war on press freedoms; but for now I want to share some amazing and scary video clips from the January 28 attack on Occupy Oakland in case you haven't seen these—some of this looks like a remake of the archival footage we've all seen of California Governor Ronald Reagan's 1969 mobilization of the National Guard to stomp student protesters on the UC Berkeley campus, which happens to be located just five miles from last weekend's police crackdown in downtown Oakland…
What's worse, among some people, it's becoming increasingly respectable to call for more police-state crackdowns and violations of the First Amendment. Like this rightwing columnist for the Chronicle who's already calling on Governor Jerry Brown to mobilize the National Guard for an assault on Occupy Oakland—and I'm sure there are plenty more wine-sniffing fascists just itching to see these protests get crushed with real, leaden firepower.
***
Want to know more? Read Yasha Levine's account of LAPD's appalling treatment of detained Occupy LA protesters…His other Occupy LA coverage…And LA Weekly's writeup of his arrest.
Yasha Levine is an editor of The eXiled. You can reach him at levine [at] exiledonline.com.
Read more: #j28, arrest, crackdown, national guard, occupy, occupy oakland, ows, yasha levine, Yasha Levine, Class War For Idiots, Occupy Wall Street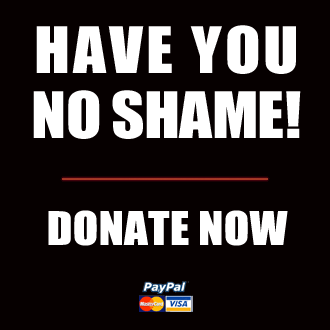 Got something to say to us? Then send us a letter.
Want us to stick around? Donate to The eXiled.
Twitter twerps can follow us at twitter.com/exiledonline