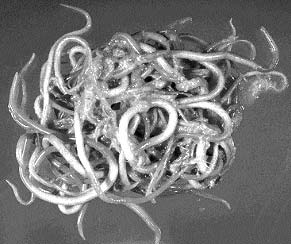 Our friend,the Roundworm
Today we'll introduce you to the Intestinal Roundworm, a hideous parasite which infects one out of every four people in the world. That's not a misprint: one out of four. More than one and a half BILLION people. Yup, every fourth person on this planet is nothing but a travelling worm farm. The odds are pretty good that you, sir, madam, are ferrying a few hundred of these parasites in your gut as you read this.
The Roundworm is the most successful of human parasites and arguably the most successful species on this Hell-planet. After all, the true purpose of human beings may be to serve as vehicles and incubators for Ascaris Lumbricoides, the Intestinal Roundworm. And they say looking up at the stars makes you feel insignificant!
The Roundworm devotes all its energy to the production of more Roundworms. The female can lay up to 200,000 eggs every day. The eggs are laid in the small intestines of a human being or a pig–because the Roundworm, like the eXile, sees no real difference between people and swine.
When we say "small intestine," we mean shit. The Roundworm lives and breathes shit. Shit is its one true home. And the human (or porcine) anus is the worm's gateway to the world. After an infected pig or man or sow or woman shits out their daily quota of 200,000 Ascaris eggs, the eggs lie dormant for a week or two, then come to life like the pre-programmed bio-weapons they are.
But you might still be safe, because there's only one way to become infected with these eggs: you have to eat them. And yet one out of four humans is infected. The lesson is clear: we eat a lot of shit.
The Roundworm is not only the most common of human parasites, but one of the biggest. A full-grown female, the kind who pops out all those eggs every day, can be up to 18 inches long. That's a lot of worm to be carrying in your gut-tubes. A big worm can easily clog your intestines, bursting them and killing you.
The Roundworm seems to go out of its way to make infestation even more painful and horrifying for its human host. It doesn't just squirm down to your guts and start popping out babies. No, it goes through a grotesque, horrifying and apparently useless trip up through your body, only to end up back where it started.
You eat a few thousand worm-eggs, and they hatch in your small intestine. So far, so good, so to speak. But then the "juvenile" worm chews its way out of your guts, into your lungs. The lungs react to these thousands of parasites by swelling up and producing more mucous to try to expel the foreign bodies. This leads to a special form of pneumonia, ascaris pneumonia, which can kill you. But in most cases you simply develop a bad cough which will last as long as you live. And instead of coughing up the worms, you'll cough them into the pharynx and then re-swallow them. That's exactly what the worm-larvae want, because the worm can only grow to adulthood where it started, down in the small intestine.
Biologists admit they're puzzled by this "migration." It seems to challenge the idea that evolution moves toward efficiency. But Schopenhauer wouldn't be surprised. He'd say it simply proves his theory: the purpose of this world is horror and suffering for its own sake.
The Roundworm is a persistent traveler, and may just decide to migrate on its own. The worm doesn't like anesthetics, for example, and when a human who's carrying a gutload of Roundworms is given anesthesia for an operation, the worms he or she is hosting often decide to leave the toxic neighborhood. They wriggle up from the small intestine, through the digestive tract, and slither out the patient's nose and mouth just as he or she is lying on the recovery table, thinking that the worst is over.In Schopenhauer's world, the worst is never over.
This article was first published in The eXile, Issue #166, May, 2003.
Read more: exile issue 166, roundworm, Schoepenhauer Awards, , eXile Classic, Schoepenhauer Awards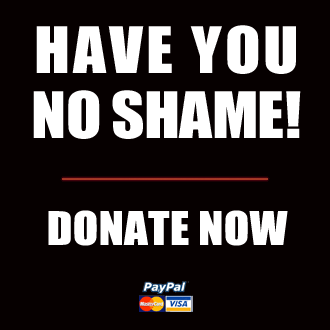 Got something to say to us? Then send us a letter.
Want us to stick around? Donate to The eXiled.
Twitter twerps can follow us at twitter.com/exiledonline