By Eileen Jones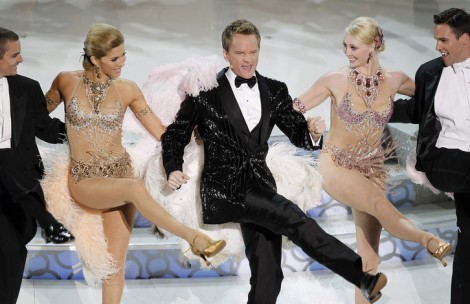 I woke up for the second morning in a row with a vague feeling that something terrible had happened. Then I remembered I watched the Oscars.

It didn't strike me at the time, because the Academy Awards ceremony is when I vacuum and find excuses to hammer nails into walls and things. That drowns out the worst of the acceptance speeches, but you can still see people standing there preening in ghastly shiny outfits that make for nice easy mocking, if you should happen to want to call a supremely sarcastic friend later on in order to excoriate the whole hideous spectacle, as I do.
But this year there was something unusually bad happening, a kind of TV-borne virus that entered the human system through the eyes and caused a delayed reaction of nausea, exhaustion, hives, brain fever, and suicidal thoughts. I think its source might've been that tinsel curtain behind the hosts. It was such a sad echo of early, naïve, much more vigorous American showbiz wow—the old Carol Burnett Show had a curtain like that, if I remember right, and also the June Taylor dancers, who apparently came up out of their graves to dance with Neil Patrick Harris at the Oscars.
So what, you say. It's a retro tribute type thing, reviving the old variety show aesthetic, cheesy glamour, corny laffs, all that. Get over it.
But I can't. There was something really horrible about it.
It wasn't the actual content of the show, which is always bad. Total filmic mediocrity is praised to the skies, exceptional work is shunned. Simpering creeps sashay up to the mike to show you how a corrupt god favors the stupid, vain, and nasty. Juvenal would've loved watching the Oscars; as satire, the thing writes itself. That's the whole fascination. That, plus the rare, rare occasions when something worthy gets a prize, almost by accident, the exception that proves the rule. Christoph Waltz really was great in Inglourious Basterds; Jeff Bridges was tremendous in The Big Lebowski and many other things, but he won for Crazy Heart—okay. All the rest was crap. In other words, business as usual.
(Kathryn Bigelow as Best Director? HAH-ha ha ha ha! Well, it would be funny if it weren't so sickening. That pompous she-git, Bigelow never did another decent thing after Near Dark. God damn! You ever try to sit through Blue Steel? I dare you! Why didn't you just give the award to Barbra Streisand when you had the chance to honor a grotesque token-female director, Academy?)
No, it wasn't the content. It was the whole pitiful presentation. It was like some nightmare of the End of Days in America, the not-with-a-bang-but-a-whimper finale. Or, as Mark Ames put it:
The whole thing was very post-Soviet, like those cheesy pop TV shows in the Putin era. Decline looks like: replacing Jon Stewart with Doogie Howser, Steve Martin (our most Soviet of all comedians) and whatever Alec Baldwin represents.
In this context, Alec Baldwin represents pudgy complacency, officious cluelessness. When not actually screeching at his daughter, he generally lapses into this Ugly American persona, lecturing others on proper political and moral stances. His natural comic genius only emerges in tailor-made roles (Miami Heat, State and Main, 30 Rock), so it didn't make an appearance at the Academy Awards, where he was trading stilted one-liners with Steve Martin like they were a zombie Rowan & Martin from Laugh-in.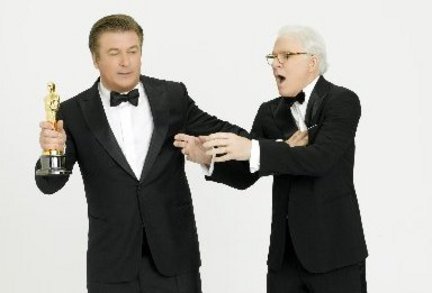 Yet about two minutes after the Oscars ended, it would seem, he was writing an article for the Huffington Post praising himself for meeting the challenge of hosting the Oscars. In his "Thoughts On Hosting the 2010 Academy Awards," he snuffles,
Steve Martin and I worked rather hard, along with the writers and producers, to make sure our contribution did not detract from the primary purpose of the evening, honoring the highest achievements in film.
Who has "thoughts" like that? Apparently he thinks in promo-material, in ad-copy, in officialese. According to George Orwell, that's "decline and fall" talk. Take a gander at "Politics and the English Language"—he's got a lot to say about what it means when everybody's talking and writing in soulless boilerplate. And that night-of-the-living-dead horror show we watched on Sunday was a perfect visual complement.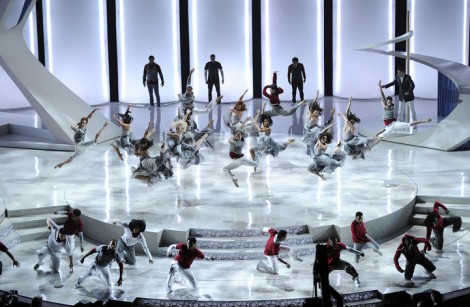 Read more: Academy Awards, Alec Baldwin, america, Christoph Waltz, decline and fall, Jeff Bridges, Kathryn Bigelow, Neil Patrick Harris, Oscars, Steve Martin, Eileen Jones, Entertainment, Fatwah, movies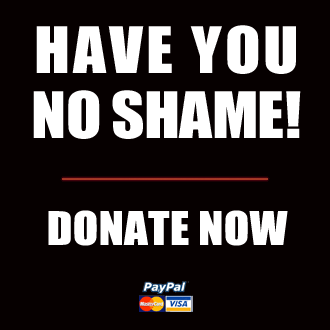 Got something to say to us? Then send us a letter.
Want us to stick around? Donate to The eXiled.
Twitter twerps can follow us at twitter.com/exiledonline