By Gary Brecher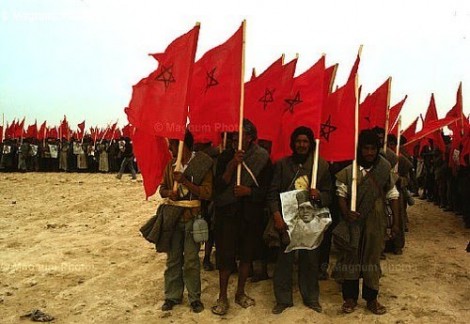 You can feel the war in Libya shifting today. This is what it must be like to go to a stage play and wait around between scenes while they wheel the props off and drag in the new ones. The next act is coming up, and it's pretty clear what it's going to be: PR war, tribal deal-making war.
From the start, and except for the first few hours after NATO planes jumped on Qaddafi's convoys, this has been a typical late-20th/early-21st century war: not much going on militarily because the real fight is in the gloopy mess of PR, networking, bribery and media-escort servicing.
Very few rulers or rebels outside of Africa are willing to go all out now. Nuclear powers who could scrape the planet clean if they used everything they had use bush weaponry in firefights with little gangs. It's an odd moment in military history. I can't think of a time before 1945 when military powers didn't use their best weapons, but that's the situation now.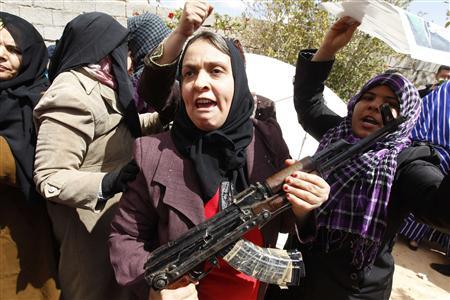 Libya's been like this "war" scene in the Looney Toons classic "Rabbit of Seville": Elmer comes after Bugs with an ax. Bugs grabs a bigger ax; Elmer comes back with a revolver, and so on until Elmer shows up with a huge cannon that looks like a Parrot gun. You think Bugs is going to find an even bigger cannon, Big Bertha or something–but he pulls the ultimate tactical surprise by popping up with a box of candy and a big diamond ring. Elmer's so touched he just goes all starry-eyed and next thing you know, he's in a wedding dress—a really horrible sight–and Bugs is ready to con him again.
That's pretty much how it's gone in Libya. Protesters show up with AKs and RPGs, Qaddafi responds with tanks and his pitiful imitation of an air force. NATO squelches that with real air power, and now it's time for the box of candy. Which arrived today in the form of another "Green March for Peace" by Libya's largest tribe, the Warfalla. ("Warfalla"? Somebody always stealing my tag.) The Warfalla have been paid big to put on a show for the news crews, marching to Benghazi for "peace," in the sense of "Qaddafi stays in power and takes his revenge quietly and peacefully in soundproofed cellars."
Benghazi is the heart of the revolt, and there's a tribal angle to that too: Benghazi is where the Zuwayya, the tribe of the King who was deposed by Qaddafi, hang out. So there's a whole tribal dimension to the Libya mess nobody really wants to deal with. Might start people thinking there's no good guy here, which there isn't. That's no good for journalists; they got to have a good guy, and they'll make one up if they can't find one. (Never a shortage of bad guys, you'll notice. Finding bad guys is like sending those Amazing Race people on a challenge to find asphalt—not that much of a challenge.)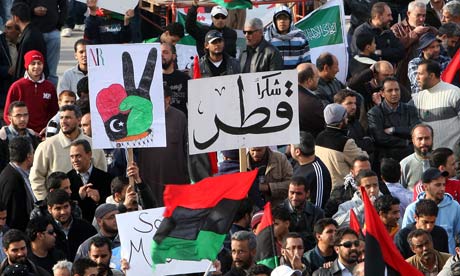 These Warfalla are going to march with flowers and candy, just like Bugs, and on Qaddafi's orders, because he's lost the purely military struggle. But once again, this is our weird little era when "purely military" just doesn't settle things. We're in an era where the Children's Crusade might just have worked. That's how much things have changed.
Qaddafi didn't come up with the idea for a "Green March" by unarmed civvies. The Moroccans have the patent on that. I've been saying for a long time that the most important battle of the late 20th century was the Moroccan Green March in 1975. I hate to quote myself, but I'm gonna, because nobody else has picked up on how important this stuff is:
"What was the most important battle of the late 20th century? You could argue it was the one that took place on the southern border of Morocco on November 6, 1975. Of course, we're not talking about another Stalingrad here. In fact, what happened that day isn't usually called a battle at all. Its official name is "The Green March." On one side were 350,000 unarmed Moroccan civilians carrying green (Islamic) flags, and on the other — miles inside the border, because they were hoping not to have to confront any of the marchers — was a shaky, demoralized token force of Spanish troops pretending to defend a former Spanish colony, the Spanish Sahara." ("War of the Babies," 2008)
The Moroccans took a whole territory that day without weapons; the Spanish who had weapons didn't have the cold will to fire into that crowd. Qaddafi is betting that this new "Green March" is the most effective form of human shield, because it moves where he wants it to. NATO planes would have a hard time hitting a Qaddafi convoy that was floating in the middle of a bunch of Warfalla pseudo-hippies handing out flowers and waving signs. Once the convoy gets to Benghazi, of course, it's time to kick those dirty hippie peaceniks off the hood and zoom off to start quietly shooting people.
But it'll have to be done quietly. You have to see the strategic picture, which at this stage is not military but media. The Green March is Qaddafi's media offensive, with a stealth military purpose under it. If NATO steps wrong and blows up a bunch of Warfalla civilians sitting on a tank, NATO loses and Qadaffi gets ten times more freedom to start cleansing troublemakers. But if Qaddafi's people do something bloody and cinematic in front of a news crew, like bomb a school or kill some nice-looking well-dressed people in good lighting, then it's a license to napalm his compound.
Hey, I don't make these rules. I think Bono does. Takes me back to my dream: Bono and Nkunda alone in a cell with a panga halfway between them. And may the taller man win.
Would you like to know more? Gary Brecher is the author of the War Nerd. Send your comments to brecher@exiledonline.com. Read Gary Brecher's first ever War Nerd column by clicking here.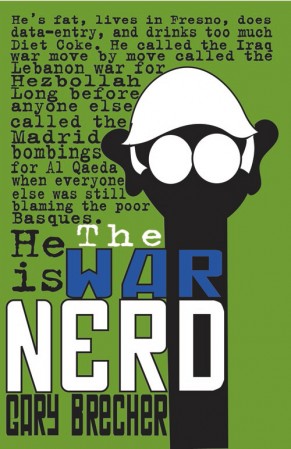 Click the cover, buy the book!
Read more: Libya, Gary Brecher, The War Nerd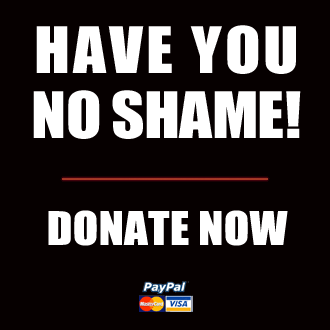 Got something to say to us? Then send us a letter.
Want us to stick around? Donate to The eXiled.
Twitter twerps can follow us at twitter.com/exiledonline