By Gary Brecher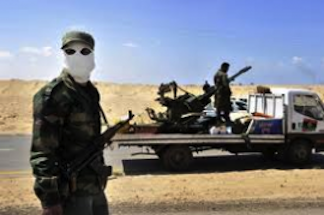 The mask is cuz he's gonna be a banker soon
The most obvious question about Libya is: Why?
The reason you have to ask that is a little secret you won't hear much about: Libya under Qaddafi wasn't that bad for most people. And that's according to the CIA. Take a look at the CIA factbook on Libya under Qaddafi and you're in for a shock.
Subsidized medical care, subsidized education, one of the highest average incomes in Africa, a life expectancy of 77 point something, and rankings in the 90s, pretty low, on most of the bad stuff like infant mortality.
It's easy to say that they had oil, but not every country with oil seems to benefit. At one end of the spectrum you've got Norway, which pampers every single Norwegian with an equal share (and raises psycho killers who can't stand all that equality tree-hugging stuff)…and at the other there's places like Nigeria, where the notion that the oil money should benefit everyone would get big belly laughs from the big-bellied generals.
Now if you were going to add that Libya had a small population, about six million, along with big oil revenues, you'd be closer to the truth. But even then, not every small country with oil spreads the wealth around. Kuwait, sitting on way bigger tar pits than Libya, has a population of less than four million, but no way on earth they'd consider sharing the oil money with the two-thirds of that number who are dirty foreign workers. The Indians, Egyptians, and Iranians who do all the actual work never see more than the minimum wage, and get the boot as soon as their contracts are over.
Libya was actually more generous with foreign workers, unless you happened to be unlucky—like the Palestinian doctor and Bulgarian nurses who happened to be working in Benghazi when kids started dying of AIDS. They got tortured into confessing to a doctors' plot, Libyan version, although it was pretty obvious the kids were infected before they even arrived in Libya.
But then people go a little crazy when their kids get hurt, or even when they start thinking they might. A whole lot of people are rotting in stateside prisons because their kids had some schizo episode and decided to tell teacher that mommy and daddy belong to a big Satan cult where babies are the entrée at every Thanksgiving dinner, and there was a time when judges and juries believed every word of this crap even though it was dumber than a Bewitched rerun.
If you were unlucky like those guys, Libya was a very bad place to be. If you pissed off Qaddafi, if you were a Berber, if your family was from an eastern tribe that had a history of fighting with Qaddafi's, you were in for a hard time. But if you went about your business, you could live a pretty decent life there, as far as I can find out. Maybe that's naïve; if it is, somebody who's lived there can tell me about it. But from what I can tell, nobody starved in Libya, kids had the chance to see a doctor, go to school, eat OK, all that stuff. All the usual UNICEF indicators were on the rise. So why the revolution?
There's always that "revolution of rising expectations" cliché that "revolutions don't happen when things are bad, they happen when things are improving but not fast enough." There's some truth to that one, partly because when things are really bad, people are too busy to make a revolution. Starving people don't usually revolt. They're too tired. Starving people don't feel like doing anything except crawling into the shade and maybe waving away the flies around their eyes.
Still, that doesn't cut it for Libya. I guess we're supposed to believe that a longing for freedom started the revolution. "Freedom." I just wish I knew who started that one. Where on this planet does anybody see any longing for freedom? I'm not talking about Libya now, I'm talking about California. Where have you ever seen anybody who wanted freedom? Go down the block where you grew up, house by house, in your head and tell me where there was a family that wanted freedom. I can't think of one, in the whole Bakersfield tract where I grew up, that wanted that.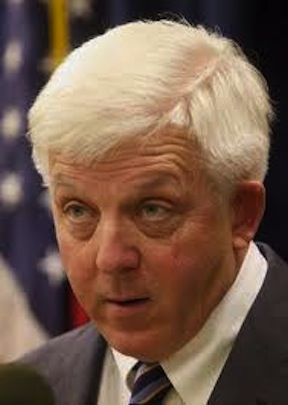 Ed Jagels: Freedom's Face
The most popular elected official in Bakersfield for most of my lifetime was the District Attorney, Ed Jagels. Look him up yourself; I won't even give you a link, because you'd think I picked it on purpose to make him look bad. He was in charge of one of the worst of those Satanic child-abuse cases and never backed down even when it was obvious to everybody in town the whole thing was a fantasy. Two dozen people rotted in prison because of Ed, and he retired after about a lifetime in office. Everybody loved him. Never saw a prison he didn't like, never saw a citizen he didn't think would look better in an orange jumpsuit. Don't tell me about freedom.
Damn, if Americans would actually look at America, the one outside the windows instead of the one you got from Civics class, we'd get somewhere, because we could start from a few facts, not this lame fantasy that we're all Thomas Jefferson at heart.
The people I grew up with—and the ones you grew up with too, unless you were rich and on the coast somewhere–were all pissed off about something, but it wasn't freedom. It was the Blacks at first, the riots and the muggings and all that Civil Rights noise. Then it was the Mexicans driving wages down and not picking up their trash. Then it was the Liberals, even though nobody'd ever spotted a live one in the city limits. They didn't want freedom, they wanted the people they hated bashed, the harder the better.
So I really doubt "freedom" is what set them off in Libya. That is, if by "freedom" you mean all the Thomas Jefferson crap you learned in Social Studies. If by "freedom" you mean something like "being like the cool kids," then maybe it was a longing for freedom.
When you really look at the CIA Factbook stats on Libya, the one thing that stands out is age.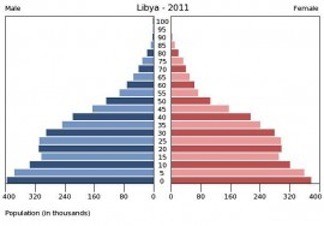 Lotta Kids in That Minaret
Almost a third of the population is under 16, more than half are under 30. Only 4 percent is over 65. That's what you get when a tiny desert country gets mass medical care: Birthrate zooms and just keeps zooming.
What that means is a huge chunk of the population that isn't that interested in having security and food and schooling—did you, when you were 18? Well, maybe you did, if you're one of these nambs and pambs I see around now who worry about their resumes when they wake up in the morning, and spend the day ticking off points on their college application profile…but I don't think Libyans are quite that disgusting yet. Their yout' want normal yout' wants: sex, money, fast cars, and war. It's no accident that the population profile of Libya says in two-foot neon, "Males of Military Age Surplus!" One of the reasons they wanted a war is that it was a war. At 18, especially in a culture where they keep the girls locked up, any war is better than no war. And when it's a war against an old man who's been in power for 42 years, about three times as long as you've been alive, you're just in favor of it on principle. All those slogans like "Better the devil you know"—they're for old, worried people. The young slogan is more like, "Blow it up, as long as something happens for once in this boring dump."
And in this case, nobody can accuse the kids of being stupid. It's never easy to guess how a revolution is going to shake out, but this time around the kids were right. What they did is good—for the kids. For a while.
What's going to happen in Libya is most likely to be a lot like what happens everywhere else that one of these old-school "regimes" gets booted by a multinational "alliance." There's a script, and it's pretty familiar by now. First the cheering and the statue-demolition stage, then the foreign experts reorganizing the currency, then the corporations coming in.
The biggest recent example is Russia. When the USSR crumbled, the experts came in and reorganized the economy, revalued the currency, changed everything from the faces on the money to the national anthem. If you were old, you were in serious trouble. Your pension was suddenly worthless, because they'd added a few zeros to the ruble and what used to pay your rent wouldn't buy a pound of beets any more. You could still get bread, from what I've read, for an interesting reason: Ever since the French Revolution, turns out, European countries have subsidized the price of bread because the masses gotta have their bread. Typical nervous-poor Euro families, the dad'd always be saying, "Eat yer bread!" or "The one that eats the most bread gets the most pudding!" So the oldies could still get bread at Socialist prices in Yeltsin's IMF version of Russia, but they couldn't pay their rent and they couldn't buy medicines. So if they got sick, they died. If they lost their apartments, they died.
All the wealth that was tied up in those pensions was instantly worthless. All the money went in a fairy-godmother flash to the kids who were still young enough to reinvent themselves as bankers. Now Russia's a normal country, run by bankers under 40. Look at a picture of bitter commies demonstrating in any Russian city and you'll notice most of them are old. Spry, most of them, but old. The ones who weren't spry, who needed those blood pressure or diabetes meds, you won't see them at the demo because they're dead.
Libya was a lot like Russia, a smaller, warmer Russia. Life wasn't bad for the average Arab (the average Berber had a harder time). The basics were guaranteed, you weren't going to be thrown in prison unless you mouthed off. Russia in the 70s and 80s, I mean, not Stalin's Russia. And although you're not supposed to admit it, a lot of Russians liked it better back then, when you could take a day off and not lose your job. The ones who liked it were the old, the ordinary, the ones with no ambition.
When you're 20 years old, you want more. You don't know what, just more. And in Qaddafi's world there wasn't any way to be all you can be, like the Army used to say. You couldn't be the hero of the story, going off to seek your fortune and start a frozen yogurt empire. You could shuffle along and get a job, squirm your way up to senior teacher or mid-level figurehead in an office with a ceiling fan, but that was about all.
So when all these 20-year olds see kids in the street in Cairo—Egyptian kids, and Egypt has always been the cool big kid next door for Libya—and their neighbors in Tunisia booting the same sort of old fool who's been sitting on the country longer than their parents have been alive—they thought they couldn't lose.
Try remembering being actually young. It's not as easy as you'd think. Remember when you just instantly substituted for the hero of every story. How could you not take up the gun when the time came? In that way I understand these kids way better than I do the actual American kids I see around now. Those poor babies seem to do whatever their parents tell them every hour of the day. In this last job I had, I worked in one of those open offices with two guys half my age (which is a horrible story in itself, but I'll skip it). They were both so clean-cut that I swear to God I thought it had to be fake and they'd take me out for drinks after a few days and try to get me to join their Satan cult or Fight Club. But it wasn't fake. I wish to God it was. They were the new breed of mommy'n'daddy's boys. Even grandparents' boys—one of them said one day he hadn't been able to skype his grandparents for a week and he really missed talking to them. His GRANDparents! A WEEK!
That's a pervert, if you ask me. Even if he never does anything indictable there's something horribly wrong with a 20-something like that. The kids in Libya are way easier to sympathize with.
And like I said: In the short run, they're right. Things will start to happen in Libya now, and most of the good stuff will happen to the young people. Young men, in this case, because most of the girls will stay at home for the first generation or so. So the under-30 demographic that was out there trying to find the trigger on those AA guns will actually be the ones to benefit from the war they fought, for once. Impressive when you think of it that way.
It won't last, the boom time. Never does in these places. Oil doesn't produce a lot of jobs at the point where it leaves the ground.
For a few years, the multinationals will need local collaborators, and there'll be payoffs to the new breed of "democratic" politicians. And you know the funny thing? Those payoffs will be totally legal and every Western reporter will love the guys who get them because they'll look good in suits, talk English and have good accountants.
Then the system will "normalize" and they won't need those local auxiliaries as much. The jobs will dry up.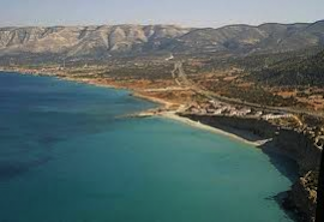 Libyan Coastline: Freedom Schmeedom, That's Real Estate!
The most aggressive Libyan youth will have gone into coastal condos by then—whole lotta Mediterranean coast to be sold off in Libya, whole lotta Euro retirees to buy it–and the million or so families who sold their fishing shack for the price of dad's dialysis will be wondering what the Hell went wrong, because they could swear they're poorer than they used to be because now the doctor takes half their income from sweeping the floors at Club Med down the beach. But they'll know they're just crazy or something, and there'll be experts to back them up on that.
Would you like to know more? Gary Brecher is the author of the War Nerd. Send your comments to gary dot brecher at gmail dot com. Read Gary Brecher's first ever War Nerd column by clicking here.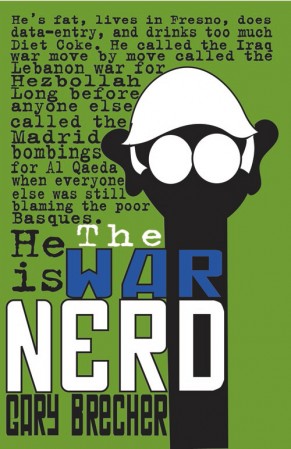 Click the cover, buy the book!
Read more: bakersfield, cia, cia factbook, club med, ed jagels, imf, population, real estate, Russia, ussr, yeltsin, Gary Brecher, The War Nerd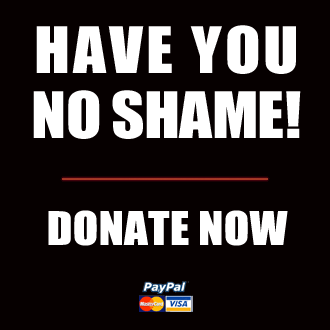 Got something to say to us? Then send us a letter.
Want us to stick around? Donate to The eXiled.
Twitter twerps can follow us at twitter.com/exiledonline