By Yasha Levine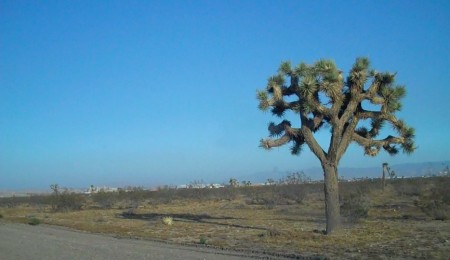 Standing on the sandy turf where the future bottling plant will stand, and looking around at the Joshua trees and tumbleweeds stretching out as far as the eye can see, it's easy to see why people like Bosecki are worried.
Victorville receives 5 to 6 inches of rainfall a year. For comparison: Death Valley gets 2 inches, semi-arid Los Angeles gets 15 and New York City gets 28. Not surprisingly, a recent poll conducted by the Mojave Water Agency found that 90 percent of the local population was concerned about the availability of water.
Out here in the desert, water will soon become more precious than oil. Underground water reserves have been shrinking for decades. In fact, local aquifers here have been in overdraft — with more water being pumped out than is replaced naturally — since the 1950s.
To recharge its underground sources, the Mojave Water Agency has been purchasing water from the State Water Project via the California Aqueduct, which pumps water hundreds of miles via concrete rivers, all the way from the Sacramento Delta. But the recent subprime-fueled population explosion, combined with a total lack of water regulation and California's persistent drought conditions have put the overdraft process into overdrive.
Victor Valley residents use an average of 200 to 250 gallons per day, more than twice the national average. Not surprisingly, the aquifer is being drained at record levels. Victorville old-timers say that at the turn of the century, groundwater was so abundant in some parts of the city and so close to the surface that springs would pop up overnight and wash away pavement and roads. Now, wells that tapped fresh water at a 1,000 feet two decades ago have gone dry.
The more rustic parts of Victor Valley seem to be more mindful of water usage, with gravel-filled and desert-landscaped yards a common sight. Victorville proper is not as keen on conservation. The city is not trying to sell the desert lifestyle, but attempts to re-create the suburban ideal of green lawns, lush trees and golf courses.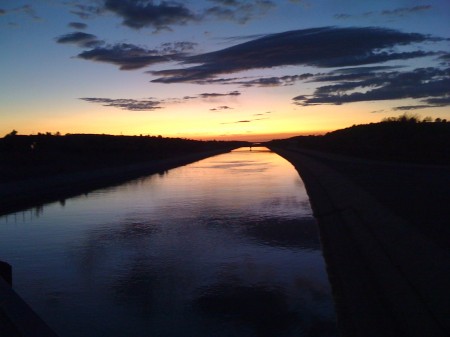 Sunset time at the California Aqueduct running through Victorville: Looks almost good enough to drink
But as water rates continue to climb, conservation efforts are starting to kick in. Victorville is promoting the "Cash for Grass" program, which offers 50 cents per square foot to replace lawn with low-water-use landscaping. Some communities are striving for a 20 percent reduction in water consumption.
Yet these efforts are dwarfed by the enormity of the Dr Pepper Snapple plant's water usage. In a single day, the facility would use a decade's worth of per capita water consumption. The 250 million gallons of fresh water it uses over the course of one year would be enough to supply 1 percent of Victor Valley's population.
"While the rest of the high desert is faced with ever-increasing water bills and told to conserve in every way possible, Victorville keeps creating huge water-guzzler projects that only benefit private interests," Bosacki said. "You got this juxtaposing of people getting fined for watering their lawns, while you have this plant using 1 million gallons a day for private profit. There is a different standard here, which should encourage some outrage."
Victorville's city officials say that the plant will not lead to higher water rates, nor the need for increased conservation. Without consulting neighboring cities, the city council voted against commissioning a "lengthy and costly" environmental impact study. Instead, it cited a flimsy five-page report prepared by a city engineer that did not even address the issue of water consumption, instead focusing on burrowing owls, desert tortoises and what to do if Native American artifacts would be discovered during the construction process.
To allay fears and quiet critics, Victorville politicians have been talking up a $40 million water-reclamation facility in the works, which they say will conserve 70 percent of the plant's water usage — nearly 700,000 gallons a day — by using it to water the city's golf course and to cool the reactors of a nearby privately owned power plant. (Called the High Desert Power Project, the plant has been using 3.5 million gallons of fresh water a day for nearly two decades and has been criticized for its wasteful water usage.)
The treatment facility was somewhat of a coup for Dr Pepper Snapple Group. To make Victorville more attractive for the company, the city agreed to bankroll the whole thing, and it even threw in a several million dollars' worth of roads and assorted infrastructure for the bottling plant. (It was a noble gesture considering Standard & Poor's Rating Services downgraded Victorville's credit worthiness to "junk status," forcing the city to float five-year municipal bonds at a subprime rate of 12 percent to finance the wastewater reclamation plant, while at the same time cutting most city services by almost 50 percent.)
But the Dr Pepper Snapple plant is being subsidized with public funds on an even bigger and more sinister level.
There is no doubt that the bottling plant's oversized water consumption will have a real effect on the future cost of water in the area. So, not only is the city making locals pay for the construction of the plant, but will actually end up funding Dr Pepper Snapple's corporate profits with future water-rate hikes, giving the company access to cheap water now by making it more expensive for everyone later.
"They are shifting and deferring the cost to the public in order to bring them to Victorville," Bosacki said.
Put simply, the plan is nothing less than a transfer of wealth, a slow privatization of a scarce public resource and further plundering of taxpayer wealth by the shareholder class.

This article first appeared on Alternet.
Yasha Levine is a McMansion inhabitin' editor of The eXiled. He is currently stationed in Victorville, CA. You can reach him at levine [at] exiledonline.com.
Read more: california, desert, dr pepper snapple, drought, victorville, water, wealth transfer, Yasha Levine, Dispatch, Water Wars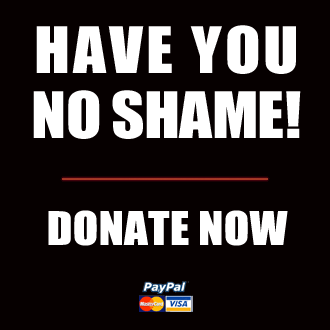 Got something to say to us? Then send us a letter.
Want us to stick around? Donate to The eXiled.
Twitter twerps can follow us at twitter.com/exiledonline