By Yasha Levine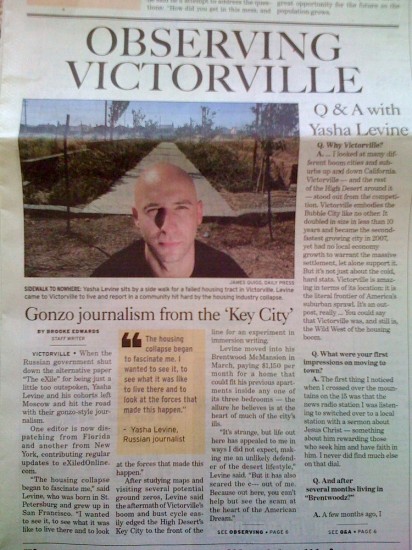 I've been living in Venice Beach for the past few months, convalescing after almost two years of immersion-reporting out of Victorville, California–the front lines of California's real estate meltdown. Life out in Victorville, a remote exburb on the edge of the Mojave Desert, might be lighter on the wallet, but it can be very tough on the body and mental health–especially if one isn't careful with the, er, shall we call them "attention-deficit-disorder brain snacks." I often wondered what the hell I was doing out there, what I'd done to myself, if it was all worth it–and, to be honest, I didn't have the stomach to revisit it. I was there too long.
Then yesterday, Dylan Ratigan devoted an entire excellent segment of his MSNBC show to Victorville's  real-estate-market collapse and its aftermath, and he threw a shout out to my reporting for The eXiled Online for having inspired his segment. It was even kind of weirdly gratifying seeing Ratigan interview the new mayor of Victorville, whom I was never a big fan of, to put it lightly.
For those of you who missed my reporting out of Victorville, this and this are good places to start.
Watch Dylan Ratigan's segment here, and listen for the shout out he gives to his "friends at eXiled Online":
Some Victorville residents didn't much appreciate The eXiled's contribution to the newscast. Here's what one commenter wrote in a Victorville Daily Press post announcing Dylan's segment to readers:
Check out the website that is mentioned at the [sic] begging of the tape.
Our good trailer trash friend Yasha Levine at Exiled and what he has to say about our Valley. Yasha, polluting our desert with lead. You should be ashamed, oh and what happened to your buddy that was arrested when he came for a visit?
http://exiledonline.com/victorville-dispatch-still-here-still-proud/#more-23410
UPDATE: I have information from a credible Victorville source that both the Wall Street Journal and the Washington Post are conducting local interviews in Victorville, right this minute. So look out for more stories on Victorville's collapse, all of it inspired by reporting by yours truly. (Funny how it takes TV network coverage to motivate newspaper editors these days, ain't it?)
Want to know more?  Check out Yasha Levine's dispatches from Victorville:
Read more: Dylan Ratigan, housing bubble, real estate, real estate meltdown, the exiled, victorville, yasha levine, Yasha Levine, eXiled Alert!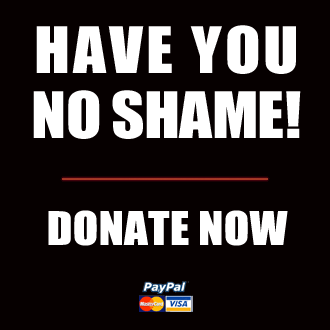 Got something to say to us? Then send us a letter.
Want us to stick around? Donate to The eXiled.
Twitter twerps can follow us at twitter.com/exiledonline