By Mark Ames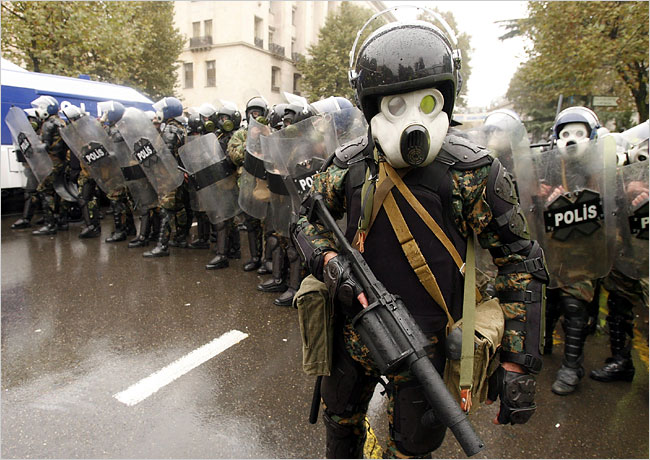 Georgian riot police attack anti-Saakashvili protesters in November, 2007
Freedom House recently issued a report placing Georgia 128th in the global press freedom ranking–lower than coup-plagued Mauritania and tied with authoritarian Egypt. This is ironic, because in the same day's section as the Kerry-Deier op-ed praising Georgia's democracy and calling for it to be rewarded with a free trade agreement, the Washington Post published an editorial that condemns Georgia's autocratic equal, Egypt, and President Obama specifically for "appeasement" toward Egypt's strongman, Hosni Mubarak. But thePost then veers into the sort of bizarre non sequitur for which its editorials have become famous, claiming that the Obama administration blamed the worst crimes of the Bush administration–torture in Guantánamo Bay and the disastrous Iraq War–on President Bush's brief, half-assed lip service he gave to democracy-promotion in Egypt. Say what?That's right–despite all of the reasons Obama has publicly stated as to why he opposed Guantánamo and the Iraq War (wrong, illegal, distracts us from the real war, creates new terrorists, diminishes America's moral authority, etc.), the Post ignores all of that and instead puts words into Obama's mouth. With that fake claim "established," the editorial then flips it around and throws it back in Obama's face: today, by "embracing" the "autocrat" of Egypt, Obama is guilty of "appeasement" and of producing the next "Osama bin Laden, Hamas and Saddam Hussein."
Here are some excerpts:
The Obama administration's policy assumes that the Bush administration's attempts to promote democratic reforms in Egypt produced yet another case of damaged ties and bad public relations to remedy, such as Guantanamo Bay or the war in Iraq. So Mr. Gates, like Secretary of State Hillary Rodham Clinton before him, heaped praise on Mr. Mubarak while making clear that the new administration will not trouble him about his systematic and often violent repression of the country's liberal politicians, bloggers and human rights activists.
Mr. Bush won credit from many Egyptians for pressing for democratic change; he was criticized because he failed to follow through. Now, Arabs around the region are learning that the Obama administration is returning to the old US policy of ignoring human rights abuses by Arab dictators in exchange for their cooperation on security matters–that is, the same policy that produced the Middle East of Osama bin Laden, Hamas and Saddam Hussein.
Once again, the Washington Post's editorial page is being used to whitewash President Bush's disastrous wars and war crimes, which the newspaper encouraged and defended all along.
The juxtaposition of an editorial blasting Egypt's human rights record, and blaming Obama for creating future wars because he has not tried to overthrow Egypt's leader, with the Kerry-Deier editorial in the same section whitewashing Egypt's brother-in-autocracy, Georgia, isn't just bizarre; it also reveals the extent of Washington's corruption, from the intellectual corruption of the Post's editorial page to the corruption of our political culture.
That's because earlier this year, it was reported that Georgia's autocrat hired three lobbying/public relations firms to improve the republic's image in the United States. Relations with the United States are the key to power in Georgia–unlike in Egypt, we really can make or break the Saakashvili regime's power, since both he and the pro-Western opposition look to America for political, strategic and moral support against their bullying neighbor to the north, Russia. America played the key role in putting Saakashvili into power in 2003; were we to withdraw support now, he'd be out in a matter of months or weeks.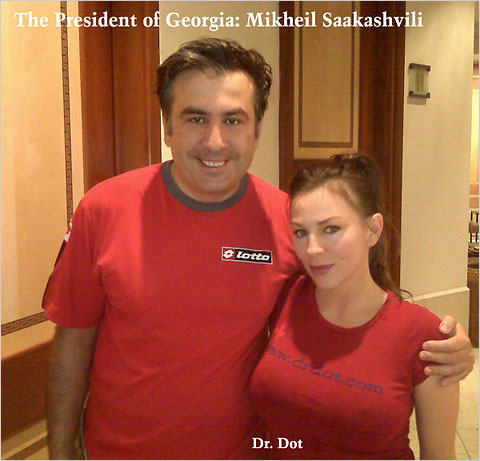 Saakashvili also hired out notorious Def Leppard groupie/masseuse "Dr. Dot"
According to a report in The Hill in March, Saakashvili signed a $300,000 contract with Public Strategies Inc., a powerful lobbying firm with deep Democratic Party ties (it features at least two former Kerry-Edwards campaign staffers) and a Republican CEO, Dan Bartlett, to improve Georgia's image in the media. Georgia also hired the Glover Park Group, another Democrat-heavy lobbying firm featuring a former top aide to Richard Gephardt, and put two Americans, one the son of a prominent former Democratic Party governor, the other a self-described Democrat, on a nearly $500,000 retainer to improve Georgia's image. That's not to say Georgia's leader doesn't like Republicans–until last year, Georgia paid Orion Strategies, a lobbying firm featuring the McCain campaign's foreign policy adviser, Randy Scheunemann, to do the same job.
Less than two months after news broke of Georgia's revamped lobbying campaign, voilà!: a perfectly honed bipartisan article that slyly avoids mentioning the name of the controversial Georgian leader, repeats variations on the word "democracy" and pushes for a free trade agreement between Georgia and America not because it would benefit American workers but because, in the words of the op-ed, it would "significantly bolster the Georgian people's democratic and economic aspirations."
The goal of the FTA is obvious: Saakashvili needs the high-level photo-ops that such an agreement would offer him, tying the new administration as close to Saakashvili's fortunes as the last administration.
We know what's in it for Public Strategies Inc., Saakashvili and Kerry-Deier, but what's in it for the Washington Post? And more important, what's in it for us?
This article first appeared in TheNation.com on May 11, 2009.
Read more: georgia, Glover Park, John Kerry, lobbyist, Mubarak, Public Strategies, Saakashvili, Washington Post, Mark Ames, eXiled Alert!, Fatwah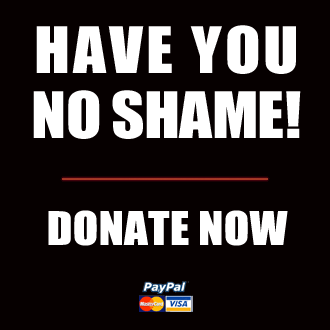 Got something to say to us? Then send us a letter.
Want us to stick around? Donate to The eXiled.
Twitter twerps can follow us at twitter.com/exiledonline