By Yasha Levine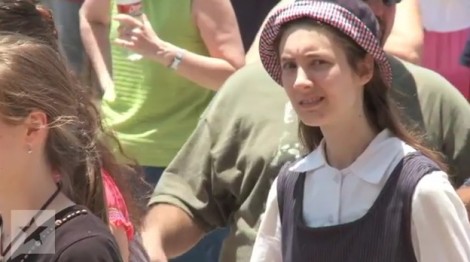 This anti-TSA protester coming straight outta Waco!
On Saturday June 4, a dozen or so anti-TSA protesters marched on the Texas State Capitol, demanding that state legislators and Governor Rick Perry stand up to the federal government and pass a bill that would allow cops to arrest and imprison TSA screeners.
As readers of The eXiled know, Mark Ames and I have thoroughly exposed America's anti-TSA "movement" as a rightwing union-busting PR campaign designed to prevent TSA workers from unionizing, pushed by an alliance of Koch-funded libertarians, warmongering neocons, notorious DC union-busting front-groups and rabid Christian homophobes. Well, the anti-TSA movement in Texas pretty much fits the bill…
Saturday's rally was organized by a pro-police-state/anti-fluoridation libertarian group called Texans for Accountable Government, along with a whole bunch of  far-right authoritarian Christian activists. And as you can see from the picture above, some of them look like they were bussed in straight from some Branch Davidian compound.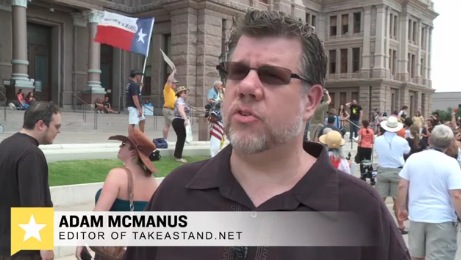 Does the TSA make you mad as McManus?
Take the guy being interviewed in the video above. He might look like you and me, but it turns out Adam McManus is a crusading Christian talk radio host, who describes himself as an "articulate champion of the traditional Christian values that have made this country great" and brags that he was a 40-year-old virgin until he got married five years ago, after finally deciding that he "no longer wanted to burn with passion" (and wrote a painful 40,000-word online book about how he met and fell in love with his wife, who presumably deflowered McManus and stole his innocence).
But McManus is not just a repressed freak. Turns out he's also a really big fan of freedom and liberty, which is why he hates the TSA so much!
Although McManus, like all the anti-TSA crowd, is kind of selective about his civil liberties concerns: In 2005, McManus mailed out a bunch of action alerts promoting news stories that described Guantanamo  as a  paradise of freedom, where prisoners are lavished with first-world luxuries like Twix candy bars and subscriptions to "Martha Stewart Living"—things they could never have experienced back home.
But that's not all. On his website, he clearly positions himself as a pro-police state, homophobic anti-abortion activist, who wants to force other people to act in accordance with Biblical law.
Here's McManus on the "gay problem":
"I've been accused of being 'homophobic'. But I'm not afraid of homosexuals, I'm afraid for homosexuals. The average age of death for a homosexual male with AIDS is 39. And the average age of death for a homosexual male without AIDS is only 42. It seems like the compassionate approach would be to challenge the person to stop participating in unnatural deviant behaviors that lead to his own premature death."
Here's McManus on curbing state power:
"When it comes to capital punishment, I'm pro-choice. The inmate can choose the electric chair, the gas chamber or a lethal injection."
McManus on the nanny state:
"There's one thing the government can never dole out: self-respect. That can only come with hard work, integrity and personal responsibility."
Yes, sir! Every moral fiber in Adam McManus' flabby body screams in agony at even the slightest hint of a government handout! No wonder he's so proud of his younger brother, John McManus, who's spent the last decade working in D.C. as a lobbyist-shill for the pharmaceutical industry. On the website of his lobbying firm, The McManus Group, little brother McManus brags that while working for Republican Congressman Bill Thomas, he helped engineer the half trillion dollar federal welfare program for the pharmaceutical industry, otherwise known as the "Medicare Modernization Act of 2003."
Yup, that's the anti-TSA, pro-liberty Tea Party crowd for you.
But Christian free-market extremists like McManus weren't just rallying outside the capitol building, they were also the ones inside, writing and pushing the anti-TSA legislation.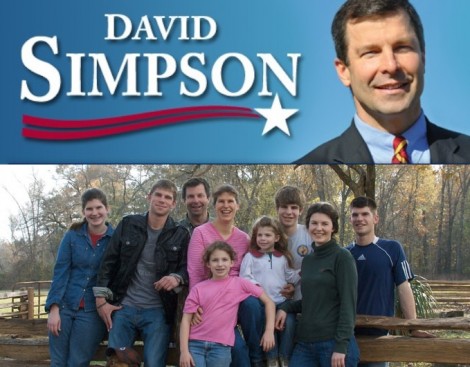 Take David Simpson, the freshman senator who introduced the anti-TSA HR 1937 bill. Not only does Simpson own a lumber business, he is also the proprietor of his own Christian publishing company, which prints titles like "We Must Obey God: The Biblical Doctrine of Conscientious Disobedience to Human Authority with Special Reference to Operation Rescue," a book that puts "[r]ighteous disobedience to civil and other authorities in biblical perspective" and explains why God wants you to bully and harass women, and take away their reproductive rights.
While Simpson is a political rookie, he has been getting plenty of support from Texas' far-right Christian political establishment. His chief of staff, Kathi Seay, comes with serious Koch pedigree and has been a longtime fixture in Texas' anti-abortion movement. She previously served as a staffer and spokeswoman for Texas Rep. Frank "Look at the Fetus" Corte and has been a longtime member of a rightwing youth training outfit called Torch of Freedom Foundation, where she sits on the board of directors, along with Morton Blackwell, founder of Koch-controlled Leadership Institute (which teaches young rightwingers how to prevent people from voting and churns out rightwing operatives like James O'Keefe, of ACORN pimp fame).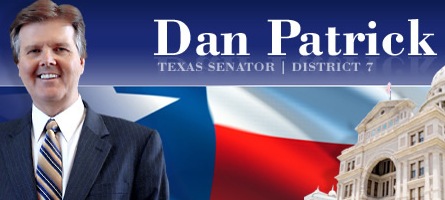 Then there's Dan Patrick, the Texas state senator listed as the sponsor of Simpson's anti-TSA bill. Turns out puffy-faced Patrick, whose forehead looks like it's been treated with Juvéderm, is also a hardcore Christian radio host and author. He wrote a book called "The Second Most Important Book You Will Ever Read: A Personal Challenge to Read the Bible" that was so bad, even illiterate believers gave it bad reviews on Amazon:
1.0 out of 5 stars Sceptical, July 28, 2003

By A Customer

This review is from: The Second Most Important Book You Will Ever Read: A Personal Challenge to Read the Bible (Hardcover)

I think it is good to read about religion but I'm not so sure about this book's author's intentions. Da n patrick has always been prety arragant and now we hear him shamelessly self promote his book day after day after day after day on his radio. It just seems like he is out to make money, not converts.
Arrogant or not, Patrick is a big supporter of civil liberties and the Constitution, including the First Amendment, which he demonstrated by launching boycotts against newspapers and media outlets that he thought had a pinko bias.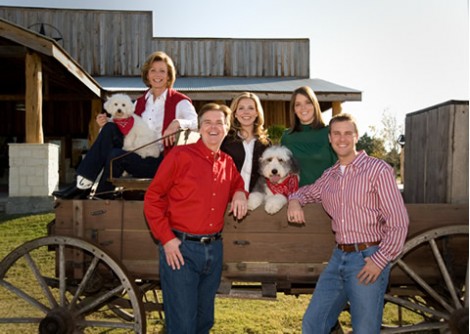 Not surprisingly, Dan Patrick is also part of a conservative think tank that's been supported by Koch Industries, among other corporations. Yep, he's just the kind of freedom fighter the oligarchy needs. And it's clear from the way he describes himself on his website that Senator Patrick knows that he been done doin' good by his masters:
Dan Patrick is considered by many as the most conservative member of the Texas Senate. In just his first term, he has become a leading conservative voice in Texas and in the Texas legislature.  In a recent Austin political news magazine ranking the most influential Republicans in Texas, Senator Patrick was listed at #3, just two spots behind Governor Rick Perry and the only member of the Texas Senate to be named in the top 20.

Senator Patrick has accomplished more in his first term than some legislators accomplish in a career. He passed legislation placing "In God We Trust" permanently in the Texas Senate Chamber and passed the Senate bill to place "Under God" in the state pledge.  Senator Patrick passed the largest tax cut of any legislator in the country in 2009 – a $172 million cut to business taxes for small business.
Governor Rick Perry just convened a special secession of the Texas legislature to take another stab at passing the anti-TSA bill. Meanwhile, Kochites in Utah and New Hampshire are following Texas' lead…But it doesn't matter where the anti-TSA gather next or what Glenn Greenwald of the libertarian Cato Institute might tell you, the fight against  TSA screeners is not about civil liberties. It is about attacking labor and pimping privatization. The rightwingers and Christian homophones leading the fight are not so much concerned with being "groped" at the gate, as they are about being groped by unionized workers. Getting their asses felt up by minimum-wage grunts working for private security firms is just fine by them–and apparently fine by Jesus, too. This is what their fight against the TSA is all about, and it fits in with the larger attack by free-market extremists on government-run security. It's all about busting up the 43,000 TSA workers before they can form a union, which they're voting on right now.
Take George Koch-Mason University-educated "economist" Edward Stringham, who recently wrote a paper singing the praises of  David Lipscomb, a 19th-century biblical anarchist who preached that Christians should not participate in civil government. Turns out that Stringham not only advocates for privatizing the TSA, he also goes around giving Koch-sponsored talks on the benefits of privatizing the entire process of law and order—yeah, the whole thing. Here's an email announcing one of his pro-private-security propaganda talks at a college in Denver:
From: Padilla Alexandre
Sent: Monday, April 18, 2011 3:46 PM
To: XXXXXX
Subject: Save the Date: EEF Lecture Series: Do We Need Government?: Private Law & Private Enforcement Speaker: Edward P. Stringham, Monday, March 25th, 11:00 am- 12:15 pm TIVOLI 320s

Dear students,

I am pleased to announce that the next Exploring Economic Freedom Lecture Series talk will take place on Monday April 25th, 2011 from 11:00 to 12:15 pm in Tivoli 320s. Our speaker for this event is Dr. Edward P. Stringham from Fayetteville State University. His talk is entitled: "Do We Need Government? Private Law & Private Enforcement" Economist Edward Stringham will ask whether law enforcement must be provided by government. He will talk about how private law enforcement is extremely common in the United States and the world, and discuss ways in which private law enforcement is an attractive alternative to government law enforcement.

This talk is generously sponsored by the Charles G. Koch Charitable Foundation. Pizzas and sodas will be available for free for attendees. I have included below a short biography of Dr. Stringham.

Please let me know if you have questions.

Sincerely yours,

Dr. Alexandre Padilla
Associate Professor of Economics & Interim Director
Honors ProgramMetropolitan State College of Denver
You can't deny that for the Kochs and their ultra-rightwing billionaire buddies, "private law enforcement is an attractive alternative to government law enforcement." The fact is that while it's not hard to get unionized rightwing white cops to beat up on blacks, Mexicans and junkies, it's not so easy to get them to go against their own kind. And there's always a chance, no matter how slim, that union cops will turn on the oligarchy. A private mercenary force is so much more efficient: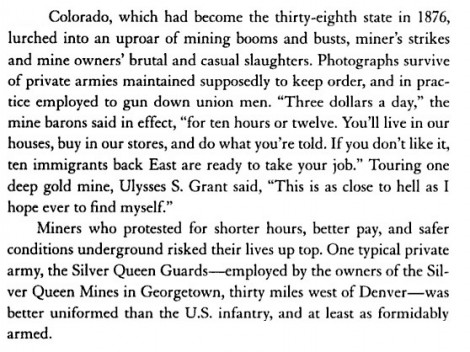 Yasha Levine is an editor of The eXiled. You can reach him at levine [at] exiledonline.com. Check out other Koch takedowns here: The eXiled vs. The Kochs.

Want to know more? Then read our anti-TSA expose:
By Mark Ames and Yasha Levine / April 28, 2011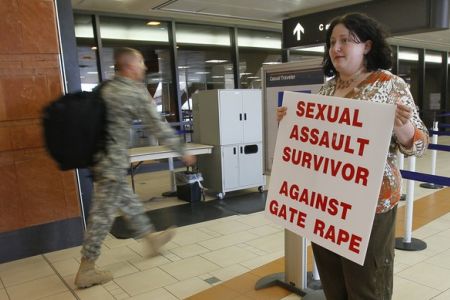 Really?
This is the year that the Republican right-wing, backed by corporate sponsors like the billionaire Koch brothers, have declared all-out war on public sector unions. It's the culmination of a decades-long crusade against organized labor, which has only hit the national radar screen in recent months. The showdown in Wisconsin between Scott Walker and the unions has changed all that: suddenly, Americans had their eyes opened up to just how ruthlessly and cynically the Republican right was ready to fight to destroy public sector unions because they see it as a way to cripple the Democratic Party by killing off a major source of funding, as well as political muscle and votes.
If there's some good to come out of the right-wing's war on Wisconsin and other state employees, it's that we now have a better insight into the Republican playbook against public sector unions, which boils down to this: 1) Manufacture a fake budget crisis in order to frighten the state's residents; 2) PR the false-crisis hard enough until it breaks out of the right-wing/libertarian pipeline and into the mainstream media; 3) Blame the fake crisis on a fake villain — "greedy" state employee unions — thereby pitting the public against state workers. That way, when Republicans pass new laws destroying teachers and firefighters unions, they'll come off as heroes defending the public from greedy unions, rather than as sleazy mercenaries carrying out their corporate sponsors' dirty work.
Republicans have used this playbook before, of course, it's just that Wisconsin finally made us all too aware. Perhaps the most obvious example — and the least understood — is from last November, when the same basic strategy was used to wage war against the TSA's 55,000 employees, who have been locked in a savage decade-long battle to gain the same collective bargaining rights that employees of all other federal agencies enjoy. Unlike in Wisconsin, the Republican right succeeded in burying the story about the TSA employees' struggle for collective bargaining rights underneath a sophisticated, well-PR'd campaign demonizing TSA screeners as modern-day Gestapo agents, rapists and child molesters.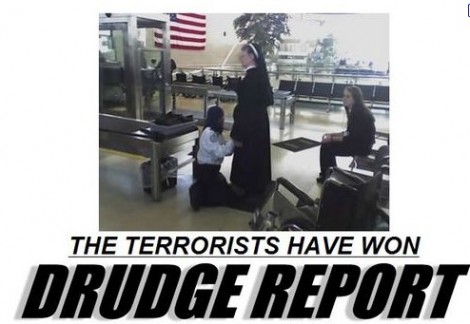 But lost in all the media hysteria vilifying the TSA was the appalling story of labor abuse against the agency's screeners, a consequence of Republican anti-union policies. If anyone is wondering why collective bargaining rights are so important to public sector workers, look no further than the TSA, whose employees suffer the lowest morale and highest attrition rates of any federal agency, year after year. Complaints and lawsuits abound, accusing TSA management of rampant sexual harassment, racism, bullying, wrongful termination and abuse of power. If that didn't make working in the TSA difficult enough, the recent campaign demonizing TSA agents as modern-day Gestapo-agents turned them into the most hated of all federal employees; passengers, encouraged by incendiary PR, hurled abuses in TSA screeners' faces, and in a few cases even physically attacked screeners.
Last November, we published an article in The Nation questioning the media-driven anti-TSA campaign, which we argued smelled of AstroTurf. For one thing, it made little sense that an issue like TSA pat-downs, offensive as they were, could dominate headlines for two straight weeks at a time when America was suffering from unprecedented corruption, lawless evictions of homeowners, unheard-of inequality, and wars that barely make news.
Sure enough, we uncovered numerous Koch-linked libertarian activists spearheading the campaign to demonize TSA screeners, DC lobbyists specializing in fake-grassroots campaigns setting up "Opt Out" websites while posing as regular Joes, and sleazy Republican hacks who had shown little interest in protecting civil liberties suddenly getting their ACLU on over the TSA's intrusive pat-downs and "porn scans." Progressives were understandably drawn into the anti-TSA campaign and hysteria, as the PR campaign cleverly framed it not as a union-bashing operation, but rather, as a purely civil liberties issue.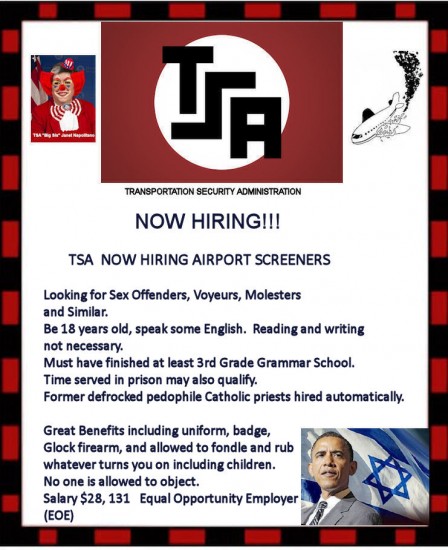 The anti-TSA campaign was at its media-hysteria peak in the weeks after the Republican election sweep, spurred on by last year's hero, John Tyner, who refused a pat-down, telling TSA agents, "You touch my junk and I'm going to have you arrested." Tyner disappeared from the scene after he apologized on his blog, and admitted that he didn't tell the whole story and had actively tried to erase it.
Read more: christian, koch, kochs, propaganda, tsa, Yasha Levine, Class War For Idiots, Koch Whores, Libertards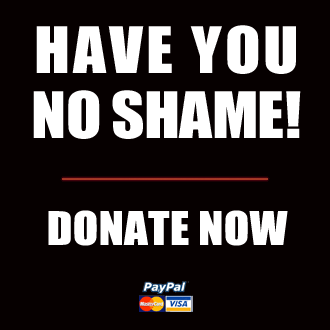 Got something to say to us? Then send us a letter.
Want us to stick around? Donate to The eXiled.
Twitter twerps can follow us at twitter.com/exiledonline