By Eileen Jones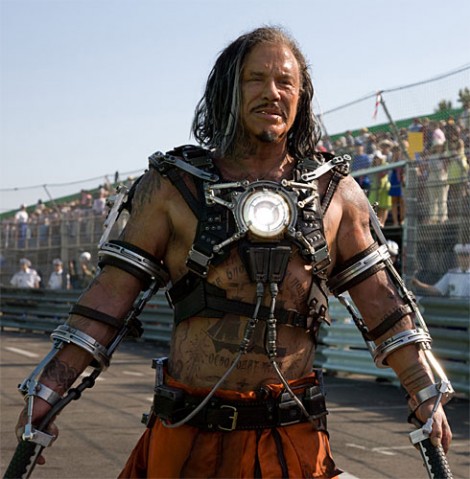 Iron Man 2 is such a huge hit, it's clear everybody's going to see it regardless of critical praise or condemnation. Each of us can—or will soon be able to—fulminate about why it's good, bad, or meh. We don't need no stinkin' critics, etc.
Personally, I enjoyed it, but then I hadn't seen a movie in a theater in about a month, for various reasons I won't bore you with, so I'd've enjoyed anything that oscillated onscreen to accompanying noise. Baby Einstein would've worked for me.
Bearing that in mind, I'd still like to make a case for points of avid interest in Iron Man 2. One thing I've noticed about professional critics, they'll tell you everything except the interesting things that go on in a movie. They're generally mum about those. Some guild rule, perhaps.
There's a whole through-line about money in the movie, what it can do for you, and what it can't. Tony Stark (Robert Downey Jr.) is dying, see; the price of being Iron Man is untreatable blood poisoning from the glowing metal thingy wedged into his chest. That's iron-y for you, ha!
Anyway, he's constantly measuring his blood toxicity and seeing it shoot up, and then trying to figure out how to get whatever he can out of his remaining life. Given that he has gobs of money and all the accompanying power and influence and access, this should be one big party, right? And it is. But that's the problem. Even the biggest party is, y'know, still just a party: liquor, presumably drugs (though not shown), loud music, crowds of people—the good-looking kind money can buy, but still—people. How long before you want to put on your Iron Man suit and start shooting in their general direction? Not that long.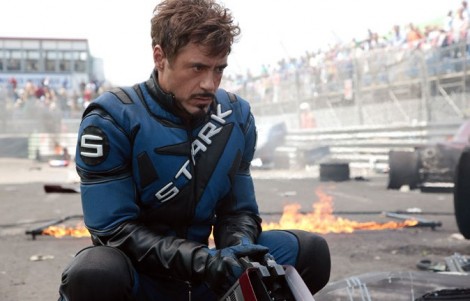 There's a wonderfully pathetic moment when Stark asks someone what they would do for their birthday if they knew it was their last birthday. He's up against the limits of his imagination early. It reminded me of a great scene in an old Douglas Sirk melodrama about American wealth and its corresponding miseries, called Written on the Wind. In it, the son of the richest guy in Texas spends half his time in a rural dive bar drinking rotgut liquor. The bartender rebukes him, saying if he had all that money, he sure as hell would spend it better. The rich guy's son asks him how. The bartender says, "I'd be up at the country club drinking bonded bourbon."
I tell people that parable, and they never get it, and I have to explain: money really isn't everything if all you can think to do with it is go to a better bar and drink better liquor.
If you know any extremely rich people, this ought to resonate. I've known a few. Not happy. Relentlessly, aggravatingly not happy. Strangely unfree and incredibly unimaginative with money. Beyond occasional lavish trips to Tuscany, and maybe collecting stupidly expensive lamps or something, they don't know what the hell to do with their dough. That's one of the points of anxiety in this world: if the filthy rich can't show us how to live well, who can?
Iron Man 2 starts with the biggest party Tony Stark can throw, in the form of a showbiz spectacular at the week-long Stark Expo, featuring Stark himself zooming onto center stage as Iron Man, surrounding by a laser show, fireworks, high-kicking chorus girls in metallic bikinis, cheering crowds, the works. Starting at this point is smart, because it's the cheesy American dream none of us are immune to, and Stark is already living it. Part of the fascination of the Iron Man story is that our hero starts at a peak-fantasy point of wealth, power, autonomy, even adulation, and then suggests there are big problems with all that.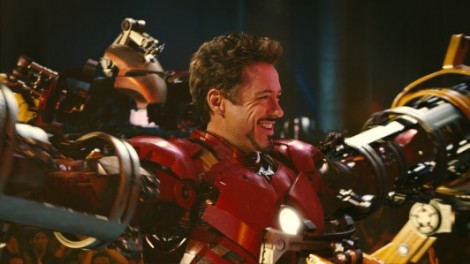 For an American, this hits home. It's not only an allegory for our lone-superpower national status, now getting shaky; it's also an attack on our personal beliefs. Nobody really buys those old "money isn't everything, money doesn't bring happiness" adages anymore—even as we're nodding along saying "yuh-huh" to yoga teachers and pop psychologists trying to peddle those adages, and thinking of our rich unhappy friends, we don't really buy them. We just think, "But if you gave ME that money, I'd know what to do with it, I'd be so happy I'd secrete sunshine from my pores." As a culture we long ago made the money/fame combo the key to joy and the measure of worth. If they truly don't bring happiness, we have reason to be very, very upset.
But we're what you'd call "of two minds" on the subject.
Back to the movie: opposing Tony Stark and trying to bring him down is an impoverished Russian genius named Ivan Vanko, played by Mickey Rourke. Vanko's father was the Soviet physicist partner of Stark's father, Howard, during the Cold War, but Vanko Sr. got cut out of the loop and sent to the gulag, so all Vanko Jr. wants is to avenge the family. So there's Rourke as Vanko, looking like a filthy embittered tattooed mutant in a cave-like hole of a dwelling, watching a small crappy TV set showing Downey preening and prancing at the Stark Expo spectacular. Rourke's weird, deep, pre-modern honor-culture rage versus Downey's ultramodern mercurial glibness; two great tastes that go great together. Casting doesn't get better than that, folks!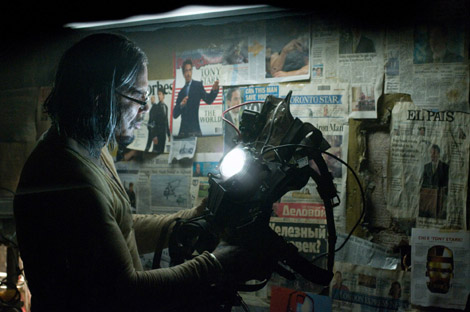 (It was wonderful to read that the rivalry continued behind the scenes. Rourke tortured Downey with digs at his famous drug addiction, insisting on having "I Don't Want to Go to Rehab" blaring in the downtime between takes. "Mickey likes a little psychological warfare," Downey said mournfully.)
A lot of critics complain that there's too much going on in the movie, too many characters vying for screen times, etc. As Kirk Honeycutt of The Hollywood Reporter put it, in place of all the virtues of the first Iron Man, "Iron Man 2 has substituted noise, confusion, multiple villains, irrelevant stunts and misguided story lines."
I admit I didn't mind any of that, but then I'm a big fan of Hong Kong martial arts movies, so I've developed a taste for cinematic excess in genre films (i.e., the best films). I like seeing everything movie mogul money can buy, and I thought it all worked well thematically. There's Stark, practically counting his own heartbeats while trying to distract himself with hedonistic chaos. And there's Vanko, who has a plan to defeat Stark in a way that involves innumerable enemies. At their first battle, when it looks like Vanko is already defeated, he gloats, "You lose!" Meaning that he's already made Stark/Iron Man look weak and bloodied, so the vultures will descend and finish the job. (Another allegory alert, America!)
Sure enough, everybody smells blood and is out to get Stark. The military, via Stark's easily-duped pal Lt. Col. "Rhodey" Rhodes (Don Cheadle in for Terence Howard); the government, in the form of a toad-like senator carrying a grudge (Garry Shandling, who truly looks like he's swollen with corruption); the media, represented by Bill O'Reilly and Christine Amanpour (!) in cameo performances; a rival military-industrial corporate honcho, Justin Hammer (Sam Rockwell doing nice work as the quintessentially horrible, strutting, whining modern male git).
Plus there's Scarlett Johansson to contend with, as Natasha Rushmore aka Natasha Romanoff aka the Black Widow. Her deep-dish beauty is there for the fanboys, of course, but she has the potential, if she got the right roles, to be a real star in the old-time sense of the word, an overwhelming physical presence who keeps all eyes on her—male or female, dog or cat. She's got action scenes here that might be considered rote—black catsuit, martial arts kicks and leaps, lethal strikes, multiple fancy weapons, nothing we haven't all seen many times—if it weren't for her extraordinary looks and aplomb. Has any gorgeous young starlet ever been as phlegmatically calm and assured onscreen as Scarlett Johansson?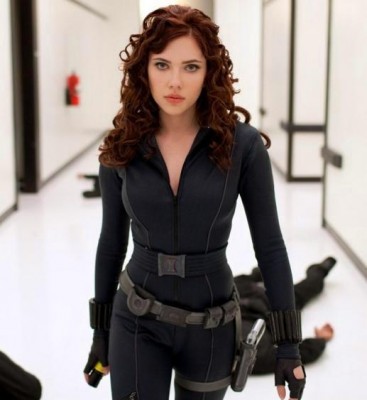 Add in Gwyneth Paltrow as Pepper Potts and Samuel L. Jackson as Nick Fury and there are many critics who call the mixture too rich. But the audiences like it. I never saw such a crowd of rapt faces of all ages, races, and presumably, creeds, as in the packed theater where I watched it. Everybody united in sating their movie-hunger. There's nothing like a starvation diet to bring out the mobs; for weeks on end, we've had nothing to watch, and even now, what else is there? The documentary Babies? (Jack Foley, head of distribution for Focus Features, stopped counting the Iron Man 2 profits long enough to snark in USA Today, "I hope [Babies] didn't hurt Iron Man too much.")
So when you go, you be the judge: Kirk Honeycutt says there's no there there in Iron Man 2:
What is at stake here? The fate of the world? The emergence of a new superpower? No, it all seems to pivot around who will win a new Defense contract. Wow, there's an emotional grabber.
But I have to say it seemed to me the movie was pulling out all the stops with emotional grabbiness. Tony Stark can only save himself by rediscovering his father's legacy, as parent and Cold War scientist, see. But he hated his father. There's some nice early-'60s-looking footage of Stark Sr. in the movie, as a sort of Papa Disney of physics, conservative, affable, and optimistic about Tomorrowland utopias, till he thinks the promotional take's over. Then we see the coldness, alcoholism, and male hysteria underneath.
Obviously this mirrors the Ivan Vanko Jr. and Sr. storyline, with its variation of the failed father who SHOULDA been a contender on the world's stage except that his nation lost the Cold War. When Vanko Sr. dies and there's an overhead shot of Vanko Jr. screaming his anguish at the gods, you can almost forgive such a moldy cinematic cliché.
It's a traditional storyline, but as far as I can tell, it still works for a reason; patriarchal dynasties we have always with us. The two filthy-rich people I happen to know, for instance? Both men inheriting wealth from ruthless-mogul fathers they hate and are helpless to stop emulating. Nailed it, screenwriter Justin Theroux who also wrote Tropic Thunder! We will view your future career with interest.
Read more: america, cold war, Gwyneth Paltrow, Mickey Rourke, money, Robert Downey Jr, Samuel L. Jackson, Scarlett Johansson, wealth, Eileen Jones, movies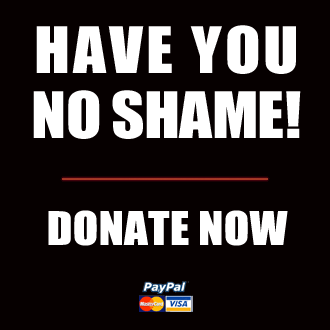 Got something to say to us? Then send us a letter.
Want us to stick around? Donate to The eXiled.
Twitter twerps can follow us at twitter.com/exiledonline