By John Dolan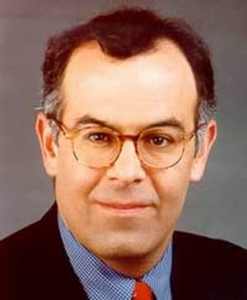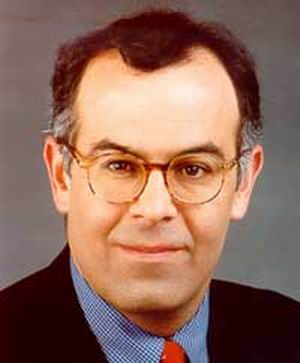 This article was first published in The eXile on June 22, 2000.
Reading Bobos in Paradise, I realized that it's not so hard to make money by writing: all you have to do is suck and swallow several million people at once. It's certainly worked for David Brooks, who sucks like a Black Hole, and could give Linda Lovelace swallowing lessons. He's making a fortune from this book, which is nothing more than fellatio in print.
Of course, hard-working prostitutes from Night Flight to Tijuana trailer parks are performing the same service for petty cash—but that's because they can only service one client at a time, while Brooks, with this book, has found a way to suck off every Boomer in America at once. Brooks' message is simple: "Oh, you're tho wunnaful. Oh, pleathe, more. Deepuh. Oh yeth, yeth. Let me gobble it all up." It's a little garbled—you can't expect the man to enunciate perfectly with thirty million cocks in his mouth—but the thesis is clear enough: the "Bobos" (Brooks' witty abbreviation for "bourgeois bohemians") who control America are the most wonderful people ever.
If you know the story of the Three Bears, you know the argument of this book (Hegel stole all his ideas from the Brothers Grimm): Once upon a time there were three bowls of porridge. One was the beatnik/hippie/bohemian porridge, which was much too hot for the tame souls Brooks addresses. Then there was the WASP/Corporate porridge, which was a little too chilly (but only a little!) for Brooks' readers. At last the third bowl of porridge arrived, a puree of hippie manners and old-school greed…and that bowl of porridge was the BOBO, the "bohemian bourgeois," and lo! The BOBO looked upon him- or herself and saw that he or she was good. Was in fact, perfect.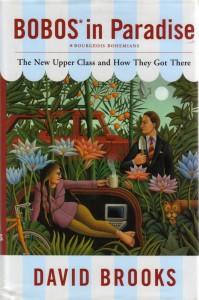 That's the point of Brooks' book: to tell his smug audience that, just as they suspected, they really are perfect. Brooks isn't shy about his flattery. (Shyness isn't adaptive in his business, as the girls at Night Flight will tell you.) He tells the Bobos how great they are over…and over…and over. In order to get on with the sucking-up, Brooks disposes of any potentially pesky issues such as elitism early on:
"[Bobos] are the new establishment….When I use the word 'establishment,' it sounds sinister and elitist. Let me say first, I'm a member of this class, as, I suspect, are most readers of this book. We're not so bad. All societies have elites, and our educated elite is a lot more enlightened than some of the older elites, which were based on blood or wealth or military valor. Wherever we educated elites settle, we make life more interesting, diverse, and edifying."
Well, that settles that: "We're not so bad." Of course, every other elite from the Mongols to the Oligarchs could say the same thing—has, in fact, said the same thing. Elites do tend to think well of themselves—a tautology which might have given a more thoughtful writer pause, but would never occur to Brooks. It's difficult to suck off thirty million people and think at the same time; and when it came to the crunch, Brooks wisely decided that the sucking was much more important than the thinking.
In order to distinguish the Bobos from other elites, he defines them as an "educated" elite. This educated background is apparently what allows them to make life more "edifying." There are a couple of little problems with this claim:. First, Americans of the late twentieth-century elite are in fact very poorly educated by comparison with, say, the German or French elites circa 1910. Second, there's no reason to think that educated elites are any more compassionate than ignorant ones. Take those highly educated, early twentieth-century French and German elites: they did not, in fact, make life especially "edifying" for the several million men they shipped off to be turned into hamburger on the Western Front.
As for the notion that the Bobo-ocracy makes life more "diverse," it's plainly at odds with the Bobos' many elaborate taboos and conventions, which Brooks spends whole chapters iterating in worshipful detail. How can a class which has such strict rules make life "diverse"?
To understand what Brooks means by remarks like this, I found I had to remind myself that in this book, all questions come down to the subject which actually matters to him and his readers: spending money. And of all ways to spend money, Brooks and his readers worry most about interior decorating and cookery. So, when he says that the Bobos make life more "diverse," he isn't talking about ethnic diversity, let alone intellectual diversity; he's talking about diversity in styles of furniture or ethnic restaurants.
Brooks actually takes interior decorating so seriously that he makes the Bobos' tastes in decor an aesthetic "end of history," analogous to the claims Fukuyama made for contemporary political forms. Brooks dumbs down Fukuyama's thesis for the tens of millions of Yuppies who don't know Hegel from Hi-Tech, but do worry if they've bought the right sofa set, translating Fukuyama's argument into Synthesis-via-furniture:
"The educated class has conquered all and hegemonized its Bobo culture…. Now the Babbitt lion can mingle with the beatnik lamb at a Pottery Barn, a Smith & Hawken, a Museum Shop, a Restoration Hardware, a Nature Company, a Starbucks, or any of the other zeitgeist-heavy institutions that cater to educated affluents. Today the culture war is over, at least in the realm of the affluent. The centuries-old conflict has been reconciled. "
Well, there it is: The End of History via Interior Decorating. That duvet isn't just a duvet, folks—it's a Hegelian synthesis! That fake medieval table represents the fall of the Berlin Wall.
By the way: Nice product-placement, too, David. You managed to name six furniture companies in one sentence. (I wonder if Brooks actually got paid to mention Pottery Barn et al, or if reciting corporate names just gives him some kind of sick auto-erotic pleasure.)
In the world Brooks and his readers inhabit, the names of interior decorators and furniture-makers are so eminent that he finds it shocking that they were once obscure: "In…1954, Russell Lynes could write of Gustav Stickley, 'His name and his writings are now almost forgotten.' But today you can't walk 15 feet…without stumbling across some bit of furniture inspired by [Stickley]."
Who the Hell is Gustav Stuckley? No, don't tell me. The day I start learning the names of furniture-makers is the day I hope some true friend will push me in front of a bus. I guess I'm not one of "us," as Brooks defines "us." "We" are distinguished from "them" by simple antithesis, a device uses again and again until, somewhere around page 100, you develop a Pavlovian wince every time you see a "we/they" sentence:
"[The old gentry] covered over ceiling beams. We expose them. They buried bulky stone chimneys in plaster and paint. We unearth [them]….They preferred marble. We prefer slate."
Brooks doesen't see himself simply describing a change of taste. He seriously believes that this change—from the things "they" liked to the ones "we" like—is permanent, millenial, the end of history. He truly believes that the Bobos are in charge not just for the moment but for all time, just as Fukuyama believes that present Western political conventions will endure forever. He says, with a straight face, "[I]t is hard to see how the rule of the meritocrats [ie the Bobos] could ever come to an end." Wonderful: a thousand-year Lexus reich.
Not that they'll get a thousand years, of course. They'll be forgotten in a decade, and there'll be a new David Brooks avidly sucking and swallowing whatever interior-decorating hegemony overthrows the Bobos. There's always a job for a good blo-jo. In the meantime, the moment's darlings have this book to remind them that they're in Paradise. And what a paradise! Two careers, sensible cars, and a high-strung child who'll be in therapy before she's out of high school. Not much of a paradise at all, really. No wonder they need this wretch to tell what a glorious world they inhabit.
It all goes back to the New Yorker. I never did understand that magazine or the world it claimed to be describing. The articles and the cartoons were about horrible people, who were always shown in the cartoons being humiliated before their bosses in an office, or being sexually humiliated before their wives or husbands, or shown up in front of their neighbors over their ignorance of some outdated slang term. The stories were no better: they always seemed to be about some outwardly successful but numb, embittered couple waiting for their divorce on Cape Cod, relishing the landscape largely for the contrast it provided with their dessicated inner state. And yet there was a sick self-love in those cartoons and those stories. None of them were intended to make you feel revulsion at these horrific lives. They oozed a hopeless infatuation with the very misery they described.
And now this Brooks creature has crawled under the table at that Cape Cod beach house. In the lulls between the waves, you can hear the rhythmic lapping, as he services the homeowner, who flips lazily through the recycled Thurber cartoons for the tenth generation.
This article was first published in The eXile on June 22, 2000.
Read more: bobos in paradise, David Brooks, John Dolan, Books, eXile Classic, What You Should Hate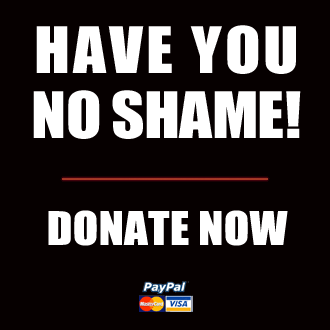 Got something to say to us? Then send us a letter.
Want us to stick around? Donate to The eXiled.
Twitter twerps can follow us at twitter.com/exiledonline