By Edward Limonov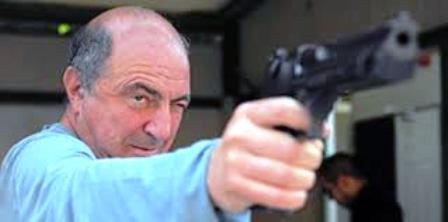 This article was first published in The eXile on September 18, 2003
On September 11, Great Britain have accorded political asylum to the most notorious refugee from Russia: to Boris Abramovich Berezovsky. I never met him personally. Once, in 1990s, we, members of National-Bolsheviks Party have staged a mass anti-Berezovsky demonstration in front of building of "LogoVaz" — his former headquarters.
In spite of that demonstration, he helped me little bit with money when I was imprisoned by Putin. Then it was a bottle of cognac.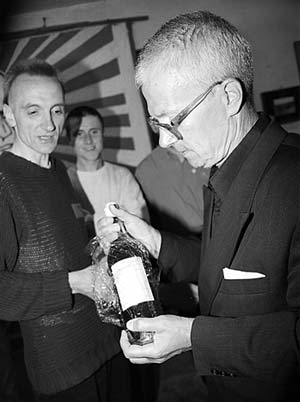 Limonov holding 1943 bottle of cognac, a gift from Berezovsky, after release from prison, 2003
The rumor about him, presenting me with a bottle of cognac of 1943, the year of my birth, is not a rumor, but a very true. That bottle, its neck sealed with a white sealing wax, was presented to my party comrades during ceremony of my 60th birthday at the House of Writers on February 26, 2003. Then, when I was liberated from prison after almost three years, on July 1st, 2003, I ordered to open it at Party Headquarters on 2nd Frunzenskaya and we have drunk it together [see photo] with the bottles of champagne. Everybody, who happened to stay around me, theoretically, we all have drunk Berezovsky's cognac. In reality, practical non drinking karate-kid, girl named Olga, one of my body-guards, have saved about half the bottle. Later, I have finished that historical bottle together with a King of Russian PR: Stanislav Belkovsky: that very man who by order of Berezovsky have created Putin's "Edinstvo" Party in 1999 and in 2003 started attack on "YUKOS".
Why so, why Belkovsky, because he is not anymore a collaborator of Berezovsky? Because it happened that way.
What about cognac? It tasted pretty good. It was dark brown nice liquid, smelling of old oak-made barrel. Belkovsky guarded the bottle as souvenir, 'cause it has an inscription to me from Berezovsky.
Well known that Berezovsky was a powerful figure behind political stage of Russia. He helped to inthroned Yeltsin in 1996 and Putin in 2000. He was most powerful from oligarchs surrounding Kremlin's throne. Then he was ousted, for reasons we don't know, but rather because Mr. Putin wanted to liberate himself of all his creditors. Through Paris, Berezovsky vent to London. As he put it: "To Paris (Russians) traveled to relax, but they emigrated to London." Sounds as Oscar Wilde's aphorism.
Berezovsky started his political struggle with Putin and his regime in the end of July of 2002. From a public hearings, organized at Moscow's hotel, Baltchug-Kempinski. Public Commission, formed for investigation of terrorist attacks in Moscow in autumn of 1999, was headed by Sergei Kovalyov. Commission was connected by video-conference to London, where the witnesses: subcolonel Alexander Litvinenko and writer Yuri Felshtinsky have testified. They have known to the commission sensational testimony of Atchemez Gotchiaev, who is wanted by Russian Special Services for organization of terrorist acts in Moscow. But Gotchiaev testified that terrorist acts were organized by FSB, as Litvinenko and Felshtinski were Berezovski's men. Actually Berezovsky accused Putin's Federal Service of Security of organizing in the end of 1999 apartment bomb explosions, namely in Moscow, on Kashirsky Shosse, and Gurianova Street, as well as in town of Vogodonsk.
According to the facts, presented by Novaya Gazeta and Kommersant, the same explosion was prepared by FSB to take place in Ryazan, but vigilance of inhabitants and of local militia helped to avoid that explosion. FSB claimed later that it have planned and executed anti-terrorist "utchenia" [exercise].
In 2003 Novaya Gazeta N16 have published a text of video and audio interview of Atchemez Gotchiaev himself. In his interview Gochiaev confirmed that he only rented the premises for warehouses, that he did it by insistence of a man, later to be proved an FSB agent.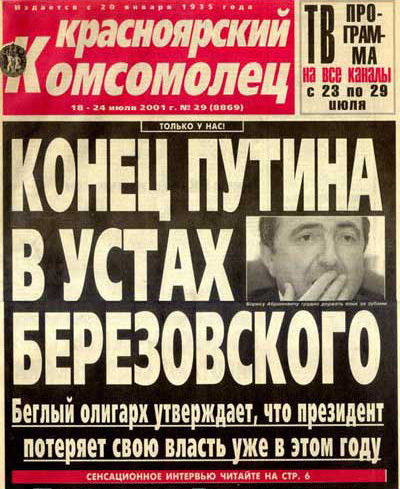 Berezovsky declared Putin would be overthrown by the end of 2003
Berezovsky's goal in investigation of explosions in Moscow and Volgodonsk he expressed himself as following: "We achieved a main goal, what I have named for myself: that is changement of social conscience in Russia. The polls of public opinion have showed: more than 50 percent of people are convinced that those explosions were organized by Secret Services [of Russia]. More than that: the question was formulated in most perverted form: 'Do you believe in Berezovsky's version, that it is deed of FSB hands?' And still, 53 percents have answered: yes, we believe. Counting that my name was pronounced in official polling question together with question, I think in reality more than 70 percent are believing. That was my main goal. I understood, however, that power cannot put herself in prison."
In that quotation is interesting that Berezovsky is aware of rejection that his name producing amongst some Russians. Archetypical Jew, with a voice of and face of villain of cinema, he is aware of his limitations. But to 53 percent of Russians he is believable, worth to believe. It is a lot in the country where anti-Semite feelings are steel strong.
Most brilliant political move was made by Berezovsky when he proposed his money to Russian Communists. He proposed 100 million dollars to Zuganov to help them topple present government. That proposal is evidence of both: of Machiavellian Berezovsky's mind and of his broad thinking. Before that step towards Communist opposition Berezovsky was an influential oligarch, schoolbook financial adventurer of Staviski type, seeking to broaden the limits of his influence. But when he proposed his money to Communist Party of Russia, he stepped out of his image of the oligarch, and that of "money bag." He transgressed the borders of oligarch, he stepped with both feet on territory of politics. In fact he is only one in modern times, who proposed to build up his supposed class enemy.
Unfortunately for them and for Russia, Communist leader Zyuganov and his consorts proved to be an ordinary people without a trace of Berezovsky's genius. Communists declined those millions, because they have fear that their electorate will turn away from them 'cause of Berezovsky's help. Exception is only one — editor-in-chief of far-right Zavtra Alexander Prokhanov, who accepted some money from Berezovsky. But not poligraphy, not quality, not circulation of his newspaper didn't improved after his visit to London.
So, question is: what Prokhanov did with Berezovsky's money? Stuffed at stocking? Very probably that yes, stuffed. Communist Party of Russia cowardly declined Berezovsky's money. That is no Lenins amongst them.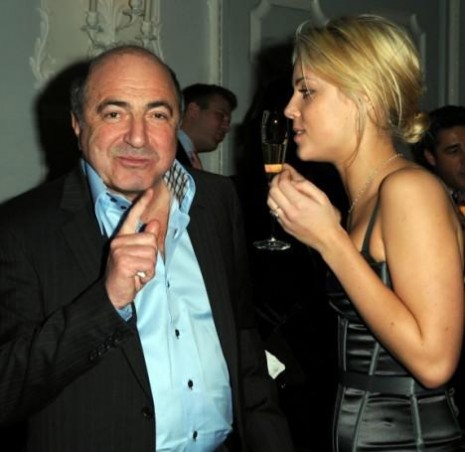 Russian power, Mr. Putin and his man feel great menace coming from that man in London. Political menace, because Berezovsky is a "God" who created them all. They feel like a little Frankensteins, who have rebelled against their Creator to whom they are all indebted. Because he awarded them with life. It's always irritating to be indebted.
I like Berezovsky more and more. Exiled, he looks noble. Berezovsky is a type of anxious, never-satisfied life-eater, of warrior, the person who lives by the energy of conflict. Abroad, in Great Britain, he is forced to exist without conflict, in order to preserve himself from a Russian prison. He wants badly to go out of that golden cage of London, again go to exciting life of conflicts in Russia. He is not interested in money. Money is only fuel to his conflicts.
Congratulations, nevertheless, Boris Abramovich, with your newly acquired status of political refugee! Glory, glory alliluakh!
This article was first published in The eXile on September 18, 2003
Read more: berezovsky, limonov, logovaz, putin, Edward Limonov, eXile Classic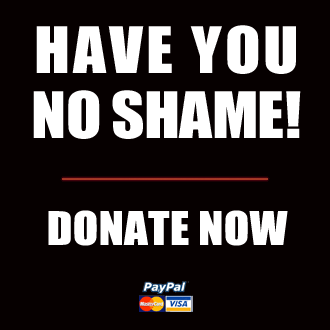 Got something to say to us? Then send us a letter.
Want us to stick around? Donate to The eXiled.
Twitter twerps can follow us at twitter.com/exiledonline