By Eileen Jones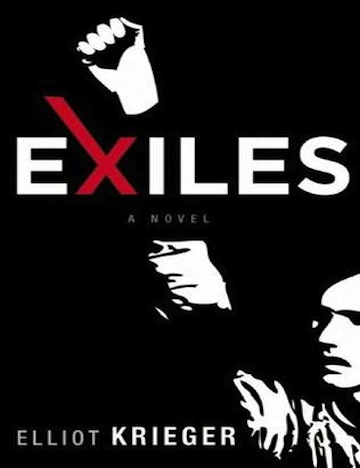 I promised this guy I'd review a new novel called Exiles, so the review could appear in eXiled and provide some sort of synergistic frisson in the universe or something. That was months ago and I still haven't done it. Here's why:
It may be that I will never send Iris this letter, Spiegel thought. But someday I will see her and we will talk about these things, and then she will know.
You see? That's the last line of the novel. I peeked at it to see where the thing would end up if I actually read all 344 pages, and that's the final kicker. Note how the contractions have all dropped out, always an ominous sign in any novel written after 1890. "I will see her, we will talk, she will know." Straining for lofty effect by not writing I'll, we'll, she'll—bad. Very bad.

Even worse, the cover of the book features the title in white on a black field, with a big red X in it, apparently in imitation of our eXiled logo. This appears over an artistic ink-block rendering of a protester with raised fist, looking like the wimpiest protester who ever wore a tie-dyed shirt and talked in a bleating voice about cultural diversity. Gah!
So I mailed the book to Ames, who mailed it back, and then offered it to Dolan who said No thanks, and generally tried to get rid of the thing. No luck. So I tried the book again, reading the first lines:
One of the pleasures of a railroad journey is the illusion that the landscape is passing by, though in fact, as you are reminded when you catch a glimpse of cars idling at a gated crossing or passengers on a platform waiting for the local or a group of children waving and tossing stones from an embankment, you are the one in motion while the landscape is fixed in its place and undisturbed by your passage. On a long enough journey, the view from the window becomes a narrative, but with no beginning and no end, just a continuously receding strip of a world that can be, for the traveler, a way to translate space into time, as what's left behind vanishes not only into the distance but also into the past. (3)
It's as if the author—Elliot Krieger's the name— is just testing you, to see if you're fool enough to keep reading after such an opening. But it's amazing how many modern novels kick off this way, with very long sentences meditating on mundane piffle that's offered up as penetrating insight. No doubt this kind of stuff goes over big at creative writing workshops. Starting off all puffy and metaphorical, then helping out the slower readers by telling them what the metaphor is that's under construction: the view from the train is like a narrative, folks, and not coincidentally, you're READING a narrative! Oh, what a page-turner this is gonna be!
Repelled by the actual text, I tried the back cover. Here's the summary:
Protesters against the Vietnam war have been granted asylum in Sweden. Into this hotbed of conflicting egos comes an innocent, Lenny Spiegel, to do a good deed. [The line actually reads "to do a good dead" but I assume that's a typo, not some kind of failed witticism. Though it's tough to say for sure. – EJ] He learns that everything personal is political among the exiles of Uppsala.
Hm. Well, Ann Beattie likes it. She writes well-reviewed novels like Chilly Scenes of Winter and Another You, and no, I'm not making up those titles. Her blurb says:
It's not every novel that has as its backdrop the works of Strindberg and the nefariousness of Nixon. Exiles is filled with suspense, and with characters who converse as if they're in a play, themselves.
Oh my God, it's like being dared to eat a live baby squid, they make it seem so horrible.
What's weird is, I know people who can read this kind of thing—"literature," I mean. Pretty good people, they are, too, as people go, and they can absorb the very worst that gets put out there with a fortitude that one can't help but admire. Toni Morrison, yep, Margaret Atwood, sure, David Foster Wallace, no problemo. Maybe it's a genetic thing. It doesn't give them stomach cramps, whereas I almost double up with the pain. They've got digestive systems like goats and can eat anything good or bad, an enviable evolutionary development. That, or they really "love literature."
Loving literature isn't the same as liking to read, see. I always liked to read, but for a short while I also tried to love literature out of a sense of duty and a mistaken belief that cultivated tastes and rank snobbery would help me in life. Kids get these crazy ideas.
Liking to read is when you skim whatever's lying around and throw aside most of it but hang onto whatever makes you happy, and pore over that stuff again and again, and go out hunting for more. And most of the time, you get no bragging rights out of it. That's the test, when it does you no good out in the world. I remember reading P.G. Wodehouse books in high school, and who the hell could I tell I was reading Thank You, Jeeves and The Code of the Woosters when everyone else was reading some godforsaken John Irving novel? I was freakish enough already.
Anyway, about this book Exiles and these "characters who converse as if they're in a play, themselves." (Why add "comma themselves"? It's maddening.) Here's a random sample of this play-like conversing, from pages 68-9:
"Okay, guys," Tracy said. "Take a stack of these flyers, each of you, on the way out, all right?"

The Worm, Reston, and Zeke fumbled with their caps and wool scarves.

"I don't know, man," Zeke said. "Last time I handed out flyers some pig comes up to me and says something I don't understand, and then he grabs me by the arm and shoves me right off the corner. I'm saying, hey, don't a guy have a right to hand these out? Ain't this a free country?"

"Well, it ain't a free country," Reston said.

"That's true," Aaronson said. "You need a permit for everything. Even for a demonstration."

"Can you imagine that, having to sign up for the right to protest?"
I could go on quoting, but why? No good can come of this sort of prose.
In short, I defy you to read this book. If anyone can read this book, can eat this live baby squid all slimy and sad, and report back in pitiless detail about the experience, I'll—well, I'll be pretty impressed, that's all.
And just in case you do read it and feel inclined to forgive the transgressions of this appalling new novelist, here's Krieger blogging for his publisher Soho Press, under the June 6, 2009 entry entitled "Updike & I":
I'd often imagined (hoped? fantasized?) that John Updike, one of my truly favorite authors, would someday read Exiles and enjoy the book. I'm saddened to know that this will never be. He was a terrific writer in so many genres, and, as the many tributes to him have noted, he was a thoughtful and generous man with a playful conversational wit. I was privileged to have met him once; when I was the books editor at the Providence Journal, we were seated next to each other at a formal dinner at RISD. We had a great discussion; I'd recorded some of it for a feature story, but I can't find the tape.

My wife, Marge, will kill me for telling this story, but when I completed a first draft of Exiles, she read it straight through. When she finished, she told me what she loved about the book. But then she told me something else: "Too much sex," she said. "Too much like Updike." I told her that if Exiles was ever to be published, I'd love to use that line on the front cover! (Alas, it is, but I didn't.) – elliot
As you can see, this Updike-lover deserves no mercy.
Read more: David Foster Wallace, Elliot Krieger, Exiles, literature, Margaret Atwood, P.G. Wodehouse, Toni Morrison, Vietman war, Eileen Jones, Books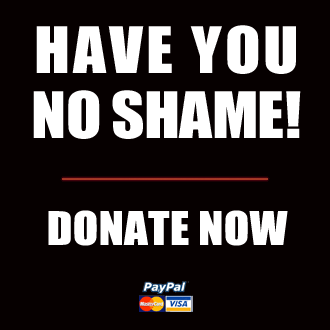 Got something to say to us? Then send us a letter.
Want us to stick around? Donate to The eXiled.
Twitter twerps can follow us at twitter.com/exiledonline