By John Dolan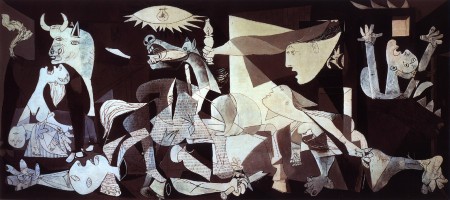 I've been reading anthologies again, God help me. It's all about money, as in we ain't got none. So it's back to teaching, and that means reading the anthologies that attempt to take a bunch of innocent kids through the dismal art of the twentieth century in one semester.  Today's culprit is The Norton Anthology of World Literature: The Twentieth Century. It's not bad. I guess. No worse than the others. The problem is the century itself, anyway, not the anthology.
Don't get me wrong, it was a great century in many ways. But you wouldn't know it from these anthologies. No science fiction, for starters. Think of that: an anthology of twentieth-century literature with no H. G. Wells, no Philip K. Dick.
At least they no longer include Ezra Pound. He was a God when I was young. I never got it but blamed myself the way young provincials always do: "Pound must be great in some way you only get if you're really civilized, not like me." All I could get was that he sure ripped off a lot of stuff from my old favorite, Robert Browning. And what wasn't ripped off was sentimental; it seemed like Pound could out-weep Hallmark Cards just by calling it a "translation" and writing in painfully grammatically correct sentences like the way Injuns talked in the new breed of sixties Westerns where they were always saints. His "River Merchant's Wife" talked just like the old chief in Little Big Man, only even soppier.
And if the sentimentality and the rip-offs were wearing thin, he'd squirt a cloud of squid ink by coughing a bunch of phlegm in the original Greek or Chinese right onto the page, and if you didn't like it you were a bumpkin. I always wanted to hand in an essay on Pound translated into Old Kingdom hieroglyphics, and if the prof. didn't like it I'd look astonished and a little scandalized and mumble, "You don't read ancient Egyptian?"
I think they gave up Pound because all his crazed fans just plain died. There was one named Jim Powell at Berkeley, used to be in a lot of workshops with me. He was Pound to the death. Had that real old twentieth-century aestheto-fascist crazy on for Pound; he'd read you a line, typical Pound, starting with ye olde Browning and veering into bathetic pedantry, and if you didn't do cartwheels he'd stare at you thinking how fine you'd look stood up against a wall with all the other Pound unbelievers. You almost had to admire it. That was the twentieth; people were serious. Stupid, but serious. It was quite the home-brew: avid stupidity, artistic pretensions, and mass-produced automatic weapons. You can see why we had such lively times on the weekends.
The funny thing about Powell is that he was the worst suckup I ever saw, but innocent with it, in the way that the truly possessed are always innocent, no matter what sleazy grovels they execute. He used to sit front and center so he could hand Pinsky a cigarette—damn, I guess you could smoke while you were teaching then, which shows how long ago it was. The rest of us passive aggressive punks would hiss and mumble resentfully at this bolder and more effective suck-up-ery, but you couldn't even resent it properly because Powell wasn't a cynical careerist, he was a fanatic, and he would have been innocent even while performing the most degrading sexual services for the cause of Pound (which he did, come to think of it, but that's another story). And now his great cause, his demigod, has been dropped from the anthologies. I wonder if he'll survive that, if he's still alive now.
Unfortunately, the great Revisionism has not extended to the graphic arts. I guess it can't, really; there isn't any alternative to the dreary high modernism of twentieth-century painting, not until you're ready to embrace the real great art of that century, fascist poster art and Looney Toons animation. So this anthology I'm chewing through like a 700-page bowl of unsweetened Quaker Oats features the same rotten painters who we had to pretend were great way back when the teacher could smoke in class.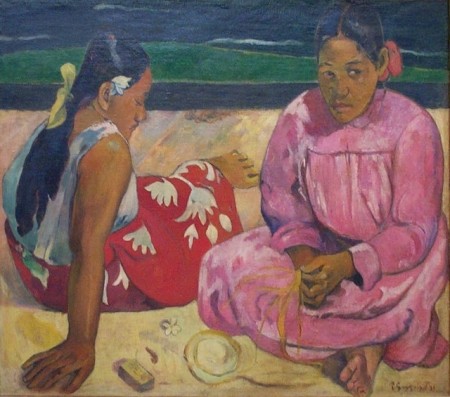 The selection begins with Gauguin's Tahitian Women/On the Beach. It's a men's room painting, which could just as easily be titled with a postcard caption on the back: "I fucked both these native chicks. Hey all you guys at the water cooler, still think I was crazy to quit the Bourse? See ya LOOZERZ!" He paints the two girls looking worried and pensive, like they're still reeling from their dose of Gauguin penetrative colonialism. "Think about that, baby!" One is holding her belly like "Uh-oh, I think I've got a little Parisian coming on!"
It's art, though, because he painted sloppy, a lot of blotching instead of trying to out-camera the cameras. Of course they ended up doing pedantry like Picasso or wallpaper like Matisse, but those were my boys, them 20th-centers, they played to the death, stupid but serious.
Down the page we got another naked lady done men's-room style, this time by a certified amateur, the lowly customs clerk Henri Rousseau. Rousseau didn't go to Tahiti, which is what his picture is about. He puts the naked lady, who looks like she came off a saloon mural in Tombstone, Arizona, in the middle of the jungliest jungle ever imagined by a man who never left the suburbs of Paris, the stinking soldier-breeding pens immortalized by Celine.
And by the way, ladies and gentlemen, any guesses on whether Celine, best writer of my century, is in this anthology? Correct: not so much as mentioned. But that goes without saying—without so much as breathing his Voldemorty name, even.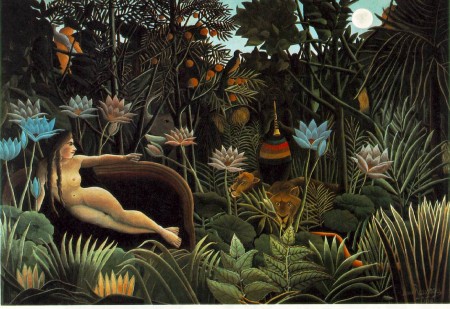 Anyway, Rousseau's naked lady is funny in the way of toilet art, but sad too. It deserves captioning—funny thing, a lot of this art needs captioning—and the caption would be: "Oh God my life is so dull, please at least get me a ticket on those bateaux-mouches, please."
Then come the big boys, the very worst of all being, of course, Picasso. Picasso is interesting because he never did anything new at all. Never. The stifling, soporific tradition of European high art, with its pears and bowls and girls who were pears and bowls too, was just fine with him, the way a tarantula is fine with one of those wasps that drags the poisoned spider into a den and injects it with its own eggs. Picasso was the exact counterpart of those hostile-takeover capitalists of the eighties who consumed the company for short-term gain.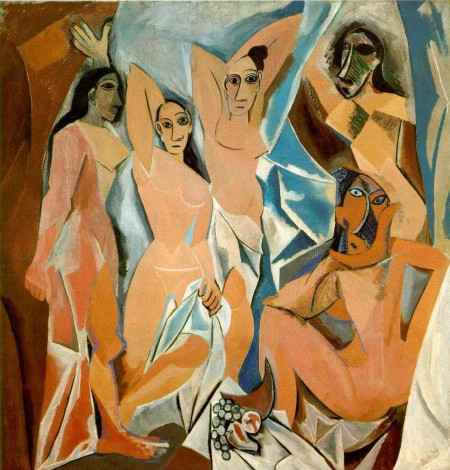 So on the next page we have his Demoiselles d'Avignon: the same gaggle of well-fed European goose-girls posing with their arms in various breast-enhancing positions…only this time they're blurry. Whoa, blurry nudes! It set the century on its aesthetic ear, those blurry nude girlies. Because they're melted down to…whoa, just shapes! Except you can see they're still pretty hot in a zaftig way—Picasso, as Jonathan Richman has noted, was a horny little commie. This, dear sirs and madams, was the breakthrough of the century on the high-art front: pedantry meets titillation, still-life frigs itself.
Worse yet, and somewhat to the side: the bastard Picasso is responsible for every bad move Stevens ever made. Seriously: if you know Stevens, you know what I mean. From the fucking pears to the far, far worse Blue Guitar—Stevens blathering about a guitar! Agh!—it's always Picasso's evil hand sketching away when Stevens goes bad, ensuring that the best prosodist in centuries was under permanent contract to a junk-bond credo.
And after the pedant we have the frat boys, the pranksters. Look, right below Picasso's naked Ph.D. candidates is a picture of a pipe with the note that this is not a pipe. Reminds me of a line from Fight Club, a nice bitter visit to the world where all this got us: "Oh, I get it. It's clever. How's that working out for you, being clever?"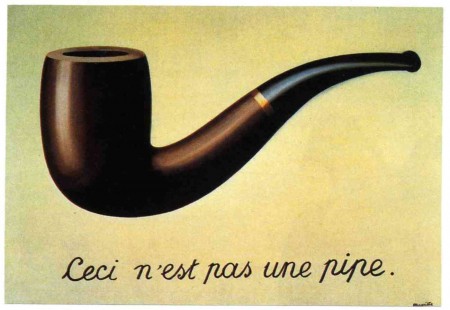 More pranks, one-shot gags, on the next page. Duchamp, who was nothing if not clever, and was indeed nothing.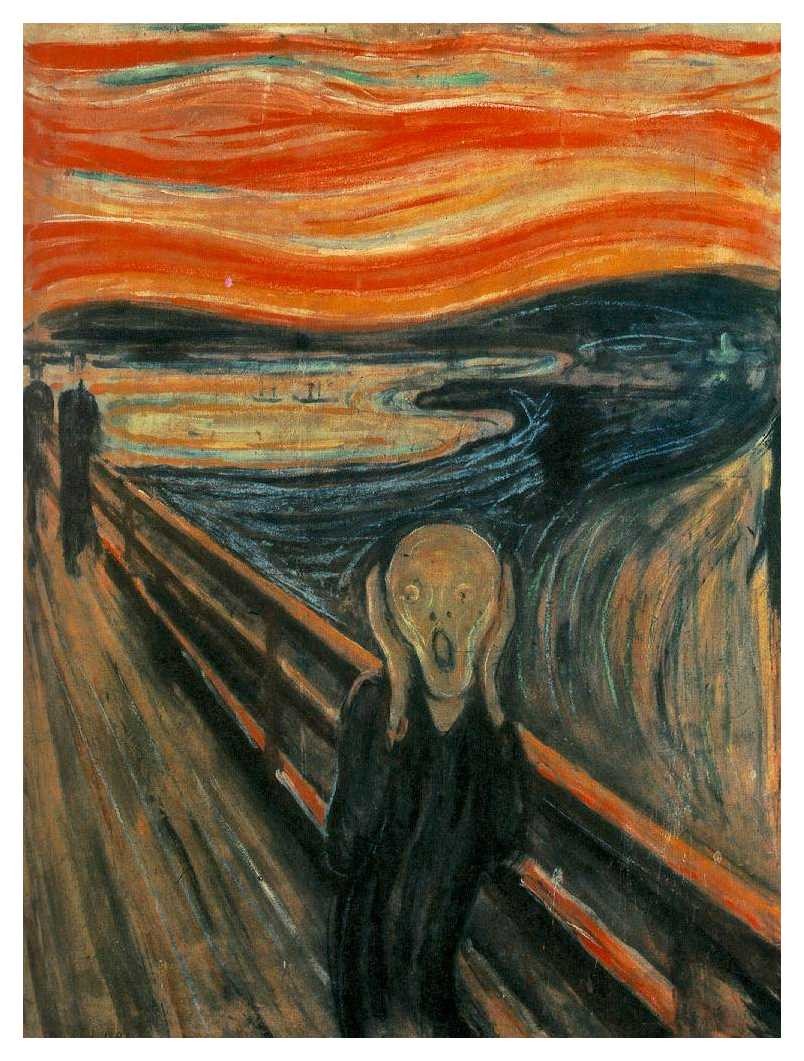 Flicking fast to the next page, God be thanked—and a piece of actual art: The Scream. Quick rule: if it made it onto t-shirts, if you remember it even though high art makes you queasy, it's real. A Norwegian cartoon, our first decent icon, Daffy Duck with seasonal affective disorder.
Then it's back to Picasso: Guernica, aka "When Your Side Kills People, It's Mean." Picasso is so perfect an emblem of all that was wrong with my rotten century that not even a committee of Thurber, Waugh and Bulgakov could have invented him. He knows exactly how much career-enhancing registered-trademark Picasso-Brand iconography he can insert into what is ostensibly an occasional painting, a grand grief, without the bumpkin critics noticing. Which turns out to be a lot. Look, there's the bull with both eyes on this side of its face, and there's a cartoon Athena yelling…. He was only five foot one but bumpkins could not resist his pedantic titillation; Pablo Picasso was never called an asshole. But he sure should have been.
And then it's Frida Kahlo. To quote another of the usual suspects, "I can't go on. I'll go on." OK, then, Frida: to speed up the processing we'll just check the boxes: amateur, noticeably can't paint, like Rousseau of the naked jungle queen, CHECK. Monobrow as stigma of sacred proto-anti-feminist self-hatred body image, not to mention bus bar through spine, CHECK. Sort of third-worldy even though she had money, CHECK PLEASE.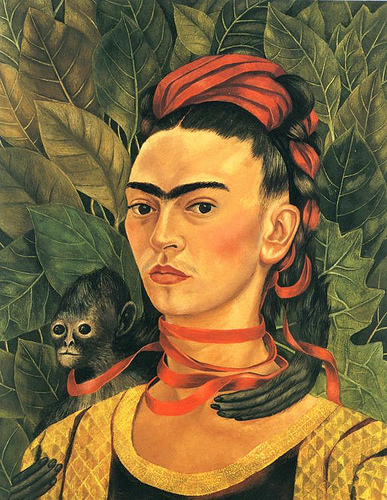 Once in Moscow Katherine and I had dinner with a colleague who was, to use the technical medical term, completely loopy. The kind of stagnant ego that's been staring at itself since puberty, learning languages and moving around the globe to avoid dealing with its monad existence, its frozen pubescent "I am everything" autoinfatuation. She served us lentils—I admit, that still rankles; lentils! To guests!—and showed us her paintings. Which covered the apartment and were all, every single one, of herself. They all showed her with "teeth like baseballs, eyes like jellied fire" to quote Hunter Thompson (and do I even need to mention he's not in the anth either?). Of course she sort of did have eyes like jellied fire, and her teeth were not of the shy, retiring sort, but it was still a jolt to see her scariest features reproduced again and again, as enthusiastically as an Aztec stonecarver would have chipped out his ten thousandth god-fang, in this airless fifth-floor mausoleum.
If only I'd thought of it, I could have asked permission to introduce a Frida Kahlo self-portrait into that vacuum chamber and have a stare-off, monobrow Mothra vs. bug-eyed Godzilla. Frida would win, I guess, because there was a movie of hers. And of course there are no movies in this anthology. Movies were too excited to do "anti-art." So they survived—for a while, anyway.
There is great writing in this anthology, by the way. The problem is that it's all nineteenth-century writing. Lu Xun's story "Upstairs in A Wineshop" is as good as Sentimental Education. And the Japanese satirist Kojima Nobuo manages to get the feeling of life-as-she-is-lived absolutely perfectly, in an agonizing account of a field trip by English teachers in postwar Japan.
Which brings us to Naipaul. He's not in the anthology. If that surprises you, you don't know English professors.
But in one way, Naipaul, Lu Xun and friends are vindicated, because the volume ends with a mess of propitiator offerings to women of color, all of them workpersonlike examples of pure nineteenth century "art," as opposed to "anti-art." There's no anti-art when you actually have something to say, or at least vomit up, and even a grudge is something. Not much, to be sure—and to be absolutely sure of how little it can be, the thoughtful editors have given us a Leslie Marmon Silko story, "Yellow Woman," to close the volume with a bang. The title would be enough, having a color and a gender and all, but Leslie let them print the whole thing. Closing out university anthologies is her specialty, and she makes a damn good living at it.
It's the best we can do, I suppose, until the Geiger counters stop sounding like angry rattlers every time they get close to those Soviet and Nazi and Fascist and Kemalist painters who were, fools that they were, actually trying to show things.
Read more:, John Dolan, Books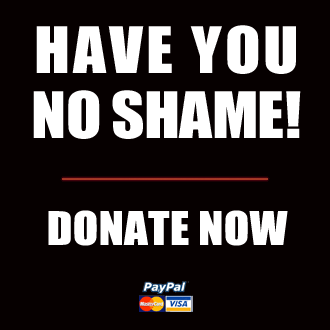 Got something to say to us? Then send us a letter.
Want us to stick around? Donate to The eXiled.
Twitter twerps can follow us at twitter.com/exiledonline