By Yasha Levine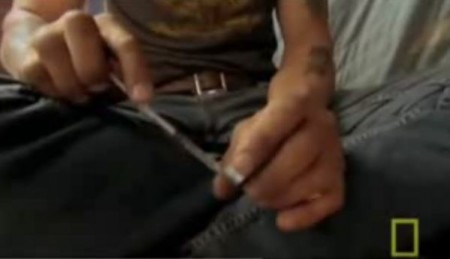 The real junk is inside National Geographic
Tomorrow evening, the National Geographic Channel is going to hit cable viewers with a huge dose of drug propaganda cloaked as investigative reporting in a three-part special that will look at Heroin, Meth and Marijuana. I have to admit, I had high hopes for it as I went to check out the preview. With anti-drug crusaders like Joe Biden recently admitting that the War on Drugs is not living up to its promises, maybe America's anti-drug tide has finally started turning into a drug-embracing rush. Will I be so lucky?
Meth being my personal favorite, I watched this episode first. The preview started off all right, pointing out exactly what makes meth so damn enjoyable, confirming that it is much more effective than cocaine (a drug long considered by The eXiled as "fool's meth"). But when the preview started talking about addiction and prevention, it became clear that this was just another run-of-the-mill anti-drug crusade video series, a more CGI-intesive version of what I was forced to watch in my high school Health Education class. It was not just sad, it was infuriating. The prohibition of drugs is one of the most blatant assaults on our liberties, and yet no one is speaking up for drug-users' rights. Illegal immigrants are getting rights, gays are on the cusp of being allowed to marry and, the way things are going, Mormons will push through the legalization of polygamy before we get around to talking about drugs. Drug hate is so entrenched in our society and political system, it's hard to know where to start hacking away at it.
So let me start with a quote by H.L. Mencken, the only American consistent in his hate for the Puritan values that are to blame for our ridiculous drug laws:
"[The] democratic state…almost always shows a strong tendency to be also a Puritan state. Puritan legislation, especially in the field of law, is a thing of many grandiose pretensions…The Puritan, discussing it voluptuously, always tries to convenience himself (and the rest of us) that it is grounded upon altruistic and evangelical motives—that its aim is to work the other fellow's benefit against the other fellow's will. Such is the theory behind Prohibition, comstockery, vice crusading and all its other familiar devices of oppression. That theory, of course is, false. The Puritan's actual motives are (a) to punish the other fellow for having a better time in the world, and (b) to bring the other fellow down to to his own unhappy level.
And bring the other fellow down they do. As the preview for the National Geographic's heroin segment gratuitously shows, amid a lot of painful footage of crusty track mark close-ups, hardcore junkies live in squalor and misery. Getting their next fix is the sole purpose of their lives. They do anything for it. Women give blowjobs to truck drivers, men strip copper pipes and rob houses. All this is true. But their alleged fall from grace is not a function of their addiction. A lot of people are able to fit their addictions into their daily routine, or better yet, to handle their highs. The reason they descend into hell is the fact that they are addicted to an illegal drug.
Take functional alcoholics. You don't see too many of them giving handjobs for booze or stealing TVs to buy another 40oz. Alcohol is too cheap and easy to get to cause that kind of behavior. You can be drunk all day for five dollars and get booze refills while you put some gas into your car. That kind of carefree addiction leaves plenty of time for work, wife and kids. But make booze illegal, expensive and difficult to get and you'll turn most Americans into sniveling, pathetic junkies roaming the streets in search of booze and spending all their time and money on it. Hardcore alcoholics would never be able to hold their shit together. So why should the heroin addicts?
The Europeans are starting to figure this shit out. The Swiss just announced they are going to give smack out to addicts for free. FOR FREE! Why? Because the drugs are not an addict's main problem. The hard knock reality of the illicit drug market are to blame for their sorry state.
Here's a quote from an Independent article about the program:
The addicts attend one of the country's 23 heroin centers and, in groups of four, inject themselves under the watchful eye of a nurse. They leave after a few minutes — those with jobs going back to work.
Did they just say, "work"? Junkies going to work? Yep. It just goes to show that when you free a junkie from having to constantly scheme about where and how they'll get the cash for their next fix, a miracle occurs. All of a sudden, they turn into upstanding citizens. Like hundreds of millions of functional alcoholics all around the world, they go to work, pay taxes and raise families. Some may even do a little volunteering at the local church. Make drugs free, and everyone lives in harmony.
This setup should also please the anti-drug crusaders. During the trial stage of the Swiss smack soup kitchen program, a third of the people who signed up — all of them hardcore junkies with more than a decade of addiction — got off the drug. They realized that heroin was boring the shit out of them. After being high for ten years straight, how could it not? Clarity on drugs!
A little legalization goes a long way. We just need to go further. All drugs must be legalized immediately.
Here is the preview to National Geographic's drug-hating special:
Read more: america, drugs, national geographic, Yasha Levine, Fatwah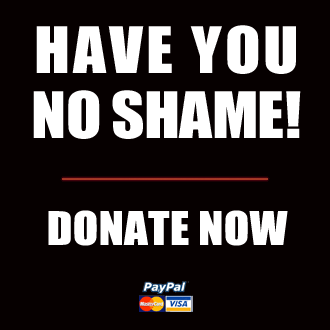 Got something to say to us? Then send us a letter.
Want us to stick around? Donate to The eXiled.
Twitter twerps can follow us at twitter.com/exiledonline