By Hank Pazzo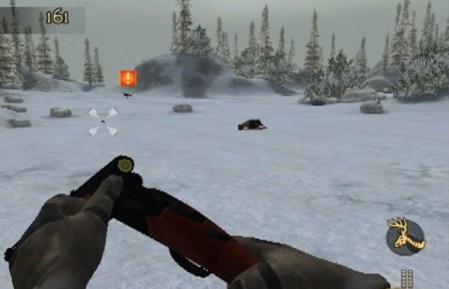 You might wonder why I'm covering Cabela's Trophy Bucks for the Nintendo Wii, an unheralded game that came out last June. Well, I'll tell you. I was recently laid off, so I took a trip to the local Blockbuster to see which game would offer the most to an aging, half naked man sitting on his couch in the dark with a huge bowl of cereal on his paunch and tear stains on his face.
But when presented with the opportunity to shoot Nazies, aliens or zombies, I just couldn't muster the atavistic spirit needed to really stick it to the bad guys. Then I saw a big, shiny deer eye staring out at me from the cover of a Wii video game, and I thought "I could shoot that."
But as I looked at the image, a thought occurred to me: Was the small chunk of deer face on the cover of the game box my intended target? Or was it a some deer meat I had already torn off with my huge hunting gun?
Only one way to find out!
The opening menu shows a nice water-colored forest scene, with some happy country traveling music in the background. Ah! My spirits are lifted! Let's shoot some animals and bond with friends!
I can name myself! But who should I be? What do I want out of this? I want to work my way up the food chain, shooting animals along the way, until I arrive at the ultimate pray, Xenomorphs. But I know there are no Xenomorphs here, and I doubt I will get the chance to hunt a human being, even 'accidentally'. But what the hell, I might as well be prepared for my dreams to come true, and so I dub me:
Cheney!
I HUNT THE HUNTERS!
I can do a Career Hunt, a Game Slams, or a Free Play. Game Slams sounds like bullshit at first, but let's consider what is meant by 'Game' here, and 'Slam.' Since this is a hunting game, 'Game' could refer to animals. And slam could either mean that I just slam down some animals real quick one after another, or that I actually get to physically slam their bodies down after I kill them, like some kind of mini-game: Test your might!
Game Slams, here we go!
"You have not unlocked Game Slams, go to Career Hunt!"
Good thing I am already disgruntled. Career Hunt it is. I will make short work of these woodland creatures and their families.
Ah, another menu. Fully fifteen minutes and I haven't shot anything! Obviously, every menu selection should be a type of animal whose coat cleverly spells out a menu option. I would then select my choice by shooting the animal. I could have already shot like 10 things by now.
I would certainly shoot the Gun Library option. But alas, it is currently a one gun library, featuring a .243 Bolt-Action it claims can be used for deer or "varmints". Sufferin succotash!
I begin my career. And by career, I mean killing spree.
I begin in Alberta, Canada standing in a river with a gun in my hands. Birds chirp in the trees, and I see a family of deer nearby. I am instructed to take down at least one Blacktail, and I will get medals for my trouble. As though the carnage were not payment enough.
I accidentally pull the trigger and fire, scaring the deer who begin to run. But using my fine killing instincts, I lead one on the run and fire a bullet straight into his furry body, causing him to tumble into the weeds. When I put the Wii remote down, the angle of the motion sensor causes my hunter to point his gun in the air and spin in circles. And so I begin to come unraveled.
My anonymous god of murder has already granted me a new weapon as a reward for my kill. This pleases me. I now have access to the .22-250 Bolt-Action Rifle. The game tells me I killed two deer, and I don't even remember shooting one of them. I must have blacked out. I only wonder if I killed it with my gun, or…
Now I must kill Ptarmigans. I don't know what that is, though there is a dog in front of me. His back is turned; a sign of disrespect. He must pay. But the dog cannot be harmed by bullets. It must be a figment of my splintered imagination. I resume my spinning dance while I type in my journal.

Kill targets: Blacktail, Ptarmigan and Turkey
The dog stands uselessly by, so I have to flush the ptarmigans myself. They are birds, there were two. Lovers perhaps. Ptarmigans bore me. Now I must kill Turkeys. The turkeys peck happily in the grass, their trademark plumage bright and erect. I ready my shotgun and shoot a turkey on the ground. A voice congratulates me: "Right through the middle!" The dog speaks!
More guns, more medals. Ugh, and more ptarmigans. I need more whiskey.
A country song begins. I have entered a ptarmigan challenge, and it says "I must take down as many Ptarmigans as I can!" When would I not kill as many animals as I could? Will this game ever ask me to be discrete? I hope not. Send in the bald eagles!
Okay, all kidding around aside, this ptarmigan ho down is the video game equivalent of a psychotic episode. I am standing in a field and birds are swarming me. This is like the shit Hunter S. Thompson saw at the beginning of Fear and Loathing in Las Vegas. What are these goddamned animals?! I shoot and shoot, and instead of fleeing, they keep coming in waves, flying seductively close together, begging me to kill two of them with one shot. I suspect there are really no ptarmigans, and I'm just a hunter standing in a clearing firing all his shells at invisible assailants. I win, and do my spinning dance of joy.
Next stop, Alaska. I wonder I'll be able to feed a turkey I shoot into a grinder?
Fingers crossed!
I see three deer in a field. I aim carefully, remembering what my dad always used to say: "Shoot 'em in the body first, then you can shoot em in the head all you want!" Brought all three down! And their bodies disappeared before I could get to them. No skinning, no eating the heart. No sexual poses. Nothing.
This game totally misses the point of hunting.
And I'm spent. Even with a few wrinkles, Cabela's Trophy Bucks takes a lot of the fun out of animal shooting. It needs a major overhaul to be worth your time or money. Not letting the bodies disappear would be a start, better guns would also be a real improvement, and cuter targets are a must. When Cabela's Trophy Kittens hits store shelves, you can bet we'll have full coverage, right here.
Read more: Cabela's Trophy Bucks, Hunting, shooting, video game, Video Games, Weapongs, Wii, Hank Pazzo, Entertainment, Video Games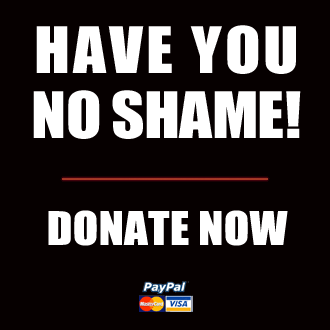 Got something to say to us? Then send us a letter.
Want us to stick around? Donate to The eXiled.
Twitter twerps can follow us at twitter.com/exiledonline