By John Dolan
Without that mass hysteria it would be impossible for any sane person to assert that Hughes "killed Sylvia." Sylvia Plath, a lifelong depressive, killed herself. Hughes didn't give her the idea for that; it's laid out in loving, sick detail in her youthful novel, The Bell Jar. I yield the floor to the fine people at Bantam Books, who supplied this jacket summary to The Bell Jar, from which they have managed to cull a big chunk of female first-year college students' allowances for several generations:
"A vulnerable young girl wins a dream assignment on a big-time New York fashion magazine and finds herself plunged into a nightmare. An autobiographical account of Sylvia Plath's own mental breakdown and suicide attempt…."
It's hard not to laugh now, at what drove those pampered Freud-steeped elite Yankees to suicide in the years of their power. Oh no. a dream assignment to an NYC fashion magazine! Naturally she wants to die! I guess she had, um, "fear of success" or one of those other 70s syndromes that go along with a rising market, and vanish instantly once good ol' fear of poverty and death return to slap us into acting serious again.
I read the Bell Jar back in its glory days, hating its pampered heroine on every page. The suicide attempt is the high point of the novel, its climax, and I use that word advisedly. By her teens, Sylvia was more than half in love with easeful death. She was head over heels for the man in black. If you redid those old "Death and the Maiden" paintings with Sylvia as the maid in question, they'd have to show a sturdy college girl yanking the old skel out of his recliner to dance down the path with her, while he grumbles that Wheel of Fortune is coming on, can't she wait?
So, to belabor the obvious (the kind of obvious nobody ever mentions), when she first tried suicide, Plath had never even heard of Ted fucking Hughes, let alone been driven to her death by the heartless cad. Death was her first love and the love of her life; she just tried out sex with mortal men before going back to her main squeeze for good-and poor Hughes was the patsy she chose.
The story went that Ted drove her to her death with his affairs. Another insane lie by people who must know they're lying. It was the Sixties! At a university campus! In the fucking, and I do mean fucking, English Department! Every heterosexual male on every university campus in the English-speaking world with the possible exception of New Zealand was under constant siege by eager female students who wanted to check off the "picaresque adventure #17: Affair with Professor/Poet" from their to-do lists. I remember a certain wizened Berkeley prof of my acquaintance, a malign dwarf who vaguely resembled Woody Allen but was even sicker than the Manhattan cradle robber waxing nostalgic about the hordes of gorgeous students who threw themselves at him back in the Bergman era. You were supposed to be having affairs left and right. Those were the rules, and they applied to men and women. If Sylvia didn't console herself with affairs to match Ted's, there's a simple reason: she was already involved with the guy with the scythe and not interested in men with a pulse.
No doubt she had clinical depression, a condition I understand all too well. Indeed, the fact that "her" son just killed himself suggests-unless we want to blame this one on Ted too-that depression ran in her family. It usually does. It fucking gallops in mine. So fine, OK; just don't keep saying that it was all Hughes's fault.
Of course Hughes's next wife killed herself as well, and their daughter too. This is supposed to prove that he was some kind of telepathic Blackbeard who got his wives to kill themselves. What it really proves is (a) most of the people in poetry during that time were unstable, to put it mildly; (b) Hughes liked'em crazy; (c) if you really wanted to hurt a man who was already wrecked over his ex-wife's suicide, and you were crazy and selfish enough to take your daughter with you, what would you come up with?
And all because Hughes fucked around? If Hughes had not been promiscuous during that period, there would have been something deeply wrong with him, just as any American of that generation who claims never to have taken drugs proves that there's something very wrong about him or her–either a habit of telling absurd lies or the fact that he or she was a hopeless dweeb.
Promiscuity was the norm, for men and women. I remember when I saw Hughes read his own verse, at the Center for Fine Arts in San Francisco. This was when Crow had come out and Hughes was as close to a rock star as any poet was going to get, so there was a big crowd, excited, way better looking than the typical poetry crowd. Hughes came to the stage, bigger and more impressive than I'd expected-he had that ex-RAF look that I thought only existed in movies-and before he could get started, this hippie guy stood up and screamed toward somebody several rows back, "You are still my wife, Karen! You are STILL MY WIFE!" His target audience, shall we say, was this tall dark-haired gypsy-looking woman who flipped him off and laughed at him while he ranted. Tough crowd, is what I'm saying here, and not always the guys who won. Martyred virgins…you didn't see too many of those. If Sylvia took that road, it was because she wanted to. I 'spec' poor ol' Ted had very little idea what was going on; that's what usually happens when you play straight man to a suicidal drama queen.
He certainly looked bemused while the cuckolded hippie screamed, simply waiting at the podium until the hippie's buddies made him sit down and shut up. I suspect he was bemused by Sylvia in much the same way. Ain't nobody who can chew scenery like an American with a saleable symptom-I should know-and it's hard to stop us once we get a head of crazy up. All we want you to do is look concerned and weep when we've finished our big threnody. And that, I think, is all Sylvia wanted from Ted. Odd, then, very, very odd, that we're supposed to glorify her monogamous devotion to self-extinction while demonizing Hughes's appetite for sex with consenting adults.
But we're not talking about a great moment in Western intellectual history here, we're talking 70s feminism, Victimology 101, a required first-year course. Later they altered the undergrad requirements so you could substitute a lesbian affair instead of actually Vic 101 for credit, and most cool first-years opted for the work experience rather than the course credit. But back in the 70s the taboo was still more or less in force, so for every one who had the good genetic luck or sheer moral rigor to switch to lesbianism fulltime and for good, there were a thousand who felt they had no choice but to be angry hetero victims, at least while in class. After sundown, they changed–but in the daytime, in class discussion, they were angry.
Literary fortunes soared on that stylized public anger. If you were a wealthy American woman with no talent, a massive ego, and a willingness to simplify the world's most lax gender rules into a simple passion play where the girl plays Jesus, your literary future was assured, as shown by the lionization of a whole coven of rich, dumb American women like Erica Jong and Marilyn French (author of The Women's Room), along with a dozen-odd Canadian ladies like Atwood who were included on the grounds that they were so mopey and sulky that they must be, at the least, fellow travelers, and a few genuinely talented outsiders like Doris Lessing and Jean Rhys, whose nihilism was overlooked because at least she agreed with the "men are bums" part of the group song, if not its second line:
Men are bums.
We're better than they are.

(From the "Adrienne Rich" entry in the Brand X Poetry Anthology.)
By that time Sylvia was safely dead, suitable for canonization. Her poetry was often explicit in stating her preference for death over male company; that's the whole fucking point of "Lady Lazarus," for God's sake. And as for quality-and I realize this is at best a side issue for most literary consumers-Plath's poems are typical Whitmanesque boasting larded with the gaudy catachreses popular in the 1950s. They stink of the lamp, of the workshop, but they strike a simple and very imitable pose, like a good pop song. And like that song, they were worshipped for their ability to sketch a pose, an entire life. If you really like that kind of stuff, I recommend the lyrics of Iggy Pop, which do this sort of thing much better using about one-twentieth as many words-and with a great bassline, too. But of course highbrows will be served, and they were too insecure and pretentious to embrace the elegant simplicity of the Stooges, and far, far too soft to appreciate the real talent among man-haters, the great Jean Rhys. Those suckers always swoon for boasting with linebreaks, and Saint Sylvia was their dead poster girl.
Read more: Nicholas Hughes, poetry, suicide, Sylvia Plath, ted hughes, John Dolan, Books, Fatwah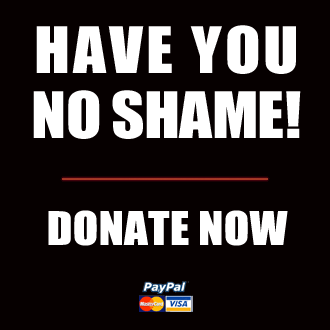 Got something to say to us? Then send us a letter.
Want us to stick around? Donate to The eXiled.
Twitter twerps can follow us at twitter.com/exiledonline